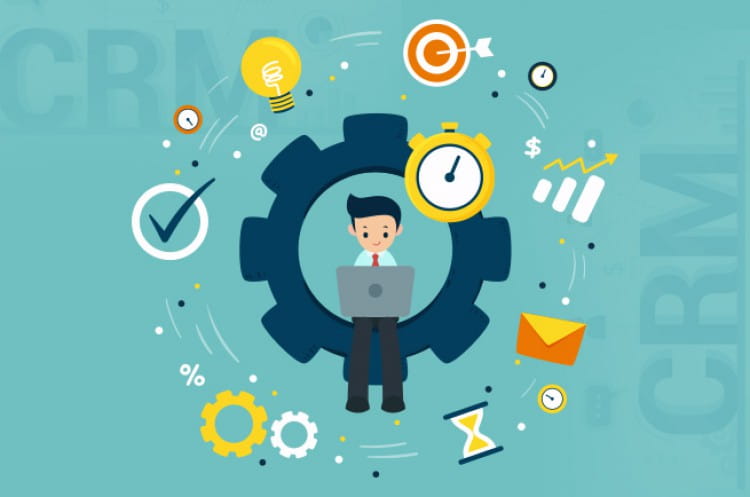 For any business, maintaining healthy and strong relationships with its customers is the ultimate thing and the bottom line. In fact, building the right customer base whilst maintaining strong relationships with them is the secret mantra to earning that competitive edge in today's cutthroat market.
Unfortunately, an alarming number of businesses are still stuck in ice-age, as they rely on old school tools and practices when it comes to managing customer information/data.
Since we know that change is the only thing constant, it is advisable to root out archaic and outdated practices and tools if you wish to stay ahead of the curve.
Maintaining strong relationships with your customers not only drives sales, but also helps in growth and sustainability for a business. This is the reason a whopping number of businesses invest in CRM solutions to manage customer data in a much better and organized manner.
Though the benefits of CRM or Customer Relationship Management software are manifold, here are five prominent ways a CRM system can help a business skyrocket its ales.
Drives communication for efficient sales
CRM software works great when it comes bridging communication gaps between salespeople and customer support department. CRM system by making available customer data accessible in real-time paves way for efficient customer support. For example, sales reps can use the CRM solution to solicit instant approvals for discounts from the sales head for a potential customer on the go right from his mobile phone. Eureka! Sales chain just got a lot swift and efficient.
Further, with excellent in-built functionalities such as lead prioritization, lead nurturing and auto reminders and notifications, a sales team can stay on its toes thus, helping close more sales. Other benefits include quick and easy access to customer data pertaining to leads, prospects, opportunities, etc. It delivers a bird's eye-view of the entire sale pipeline all from a single and easy-to-use dashboard.
Sales forecast
CRM helps predict best sales practices by unlocking customer intelligence for a business. Yes, having a CRM software by your side will help project a good picture of sales pipeline, which in turn will help in sales forecasts greatly. Now imaging empowering your sales managers and reps with such an intelligent sales solution will help them understand their customers and their needs much better. Further, CRM by offering excellent visibility in sales operations and processes makes it easy to track the progress of each process efficiently. Long story short, a CRM system ensures that your entire sales team stays on the same page thus, eliminating data discrepancies and data duplication.
Makes your sales team mobile and agile
Mobile CRM empowers provides a sales team the liberty to work on the go by allowing them instant access to key customer and sales data from their smartphones, tablets, laptops, etc. on the run. This is unarguably the most prominent benefits of investing in a CRM solution. So your sales rep enjoys instant and easy access to customer data while conversing with them from literally any place.
Perfect sidekick for accounting solution
CRM software when integrated with an accounting software is no less than a boon. Besides making available all your customer data on a single platform, a business can get key insights into purchase orders, expenses, historical sales stats/trends, etc. Now this would offer a clear view of the entire business thus, assisting with accurate forecasting.
Tames cost of acquisition per customer
A CRM system can significantly curb the cost of acquiring a customer. For example, when a sales team receives accurate forecasting and key insights into a customer, it is more likely to close more deals successfully and in a much efficient manner. Most importantly, a CRM software by delivering vital insights into a customer's buying behavior, social media behavior, purchase history, etc. helps you come up with relevant and targeted marketing initiatives that will appeal your audience eventually thus, bringing in more leads and opportunities.
As we know that winning new customers has always been a priority of almost every business. However, what most of us tend to overlook is the fact that acquiring new customers is costlier than retaining the existing ones that hold great potential of bringing in repeat business. Since your existing customers know your business and brand, it would be stupid to let them stay in your sales pipeline. A CRM software delivers key insights into sales history and past customers thus, offering a clear picture of all the showstoppers for your business. Did I mention, spike in customer loyalty? Long story short, CRM makes it much easier for a business to sell to its existing customers whilst helping win new ones. Talk about customer retention in today's fast paced business era where customers jump the ship at the blink of an eye.
Takeaway
Running a successful business unarguably is a challenging thing to do, but arming your business with the right and smart set of tools like ERP, CRM software, etc. can go a long way to render a business with that competitive edge.
Author bio:
Anwar Shaikh writes about customer intelligence, customer relationship, AI, business intelligence, cloud, IoT and enterprise management systems including ERP and CRM software. A writer at heart, Anwar is a Digital Marketing Manager with Sage Software, a leading provider of cost-effective sales CRM software to small and mid-sized businesses in India.