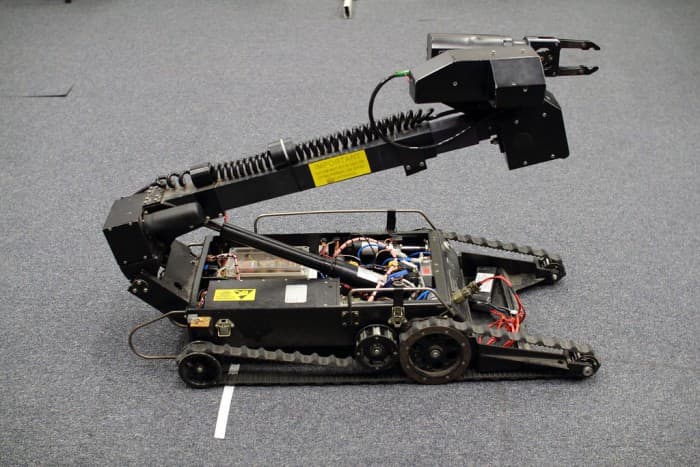 If you are not a robotics enthusiast or someone who has considerable knowledge about the Israeli defence industry, you might have never heard of A2Z Advanced Solutions. For more than 30 years, this company has been closely associated with the IDF (Israel Defence Forces), the Israel Police, and the defence ministry in Israel.
They are well-known in the Israeli defence space as a key player in manufacturing innovative robotic solutions. The company manufactures unmanned robotic platforms for high-risk defence roles. Their product offering includes robots for defusing bombs, counter-terrorism bots that can actively work in combat zones, and bots designed to take on HAZMAT roles. The company also manufactures robots for fire fighting. These bots are specially designed to endure tremendous heat and poisonous fumes and carry out dangerous fire fighting missions.
Why are we suddenly talking about an Israeli robotics company that makes innovative defence solutions? Well, it's because they are about to enter the civilian market. CEO of A2Z Advanced Solutions, Bentsur Joseph made an announcement at the company headquarters about their decision to go public in Canada. In a bid to secure a flow of cash, the company is going to be listed in the Toronto Stock Exchange. According to Bentsur Joseph, this move is going to benefit the shareholders and provide liquidity to the investors.
A2Z Advanced Solution entering the Canadian civilian market can only mean one thing. The introduction of new state-of-the-art robotic units and automation solutions.
The thing about defence manufacturers is that they usually have a wealth of proprietary technologies and patents. A lot of these innovations trickle down and get incorporated when they start making civilian solutions.
Unlike traditional startups, they also bring a degree of stability. A2Z Advanced Solutions, for instance, have long-standing defence contracts and a global network of defence clients. The steady cash flow from these contracts and business from their clients gives them the financial backbone most startups lack.
This simply means they are far less likely to succeed and materialize their goal of introducing innovative civilian prototypes that save lives and boost productivity.
What Civilian Robotic Units Do A2Z Advanced Solutions Plan to Introduce?
As of now, there has been no announcement made by any of the company's executives about what civilian prototypes they are working on. However, there is a good chance that they wouldn't stray too far from their area of expertise. This means they are likely to introduce unmanned robotic platforms custom-built for industries. They can even target Canadian defence and government agencies to provide similar solutions to the ones they already provide to the IDF. The company is also likely to market their existing fire fighting robotic platform to the Canadian Armed Forces.
A2Z Advanced Solutions already have robotic units for HAZMAT cleanups. This means they can create platforms for construction and mining operations. Their experience creating counter-terrorism platforms with mounts to fit lethal and non-lethal weapons may also allow them to create units for security companies.
Other industries that employ people for high-risk roles may also be targeted. The company may also try to secure maintenance contracts for existing robotic systems.  The company already provides technical support services, maintenance support, and calibration services to industries that already use robotic solutions.
A2Z Advanced Solutions already has experience providing service and maintenance to agencies that use external robotic units. Providing maintenance services can be a quick way to penetrate the industries that already have a robotic infrastructure. This will allow A2Z Advanced Solutions to ensure a steady business from their civilian clientele.