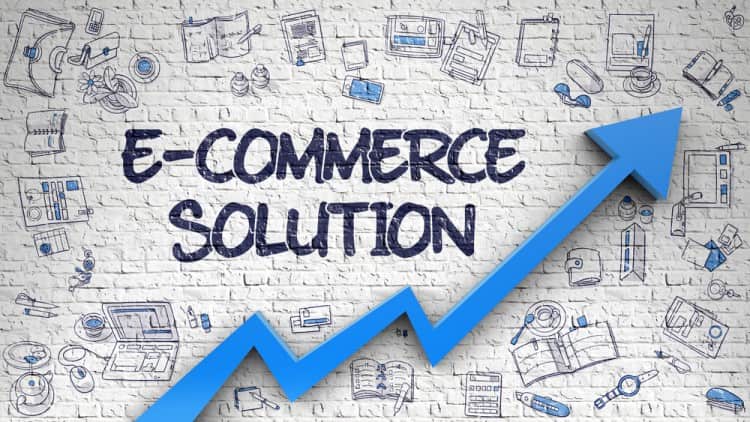 In today's world, no one can be successful in their business without broadcasting about it in the Digital world. Everything is digital oriented, and nothing is possible if your business is not active digitally. There are various other companies those who are already failing because of e-commerce, and they are trying to find ecommerce solutions to succeed in it. But not to worry we are here to discuss just it, and to provide tips which will assure your success in e-commerce.
You need to do a lot of research before choosing an e-commerce platform; this could be your first step here. You have first to figure out what your business needs then choose an e-commerce solution which will benefit your business with time.
Buffering is a turn-off
You will probably think what's wrong with buffering, but if you pay attention to UX, user experience, then you will understand why a page should be quickly responsive. According to research and various studies, it has been proven that users generally tend to leave a page or website it takes more than two to five seconds to open. So the solution to this problem is to make your e-commerce platform work smoothly to attract customers.
If you are not considerate about this important factor, then you will not only loose existing customers but also would-be customers too. And if your page is too slow or does not respond properly, then your users may not ever return to the site again.
Designing a Responsive and cell-phone friendly e-commerce website
Cellphones and mobiles are the most used gadget in today's world; no other gadget is as frequently used like this. And that is why your e-commerce platform has to be mobile friendly and respond properly. A lot of older platforms haven't yet judged the importance of responsive websites, if your e-commerce site is not properly responding in cell phones or aren't made for a cell phone then you need to update it or find another platform.
E-Commerce platforms nowadays receive most of their traffic from cellphone, and it is an urgent requirement to be able to properly function in cellphones because people can use cell phones anywhere.
Here are a few proficient e-commerce platform option for you to choose from,
Business needs to open online stores nowadays to sell their products and even services; the reason for this is because most products can be found online. People do not want to travel long distances for anything. So even if your products or services are of extremely good quality but still most people will opt for those which they can find online.
We have mentioned a few platforms here to enhance your business digitally, look through it to find the one which will suit your business.
Shopify
Shopify is probably the most sought after online E-commerce platform in today's market. This platform consists of a professional looking interface, and it has about a hundred intricately designed themes for their customers to choose from. This software provides both free and paid memberships, and they also give a fourteen day trial for the paid ones. Shopify offers a basic set up for about the price of $29 and before that, you can give it a try if it suits your business's needs or not.
Volusion
This is again another popular E-Commerce platform to broadcast your business online. Volusion is one place where company States that their customers have meant about 18 million dollars for over the last 15 years since they first opened their main site. The design process used by Volusion is extremely fine-tuned and specifically designed to make the shopping experience much easier and enhanced for visitors. Yes, there are problems but there are solutions too Volusion provides their visitors and customers online videos and tutorials to make them understand and overcome these situations. They also provide help through other resources and their customer care service is always active to assist and help find solutions regarding any problem. The basic setup package for Volusion starts from $15 per month as it is much cheaper, anyone can check it out for a month if it suits their needs.
BigCommerce
BigCommerce is also an impressive platform and choosing it won't do any harm. This site allows its customers to develop a classy and attractive store full of customer products and services to attract visitors. This platform also provides you with various choices of themes for your online shop, and you can choose the one which goes perfectly with your business. This package also will cost you about $29.95 a month, and there is also a free trial to check out if it has all the properties you need.
BigCartel
This online shop is one of a kind; it has been designed to focus on the artist category. And their theme revolves around painters, designers, musicians, and those businesses who work with creative people. This online shop creates a platform for creative entrepreneurs to kick-start their career. Big Cartel also provides shops where people can sell their digital products example videos, pdfs, podcasts and eBooks. They also have a very easy and friendly payment procedure, which helps the artist to sell their products and get their payments instantly through PayPal. They provide a relatively cheaper service than most other platforms about $9.99 dollars a month.
These are not the only platform you can choose for your e-commerce solutions; there are various others out there in the market. But according to statistics, these are the most popular ones although it doesn't have to be like that because there are a few platforms in the market those who provide some small but significant options which could be beneficial for various types of businesses.
You have to understand one thing; there is no exact solution for any type of business; it is no different here. You need to be your judge, think how many products you have and what kind of products you are selling including the estimated budget. So choose your platform accordingly which will be able to assist you in earning the designated value.
Author Bio –

is a Marketing Manager at AIS Technolabs which is Web design and Development Company, helping global businesses to grow. I would love to share thoughts on  android marshmallow development and Game Design Development etc.