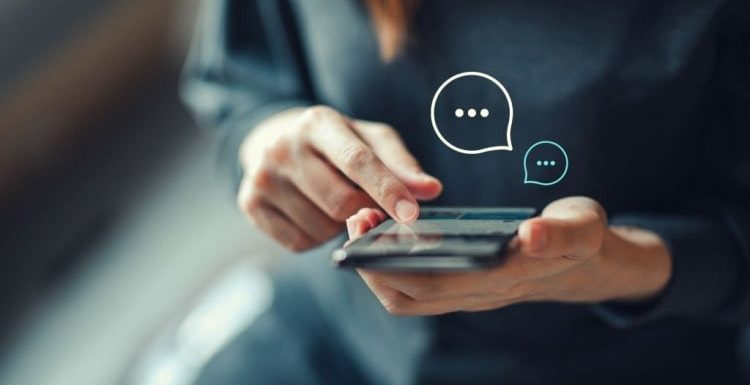 What do you think is the most important thing for growth of the website– Engaging with customers – Correct..!!!!
Engaging with customers or visitors is an important aspect of your website's growth. Don't compromise with customer support especially if you own a business website. You can overcome this issue easily with the wordpress live chat plugins. It allows you to integrate your messenger experience directly into your website. It will offer rich-media experience to your customers.
Hence to make a hassle free live chat system, Here we chose 5 crowning free live chat plugins for you based on compatibility and integration etc.
Why do you need Live Chat Plugins?
Faster Answers and Efficient Service
Real Time Problem Tackling
Easy Installation & Set-Up
Visitors Tracking
Customer Analysis
Now you know the basic usage of live chat plugins, Let's move on to the list…..!!!!!!
Best Free Live chat Plugins:
Crisp Live Chat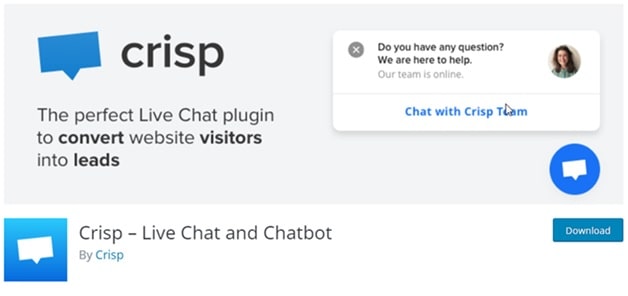 Crisp Live Chat is a free and awesome live chat system for your website. If you want to grow your business relationships with customers and your email list then this is the one for you..!!
By adding this plugin in your wordpress website, you will have access to Crisp inbox for Sales, Marketing, Support teams and Help Desk also. All the features are user friendly and for beginners also.
Crisp positions its service as a 'shared box' solution which means a user is handled from a central location. A team which needs escalated support among themselves will have advantage of this. You can also integrate knowledge base in it, so that users can also solve queries by themselves. If you have a complex product, Crisp Live Chat will go well together.
Some of the key features of Crisp Live Chat are:
Live Chat
Real-Time Notifications
Automated ChatBot
Desktop and Mobile Apps (iOS, Android, Windows, Mac OS)
Tractability with adding Plugins
Enriched User Profile
Impoverish Conversations
Get Crisp Live Chat Plugin Now – <https://wordpress.org/plugins/crisp/>
Twak. To Live Chat
Tawk.To Live Chat helps you to monitor your wordpress site visitors in real-time. You can easily deal with unlimited messaging and ticketing and moreover it is 100% free….!!!!!
Talk.To is compatible with all the modern browsers to give instant response and also helps in network building. It has a fantastic feature of easy customization of widget designs. It is super easy to add live chat on your WordPress website with Tawk.to. The content of the live chat window can also be localized. It can also individualize greetings and share promos with trigger messages based on your visitor's existence. You can greet new and existing customers, help them through their bother points and message before they leave their page.
You can gain valuable insights when you monitor the visitors of a website in real time.
Some of the key features of Tawk.To Live Chat are:
Smooth Integration
Save Time
Uncomplicated
Easily shareable answers to FAQs
User-Friendly Interface
Free but lacks spam,ads etc.
Talk.To Live Chat offers 24*7 live support systems.
visit https://www.tawk.to and initiate a chat or send an email at support@tawk.to
Get Tawk.To Live Chat Now – <https://wordpress.org/plugins/tawkto-live-chat/>
3CX Live Chat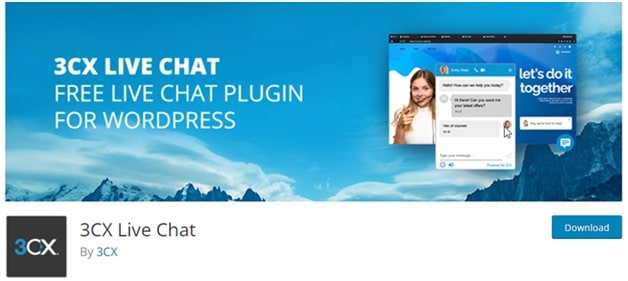 3CX Live Chat Plugin falls in the best category of the free chat plugins. It is the most happening, hard-hitting and trustable live chat plugin. It offers a simple interface for both admin and visitors.
One of the advantages of 3CX is its chat servers which enables users to send and receive live chats at blistering speed. Audio, video and other other organization-level features are also integrated in 3CX.You can have conversations with your website visitors in real-time. You can add surveys or polls to your chat box. You can also automate pop-up of chat box. You are also able to show the chat box to registered users only. You can also cast-out visitors from chatting to you based on IP address.
Some of the key feature if 3CX are-
Chat can be transferred to other agents
Infinite agents
Fully tailor-make chat form
Tailored offline message form
Access to existent live chat records
Chatting with multiple customers at one time
Build resonance with potential customers via live chat
Get 3CX Live Chat here – <https://wordpress.org/plugins/wp-live-chat-support/>
JivoChat Live Chat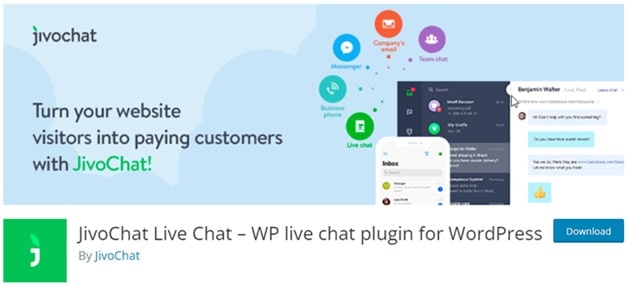 JivoChat Live is an all-in-one free live chat wordpress plugin. It supports chatting via emails, phones, social media and live chat also. You can use this to reflect your style and strategy while delivering efficient service support. You can efficiently serve your customers thereby increasing sales and conversation rate. You can offer calls to your visitors via live chat widget.
JivoChat offers powerful desktop and mobile apps and also web based apps that you can reach via any browser.
Some of the key features of JivoChat are:
Connect your favored CRM(Customer Relationship Management) easily
Connect your phone number to make and receive calls
Live chat Widgets
Acts as Omnichannel
Offers Callbacks
Geo-IP based conduct
Automated Interpreter
Get JivoChat Live Chat here – <https://wordpress.org/plugins/jivochat/>
Tidio Live Chat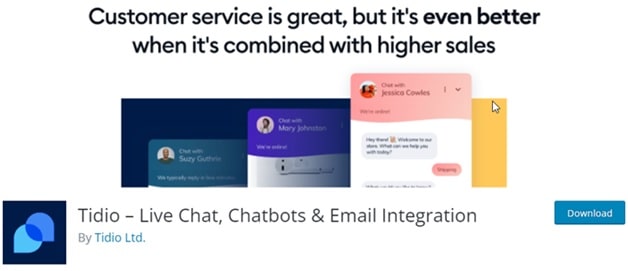 An easy to use, lightweight and customizable live chat plugin is here for you – Tidio…!!!!
It offers world-beating and poly-functional customer support. It offers Live chats, chatbots, emails and messenger also, so it is multichannel too.
Most of the powerful features are available in the free forever plan. Its installation is also very easy to do..!!!
You can use Tidio live chat on your browser, desktop or mobile. Live chat widget can be customized to fit in your website needs. It can work without any hurdle on any platform/device.
Dozens of chatbot templates are available to choose from. No coding required to create visually appealing chatbots.
Some of the key feature of Tidio are :
Incoming Visitor Notification
Free Mobile App (Android & ios)
Live Typing Preview
Ready to use built-in Chatbots
Integrated Email Marketing Tool
Get Tidio Live Chat Now – <https://wordpress.org/plugins/tidio-live-chat/>
Conclusion
You can make first step conversation towards customers by using any of the suitable live chat wordpress plugins. You can control all the chat conversations from a single dashboard. Chatbots helps in managing your users and helps in maintaining loyal customers.
But it can be confusing for the beginners to understand such chat sections, so we recommend using the given free WordPress live chat plugins.
All these given free plugins have relatively considerable number of active downloads and also all these plugins have very good ratings on wordpress platform.