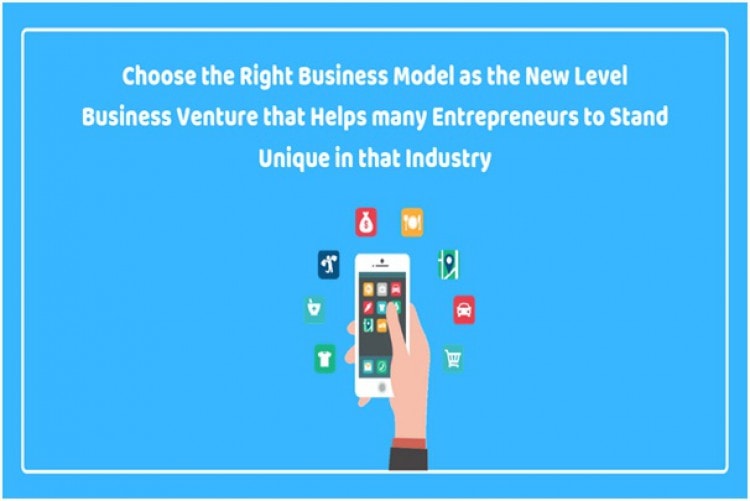 Can you say which type of tech business is making headlines nowadays and has achieved what other businesses take years to achieve? It is the on-demand business. Almost everything has come under the umbrella of the on-demand model and many entrepreneurs are working to their full potential to develop an innovative and creative business service. And these business services are not something new and are present for over decades. In simple words, the on-demand model just disrupted traditional businesses.
So, what exactly do these businesses follow to be successful? Before that, let us see some of the various services offered in this business model.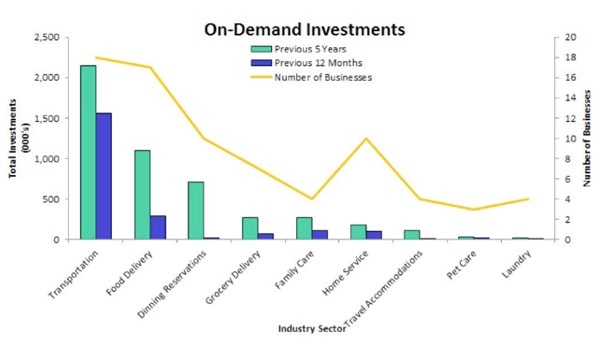 If you see closely many app-based businesses have come only after the founding of a transport company. The name is Uber. Uber is the first to reach billion in capitalization quickly. So, by now you would have a brief idea of the successful business model in the app-based business. All these firms follow the model of Uber.
Uber carefully leveraged the growth of smartphones and the internet and slowly expanded their business and are now operating in over 60 countries.
5 factors of a successful business model
Relationship between supply side and platform
Getting on-board the existing service providers under one platform and narrowing the supply is the basic mantra. This is more or less similar to the aggregator model. While doing this, there should be some rules to regulate them. For example, Uber allows people with vehicles to attach with them. For every ride, these vehicle owners pay Uber a commission. In such fashion Uber is operating millions of car worldwide which means none of the vehicles is owned by them.
Degree of commoditization
Degree of commoditization is the number of variables associated with a product or service. The lesser the variables, more is the value of commoditization. In Uber, the variables are selecting a car type and providing details about the source and destination. Uber enjoys a high level of commoditization. Make sure your business involves fewer variables.
Pricing of the product/service is inherent to this business. Following standard pricing or pricing based on the type of service totally depends on the service provider. In Uber, the cost of the ride is displayed to the rider even before the ride starts. They follow clear transparency and reliability in pricing their service.
All the on-demand businesses depend on min. Of two stakeholders. They are the user and the service provider. In the case of Uber, it is the rider and the driver. Increase in the no. of stakeholders sometimes may or may not increase the overall cost.
What made the on-demand service a big hit is that it provides the product/service within a given time frame. Be it food delivery or cab booking, you are getting the service within minutes.
Uber business model canvas
You can see that Uber is very clear about what to offer in each area. We can attribute Uber's success to their care given to all stakeholders.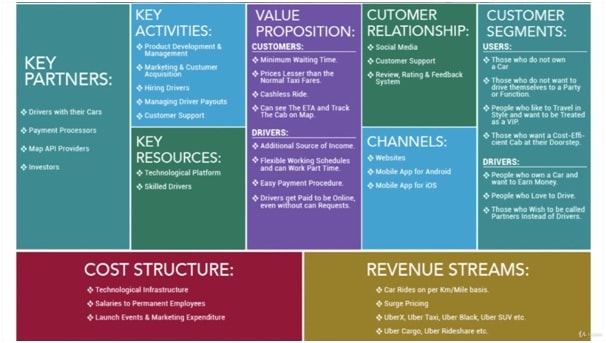 On-demand business framework
The on-demand business not only involves taxi booking and food delivery. There are many other businesses which focus on consumers, consumer behavior, technology, core service, etc and sometimes all together.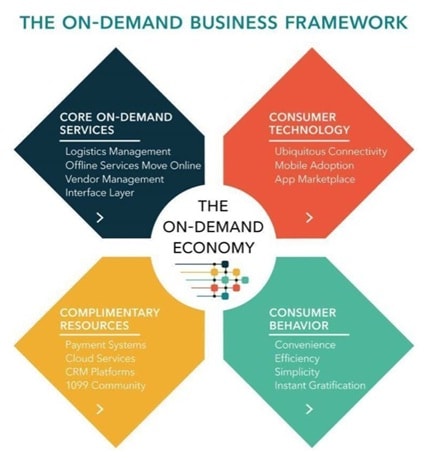 Some examples of successful industries that follow the Uber model.
Healthcare
With the change in demographics in countries like China, Russia, Australia, and Japan, there is a dire need for them to invest more effectively on the healthcare segment. Under healthcare there are many areas but, two areas that need utmost importance is the elderly care and rural healthcare. So far, the respective governments are involved in this but, now it is time to implement the on-demand model by NGOs and social entrepreneurs to supplement the government's effort.
In-house elder care and telemedicine are some of the top services that can be easily brought under the on-demand umbrella.
Home services
Our lives are getting busy day-by-day but still, we cannot avoid our daily chores. But now we can able to outsource many of our daily tasks like washing, laundry, food, plumbing, electrical work, running errands, just to name a few. Errand running startups are successful in many areas. You can literally give any work like checking emails, line standing, getting concert/movie tickets, etc.
Delivery
Three works are composed under delivery. They are courier, food, and grocery delivery. The delivery business typically consists of 4 stakeholders. But the overall investment in this business is pretty low compared to other businesses. All these services employ a delivery agent. On every order, these delivery agents get a fee as the delivery charge.
What the future holds for the on-demand market?
Many in the tech industry are of the view that the present wave by the on-demand market is a bubble and it will burst anytime soon. This is not true at least for now. The forecast is bright and just following the Uber business model alone is not enough. Continuous innovation and out of the box thinking is needed to take on your adversaries and sustain for long.
Reducing the overall startup capital is important and it starts from developing the app for your business. It is always recommended to use ready made app clone scripts from experienced solution providers. App clones can be easily customized to function for different services.
Needless to say that the on-demand delivery business will see inexplicable growth in the next 5 years. So, as an entrepreneur be optimistic and use your full potential to bring the best to the table with your on-demand business.
Authors Bio:
I'm Divya working at Uplogic Technologies Pvt Ltd, We are a leading producer of on-demand mobile app solutions in the Market. We serve many entrepreneurs in their on-demand business globally. We are specialized in building app-based uber like on-demand business models& taxi dispatching solutions and food delivery app solutions, Our Unique selling proposition is providing free after sale support for some time customization is done at a nominal fee. we have satisfied our clients with dedicated clients service and our developers are experts in fulfilling clients needs with their work.