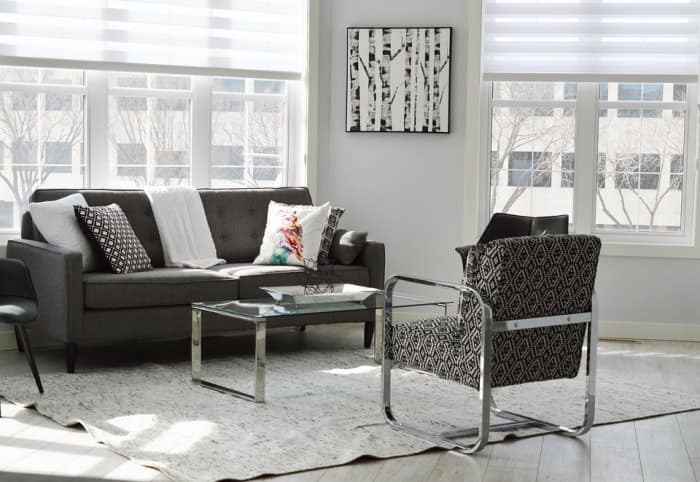 Getting your first apartment is an exciting time and decorating it can be creative and fun but also slightly intimidating if you don't really know where to start. If you have always lived at home, or in student accommodation it is a big change to get your own place and be responsible for how it all looks.
But it needn't be a problem and putting your own stamp on things can give you the opportunity to really express your creativity through colour schemes and furniture choices.
Here are 10 decorative ideas for you to consider:
Think about the space
If your apartment is quite small then you want the decor to create an airy, spacious feeling, rather than cramped and overcrowded and you can do this in a number of ways.
The main one is by keeping the windows light and airy – avoid heavy dark wooden curtain poles, or heavy fabric and dark colours for the curtains. Opt instead for light blinds, or light floaty curtains, to help keep an airy bright vibe in the apartment.
Consider your colour palette
Rather than buying things as and when you see them, sit down and think of a colour palette that you can work with – that way your apartment will look more sophisticated in the long run.
You could have mainly neutral colours, with a splash of bright colour expressed through cushions and rugs or go for different shades of the same colour throughout a room to create a theme of sorts.
Use rugs to add colour and warmth
Many apartments come with wooden flooring so if you want to add some colour and warmth to the floors, try adding some rugs. They can help to keep your feet warmer in the bedroom or the lounge, during the winter months, and look sophisticated all year round.
Pick the colour, pattern and texture to match your overall theme and you will see how the right rug can really transform a room with very little effort on your part.
Invest in some wall art
Invest in some stylish wall art which matches your themes, for another creative and sophisticated way to enhance your apartment and make it your own. You can choose something crazy to express you individuality, or go for something more traditional.
It doesn't have to be expensive – you could scour second hand shops or car boot sales to find the perfect piece, find a good place to check out for designer homeware online, or even make it yourself from a collage of photos. The possibilities are endless.
Make your bedroom a place for relaxing
Your bedroom should be somewhere you want to go into for relaxation so make sure it is calming and the decoration is not overpowering. Go for soft, muted colours and warmer lighting here.
Make sure the curtains keep out the light so you can sleep well and you can create a lovely atmosphere through your choice of colours and fabrics for your bed linen and pillows.
Don't forget the light fittings
If your apartment is small, or doesn't get much natural light then you can make a big difference by choosing the most appropriate light fittings. Wall lights can reduce the space needed, compared with floor standing lamps, while ceiling lights can create an attractive focal point.
Decorative headboard
If you want to create a focal point of decor in your bedroom then consider buying a decorative headboard for your bed. It will make your room look far more sophisticated and will give you somewhere to lean against when sitting up in bed to read at night.
Paint the walls
A trick for making a smaller apartment seem bigger is to paint most of the walls a light white or cream colour, but have one feature wall in a different darker colour – this can create depth and interest and makes a smaller room seem brighter and bigger.
Use furniture to create divisions
If your apartment is largely open plan you can be creative with furniture to help divide the areas into living, sleeping and cooking. Try using screens, or strategically placed book cases.
Doing this not only helps to divide the areas but could also make one large open space appear much cosier with smaller areas which have a distinct purpose.
Be creative
The apartment is yours so you don't have to follow decor guidelines or stick with neutral colours – be bold and decorate it exactly how you want it to be, so that it matches your personality and everyone who visits knows exactly who lives there.
Conclusion
Getting your first apartment is an exciting opportunity to get creative when it comes to decorating – you can really make the space your own, even if it is a relatively small place.