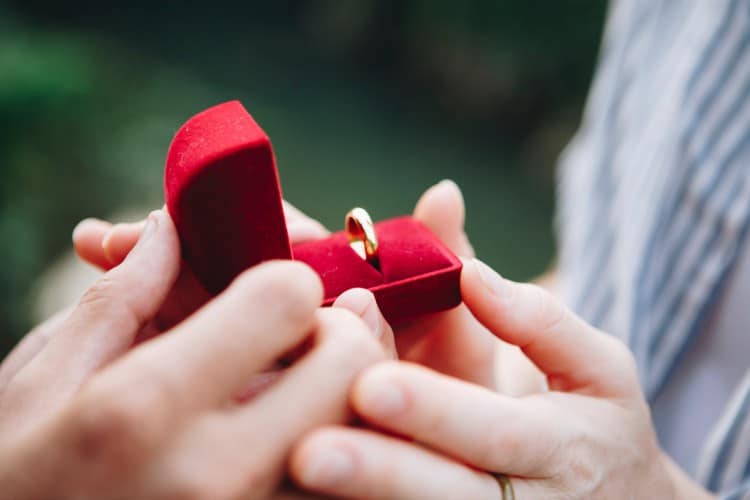 Engagement is a moment every girl has thought about at least once in their life. It is such a precious moment of joy for everyone involved. But what makes that moment even better is a beautiful ring that suits you. Most people have had this dilemma: Should I choose a thin and subtle ring or a chunky and bold ring? Which one would suit me better?
Whether you are going for a simple and plain band or something with precious stones, the band size matters more than what you think. Though the precious stone is going to be the main aesthetic that attracts everyone, the size and design of the band are what decide how it fits on your finger. Also, choose your base metal wisely. Some women like yellow-based metals and some women like white. You can find a variety of latest gold ring designs online. Browse through first and set your preference.
Thinner bands:
If what you look for in an engagement ring are femininity and delicateness, you are in the correct aisle of thinner bands. They make your fingers look long and delicate. Typically being less than 2 mm thin, they also attract the attention towards the precious stone in the middle, making it look bigger than it is actually. Thinner bands also allow you to stack your finger with more rings fashionably, without looking chunky and uncoordinated. That being said, one should also consider how they can safeguard their rings. Thinner bands require diligent care and are more prone to damage if exposed to harsh work and conditions.
Thicker bands:
If what you desire in an engagement ring is durability, go right to the side of thicker bands. They are typically 2-3 mm wide and give a sturdy feel when worn. You can either opt for a single precious stone and a plain thick band or a big centrepiece with smaller stones on the band. The earlier design is a good option for people whose work conditions are a little hard and the latter design looks great if you just want to boast a glittery engagement band. With thicker bands, the centre diamond has to be the right size and shape, as the thicker band is competing with the diamond when it draws the eye. While thicker bands are sturdier, one still needs to be attentive of blunt force interactions as these could loosen the precious stones.
The size of your fingers plays a major role in choosing the right engagement band. While thinner bands look better on thin, short or even delicate-looking fingers, thicker bands look better on larger fingers. Try different sizes and opt for what looks good on you. On a final note, whether you choose thinner or thicker bands, maintenance and mindfulness are really important to safeguard your ring. Consider taking your ring off if you are exercising, lifting weights or doing heavy work. Go for regular inspection with your jeweller for better maintenance. Also, you can find latest pendant designs in gold online to go along with the ring you are giving her. That should feel more romantic.
Trust
If you are a beginner, there is nothing wrong in worrying about where to buy it, with all the adulteration happening around us. One should be extra careful while investing in expensive stuff, about their quality. Find out about a good goldsmith around your locality or famous gold jewelry store that are popular for their quality. Do the basic inquiry before getting into the store
What gold?
Gold is always valued in carets, 24k is the purest and it's mostly used for investment purpose, this gold is soft and is not apt for jewelry as it can break easily. 22k to 10k are the once that are used to make the jewelry, based on the other metals used in the gold alloy, the color of the gold varies, other than the regular yellow gold, there is white gold, rose gold, green gold. Which are mixed with different types of materials? Jewelry made with 22k gold is the expensive and 10K gold is something that can be used and worn for daily wear.
Where?
When you are going to buy gold for the first time, there are lots of things that you might be unaware of, either accompany a friend or a family who has the knowledge or ask the people who are attending you the questions regarding your doubts. There is definitely no harm in asking what we don't know. You can always start from asking about how you can differentiate the gold types, pearls or types of stones used etc.
What do I want?
Deciding on buying gold is an important step, but having an idea of what exactly you want, can help you learn quicker.  Like the purpose behind the idea of a purchase. If you are looking for investment purpose the purchase and understanding of gold targets different area. If you are looking for gold as an accessory, then your occasion decides on what you want, like for a function you can go from bold design and expensive 22k gold, for a daily wear purpose you can opt between 18k to 12k gold from contemporary and modern designs.