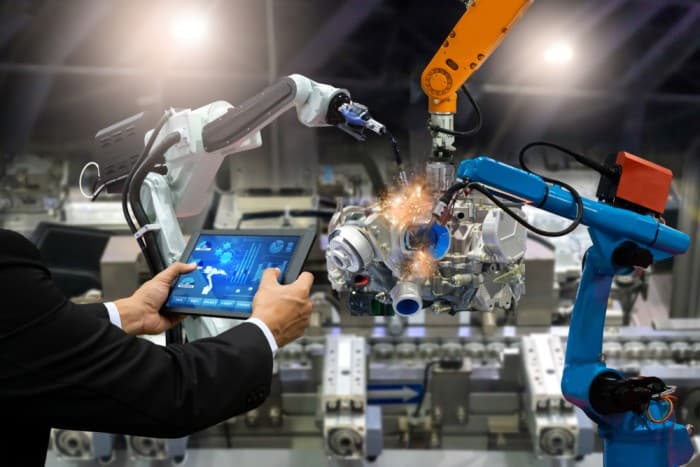 Cloud computing
Cloud computing is bringing about some spectacular changes in the manufacturing industry. It has become a key component of the Fourth i.e., Industrial Revolution 4.0 with its ability to connect and transfer data at high speed enabling manufacturers to address the most critical business problems. For those who are unaware of what cloud computing, in simple words, "It is the process of delivering computing services over the internet". These computing services could be support, maintenance, analytics, networking, servers, storages, database management and business intelligence. This results into reduced operational cost, enhanced efficiency, flexibility and greater economy. Companies are expected to pay only for the cloud services they use instead of adopting the entire infrastructure. As per a recent study, "By 2025, the total data stored on public cloud environments will be 49%."Cloud computing are of three types namely, private, public and hybrid.
Private: In private cloud computing, cloud services are exclusively used by a single business entity without any shared resources. Private cloud is hosted by third party service providers on company's on-site data center, whereas the infrastructure is maintained on a private network.
Public: Third party cloud service providers manage hardware, software and supporting infrastructure for companies to be accessed through the internet.
Hybrid: Hybrid cloud refers to the combination of public and private with some services shared and some for private use only. This offers greater flexibility to switch between the above two resulting in improved security.
Cloud computing can help users address complex computational needs through reduced operational costs and risk and higher scalability. For manufacturing industry, cloud computing has a new and well-defined mechanism that can transform its entire business model.
Cloud in Manufacturing Industry:
Talking about the manufacturing industry, the domain is extremely vast. A lot of sub-categories like apparel, food and beverage, printing, metal, transport, rubber and plastic, petroleum, paper, etc. dwell under this category. Needless to say, the processes involved are tedious and time-consuming. Through 'Make in India' initiative, the Indian manufacturing sector is capable of reaching US$ 1 trillion by 2025. The present needs of manufacturing industry is to achieve speed, scalability and accuracy in operations.
Cloud computing can address these requirements. When combined with a business management software like ERP, it does a lot more than reducing IT infrastructure cost for companies. Cloud computing also offers a myriad of benefits like data security, minimal use of resources, enhanced productivity and comprehensive forecasting.
Cloud Computing Benefits for Manufacturing Industry:
Accelerated manufacturing cycles: Cloud-based ERP solutions allow engineers and other product development teams collaborate at a much earlier stage in the design process. This brings down the time frame from ideation to execution. With faster turnaround and the ability to tap the most trending opportunities, manufacturing companies can achieve a competitive edge.
Maximized efficiency: Efficiency means attaining the desired goals with fewer resources and yet maintain the quality. It is an important factor to stick to for business sustainability. Cloud computing offers more efficient solutions in terms of time and money in comparison with their on-premise counterparts. With effective cloud computing implementation, companies can go beyond connecting just the Project Life cycle Stages. It collaborates multiple departments or source points of any organization onto a single manufacturing record system to help them better serve their customers. Cloud computing reduces the time-to-market, reduces operational costs and frees up internal resources allocated for server maintenance.
On-demand delivery: Manufacturing software with cloud computing helps companies gain a clear picture of customer demands. It can fetch historical data from anytime of the year to create comprehensive forecasting. This forecast can be further utilized by the management and key decision-makers for demand and supply planning.
Predictive analysis: Based on historical data, client communication and inventory management, cloud-based systems can anticipate future possibilities. These reports are then made available to users through interactive dashboards, which provide details of the required data. Such feature plays a pivotal role in devising newer and better strategies that are more aligned to your business goal and competitive too.
Minimized cost: When companies outsource their IT infrastructure to third party vendors, they save on the resources and space. Also, they have to pay only for the used services, which brings down the total expenditure drastically. This reduces the infrastructure cost involved and also allows maximum utilization of available resources. 
Takeaway
Cloud computing architecture consists of three layers namely, IaaS (Infrastructure as a Service), PaaS (Platform as a Service) and SaaS (Software as a Service). These help users manage virtual instances, develop and manage app configuration settings and execute the developed application respectively. This results in better performance at reduced operational cost without compromising with quality.  Migrating to cloud isn't just about hosting data off-site. When used correctly, it could enhance a manufacturing company's productivity and efficiency. With such huge potential, it is difficult to understand why manufacturing companies would not opt for cloud computing solutions.