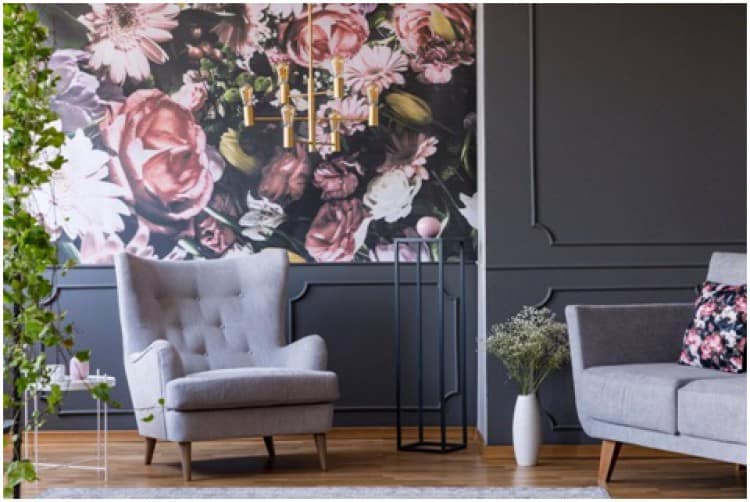 Bye-bye, all-gray everything! Hello, funky prints and bold colors! Welcome to the world of interior design in spring 2019, where no piece of artwork, no backsplash and no wallpaper is too busy, bold or bright. As we usher in the New Year, we also usher in a whole new freedom of expression, but not without practicality. We'll also see designs that gravitate towards comfort and utilitarianism but never divert from style.
From dramatic, storytelling furniture pieces to breezy window treatments that let bold designs take center stage, there's a brand-new trend on this list that helps you tell your special design story. And in 2019, that's what it's all about—design-based storytelling and self-expression.
Eye-Catching Backsplashes and Wallpapers—Subtle is so passé. This year, it's all about going floor-to-ceiling funky, with statement walls galore and backsplashes that won't let you look away. Pattern-wise, we're seeing the geometrics, chevrons and ikats taking a big backseat to fresh florals and bold, metallic motifs. If you've been waiting for that perfect excuse to design a dreamy statement wall, now's the time! The funkier, the better as far as we're concerned.
Dramatic Window Treatments—With regard to trendy window treatments, be prepared to see a whole lot of unique options that are dramatic, rich and texture-heavy this year. Like many of the others on this list, this trend capitalizes on the fresh, unique and bold, but in a different way. They're big in terms of size—floor-to-ceiling curtains, anyone?—and texture, rather than print, color or pattern.
Airy, Easy-to-Match Finishes—Just because designers are gravitating towards the statement-making this season doesn't mean that airy, natural designs will fall by the wayside. In fact, we're seeing a big resurgence in easy-style accents, like sheer window shades and neutral-colored stone flooring. The reason? With so many bright and funky accent walls to consider, it's best not to make the fundamentals of the room too crazy or overbearing.
Artistic, Sculptural Light Fixtures—Who says artwork should be hung from walls, and only walls? Not us! This year, we'll see all kinds of exceptionally artistic light fixtures that create intrigue from above. Whether it's the ultra-hot mid-century modern chandeliers that don't seem to be dying in popularity or the funky, repurposed pendant lights made by your local welder, there's something really illuminating about the artisanal lights gracing showrooms this year. 
Everything Sustainable

—It's been a long-time comin', but the sustainability in design trend is bigger than ever. Part of this is because it's what consumers demand—81 percent of consumers believe that companies should be doing their best to help improve the environment,

according to a recent study from Nielsen

. That means that we'll start to see more and more bamboo and recycled materials, and also that we'll probably soon watch companies roll out innovative new materials and products focused on sustainable interior design.

Hand-Crafted and OOAK Accents—Top designers are now looking more to artists, artisans, makers and crafters rather than home goods retailers for their statement home décor pieces. It doesn't matter if it's hand-crafted, thrifted or modified so it's a true one of a kind (OOAK), as long as you won't find it on the shelves of big retailers, it'll feel cutting-edge this year. This is especially true of artwork and furniture, but you'll even start to see the handmade creep into the lighting and flooring markets.
Designs that Welcome Living Coral—Say aloha to 2019's Pantone Color of the Year—16-1546 Living Coral. This bright, energizing pink offers golden undertones (perfect for pairing with your trendy copper and metallic accents) but still maintains a relatively soft and subtle edge. It's the new Millennial Pink, and we're ever-grateful to see it appearing on furniture, artwork, window treatments and stylish home accents.
And Don't Forget Nightwatch Green– This year's PPG Color of the Year is on the opposite end of the color spectrum from Living Coral, but they're really not too different in spirit. Dubbed Nightwatch Green, this dazzling jewel-toned hue piles on the personality. It's deep, brooding and a little bit retro, but it's still subtle enough that it can be paired with bold prints and big textures. It really looks dreamy when paired with dusty pinks and royal golds.
Comfortable but Beautifully Designed Furniture—As a response to the cold, arguably soulless (but undeniably beautiful) furniture born out of the modern movement, designers are finally finding brand-new ways to fuse comfort with good looks. Think: plush, over-stuffed headboards with decorative tufting, elegant and dramatically shaped velvet armchairs and warm, dark woods that evoke a sense of coziness.
Minimalism as a Design Statement—Thanks to The Magical Art of Tidying Up and the millennial-driven trend to purge stuff and amass experiences, there's been a very palpable resurgence in minimalism in the past few years. In terms of interior design, we're seeing minimalism serve as an addition rather than a reduction. The blank wall, sparsely-decorated shelf or open floor space now feels more intentional than neglected, and designers are using it to their advantage.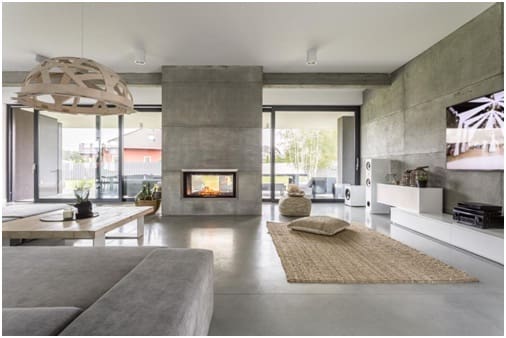 Self-Expression at the Crux of 2019 Design
Each of these trends has its own big spirit and personality, but they are all united by the fact that they work towards the goal of self-expression through design. Gone are the days of mass-produced, formulaic and soulless. Now, interiors are meant to tell stories and evoke feelings through patterns, colors, textures and materials. It's truly the era of the eclectic, unconventional and inspired interior.