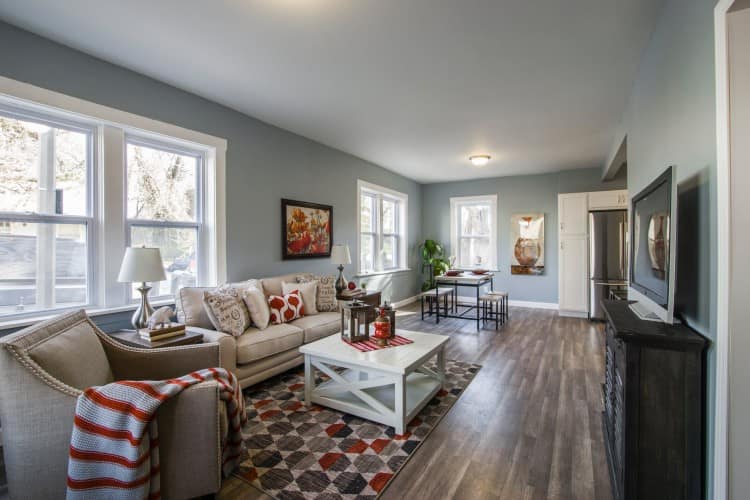 With spring just around the corner, and summer right behind, now is the perfect time to revamp the home and embrace some new design trends that will have your house looking as good as new just in time for the sun. For décor lovers looking for some fresh tips and ideas on 2022 decorating, take a look at some of the key trends for 2022 spring/summer below.
70s Retro Infusion
This year is embracing natural materials such as bamboo, wicker and rattan which are being championed and paired with bright pops of greenery and colourful tasselled detailing which looks beautiful amongst the wood.
An earthy palette and geometric prints also complement this look which should be paired with rich accent colours and statement lighting. If you choose to follow this particular trend, be sure to stick to the rule of 'less is more' and be careful not to over clutter. Why? Over cluttering your space with too many loud colours, textures and patterns may have worked in the 70s, but it can cause visual pollution and create a stressful environment.
Sustainability
This year, sustainability has become a trend as more and more home interior design brands are making eco-conscious decisions (yay!). Design brands are constantly looking for new ways to re-use materials such as paper, fibre, foam and plastic in the aim to give them a new life.
Sustainability and recycling go hand in hand so why not opt for some glassware designs that are made using 100% recycled glass collected from waste bottles and jars.
Adding texture to your interior is a great way to add character and depth. Invest in some hand-woven textures made from natural or recycled materials for a truly beautiful, summery look. Wove materials are key for Spring 2022, particularly across contemporary furniture and decorative items and textiles.
Glamourous Art Decor
The current 2022 glam design trends are embracing much more of a sophisticated look that is way less sheen. Luxury materials such as pewter, marble and velvet can be used and combined to create stunning, decorative detailing.
One trend that is particularly popular and a huge component of refined glamour is fringing. From lampshades to wall hangings and cushions, fringing should be added to your glamourous summer renovation.
When it comes to colour schemes, dusky rose is a primary shade used within this trend and works beautifully with minimal neutral tones, marble, velvet and brass materials as well as glass and copper fittings.
 Tropical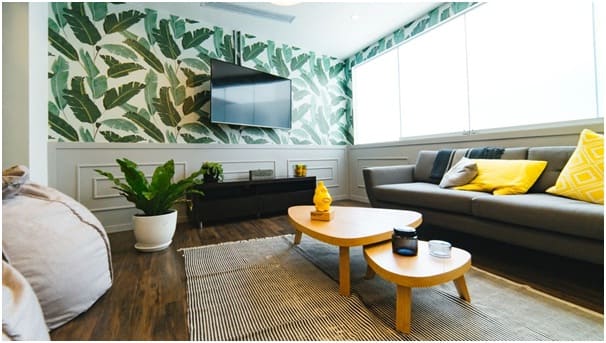 This is an uplifting trend which will work beautifully over the spring/summer seasons, which represents a celebration of nature. The botanical prints are delivered in a softer format which is diluted by an almost pastel colour palette and complemented with vibrant yellows.
Bold wallpapers such as tropical leaf designs are becoming increasingly popular this year and vibrant bold print can breathe new life into rooms, no matter what size it is.
This summery botanical trend is a great testament that our love for nature and sustainability continues to proliferate.
Mustards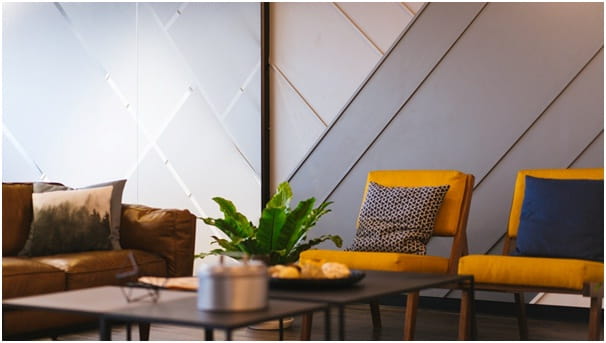 A mustard palette has become the go-to shade over the warmer months, particularly in our homes. Once upon a time it was used as a way of adding a small pop of colour into a room however, this trend is now seen to be moving towards larger investment pieces of furniture.
Mustard is a versatile shade that works amazingly with millennial pink, teal and indigo blue and of course, a crisp white if you want to create more of a fresh and clean look.
Compliment your mustard statement pieces with some green plants to bring nature and summer inside.
Monochrome
This year, the black and white tribal trend is back, just in time for the summer season ahead. With lots of strong geometric patterns and natural woven elements, this trend is perfect for outdoor designs.
Mix and match the prints to add points of interest and drip in hints of mustard and bright pops of vibrant pink as this is a great way to break up the geometric prints, so it is easier on the eye.
Boho (but with a modern twist)
The boho vibe is back, and not just in the world of fashion. This year, there is a vintage and modern twist on the trend that sees curved lines, layering and patterned fabrics that are cleaner and brighter.
Curved furnishings, softer lines and the mixing of modern and vintage is what to expect this summer.
Author Bio:
Poppy Jones is a freelance lifestyle writer and avid decorator. She loves discovering home renovation blogs as well as fashion and beauty and spends much of her free time shopping. She has an eye for contemporary furniture and aims to buy her own home within the next couple of years and begin her very own renovation project!