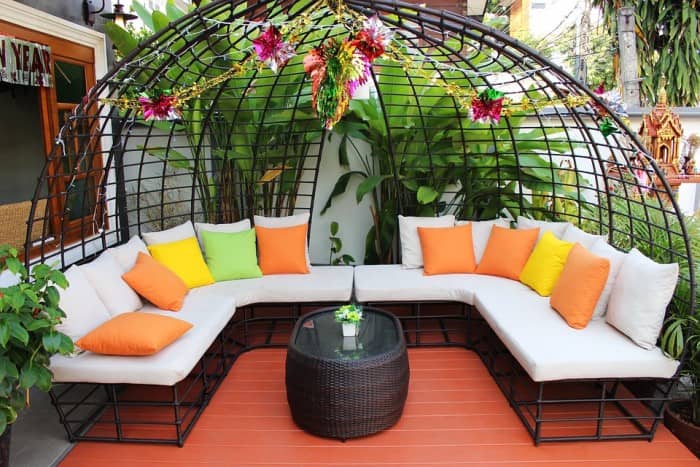 They say, when you are in doubt, you should either leave it or rip it out.  There is also another way, take help from the experts. When using a patio cover, you may face some difficulty in putting these on, especially for the first time. there may be issues like:
They are bulky and bunchy
It is not smooth when put on or
The seams may not fall into the right place.
There is no need to panic in such situations. You can redo the seam by simply ripping it off in different places. It will take only a couple of minutes to resew it but the effort will be worth it.
Resewing a cover will ensure that:
A messy cover looks beautiful
Ensures a proper fit
Make it look flat and
Ensure that the seam is up next to the piping.
Sometimes you will need to smooth the patio furniture covers a bit more, especially when the seam is too wavy. Iron the seam to press it and look pretty good, both at the back and at the front.
Other styling tips include:
Pressing your seams open
Pulling the fabric taunt when you pin it on new sections to ensure a snug fit and
Use a ruffler to reduce stress, save time and aggravation.
Just make sure that you take your time to ensure that the cover looks, neat, and professional when put on.
It is all about tucking
Ideally, putting on the patio furniture is all about tucking. It is normal if you have extra fabric so long as there is enough space to tuck it. a little bit more effort will help you to style your furniture cover successfully and it will not take more than five to ten minutes to tuck the cover and style it.
Ask someone else, maybe your relative or a friend, for this matter. If he or she is a better stylist than you then you will be better off to make things look nicer. Most importantly, it will be much easier and better to put on the cover when two people work on it simultaneously.
Take out the wrinkles as well so that it looks just like the catalog photo when put on. You can do this by tossing it simply into the dryer with other damp washcloth for ten minutes either on cool or warm heat. This will steam the wrinkles right out.
To make the cover stay in place, tuck the excess fabric down the seat and arm and pull it back to the rear where the arm of the chair meets the back.
Custom and tailor-fit covers
When it comes to styling your patio furniture covers, it is best to buy custom and tailor-fit covers.
Custom fit covers will be ideal for your because these are:
Protective
Durable and
Withstand pets and kids.
You will like the comfort as well as be able to freshen up its look. The tailor-fit covers will look more streamlined and stand out part from enhancing the life of your patio furniture.
How to take care of your patio furniture?
A large portion of the individuals leave their patio furniture revealed on their deck and along these lines keep it unprotected. On the off chance that you need to shield your furniture from the unsafe UV beams that will blur and age your furnishings, from the downpour water just as the chilly climate conditions in winter, the best and most reasonable approach to will be to cover your patio furniture pieces.
In spite of the fact that all open air furniture things are ordinarily produced using every climate material, a large portion of these only here and there withstand the vacillations in the temperature and other common conditions. In the event that you have these pieces secured, it will draw out the life of these things and offer you the correct an incentive for your cash.
Indeed, contributing on these open air patio furniture spreads will build the forthright expense, yet this extra cost will end up being commendable over the long haul. Your open air furniture will be liable to harm because of introduction to various components of nature, for example,
Snow
Rain
Sunrays
Sleet
Hail
High wind blasts and that's just the beginning.
All these will fall apart the quality and harm your yard furniture after some time. On the off chance that these are made of wood, at that point the harm will be much quicker as day off downpour will make the wood material decay. Above all, it will likewise cause some genuine medical problems due to mold and buildup presence.
Picking the correct material
You should pick the correct material for your patio furniture spread that is of acceptable quality. Any modest variation or low quality patio furniture spread produced using plastic or vinyl will keep going for just several seasons and should be supplanted frequently costing you a great deal of cash. These spreads will be harmed in extreme cold or hot temperatures.
There are various kinds of materials used to make great patio furniture covers. There are a couple of crucial qualities that you should search for when you make a choice. Ensure that the spread material is:
Durable
Waterproof and
UV safe.
It must have the option to withstand extraordinary changes in temperature and climate conditions, both hot and cold.
Notwithstanding that, the material ought to be light in weight, simple to utilize and store when you don't utilize it. So as to keep your furniture from being damaged while putting the spreads on or off, ensure that the material is delicate to contact.
Highlights to search for
There are additionally a couple of different highlights that you should search for in the patio furniture covers. These will add to the life and usefulness of the spreads.
Check for the waterproofing and breath ability of the spreads. This will keep the furniture things dry even in clammy climate conditions. Breath ability will forestall buildup develop under the spread that the texture of the furniture may assimilate offering ascend to shape and mold.
Pick covers that accompanies:
Small vents
Closures and tie-downs and
Soft backing.
Ensure that you invest some energy both in shopping and research with the goal that you wind up purchasing the correct sort of spread for your patio furniture.
Author Bio
Trudy Seeger is a marketing and communication expert. He also serves as a content developer with many years of experience. He has previously covered an extensive range of topics in her posts, including Home Decor, and about patio furniture cover.