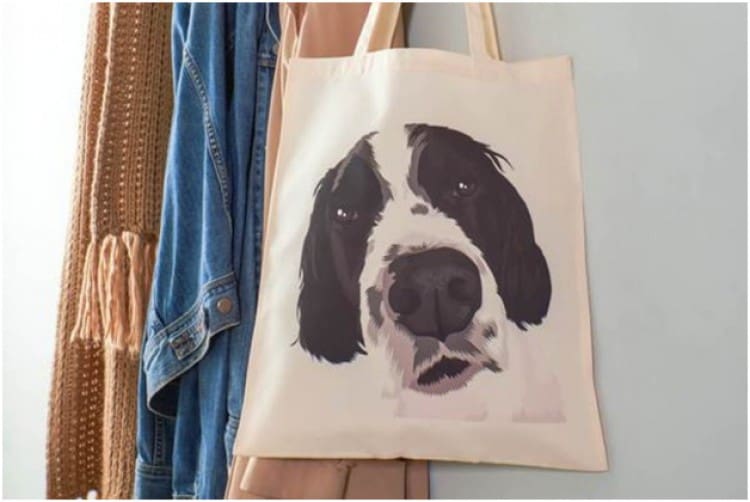 The world seems to be divided into two sections. There are the everyday, mundane people and then there are pet lovers. And when it comes to the second kind, dog lovers occupy a huge chunk!
Dog lovers have a distinctive way of life. They take good care of their pets. And they also take part in causes related to dogs, pets and other animals. Additionally, they also search for objects and goods, that would remind them of their pets when they are away from them.
And of the best fetish for dog lovers recently, are the personalized dog bags.
What is a personalized dog bag? 
Designed and manufactured similar to a tote bag, a personalized dog bag is one where you can get your dog's picture printed. Today, several companies provide this service.
However, it is vital to ensure you get this bag customized from a reputed service provider. If you are browsing online, you can check out Canvas Creatures for more information.
Most personalized dog bags are available in the size of regular tote bags! If you want a bigger size, you will have to let the service provider know accordingly. The majority of leading companies make use of high-end raw materials for manufacturing this bag.
One of the conventional materials used is 100% high-quality polyester. You can decide on the photo creative and inform the service provider to customize the same. Take time to select the bag color and how you want to customize the bag.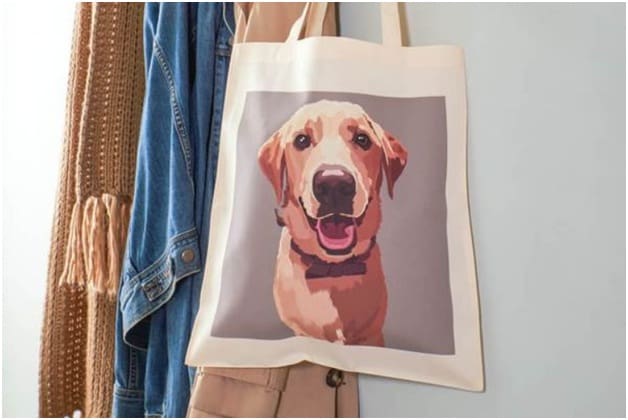 Benefits of having a personalized dog bag
These bags are much more than a dog lover's fetish! The bag has many uses as well. Some of the essential daily benefits are discussed below:
These bags act as a sweet and cute memory material for you! If you are planning to take a vacation with friends or have an extended business trip to attend, where you can't carry your pet, you can have this bag all to yourself. Choose the best photo of your pet and have it printed on the bag. This way you will get to see your dog even when you are away. Most dog lovers proudly sport this bag.
It's a quirky style and personal statement that you can make! If you have a slightly out of the box style statement and way of life, you could use this bag as an accessory. You can dress up in casuals and carry this bag for your classes, tuitions and even when you are meeting your friends. You can coordinate your dress color based on the bag creative.
These bags are a stylish accessory to flaunt on international pet's day and other similar occasions. Sometimes, people get completely confused as to how can they show their love for their pet dogs. Using this bag is a fantastic way to let the world know you love your dog and it means the world to you.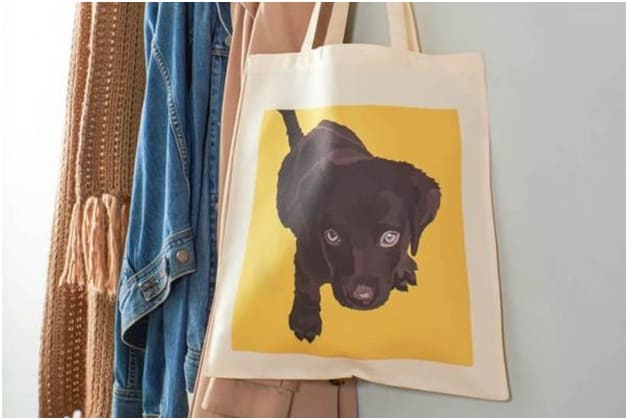 Carry your dog toys and accessories
Personalized dog bags are an excellent place to keep your dog accessories and toys! As your dog grows up, you would be shopping for pet toys and other essential buys. It is always good to keep all these accessories and toys in one place. This bag is an excellent place to keep everything.
That way, you can stay organized. Since you know that all the dog toys are held in one place; you'll not search anywhere else in a scattered way. It's useful to carry all your dog items even when your dog is traveling with you.
If you love the bohemian and eccentric interior decor, you could use this bag as wall decor as well.  Get a hook on the wall and hang this bag. To add more character to space, stick some of the best pictures of you and your dog around the bag.
However, ensure that this is done in a visible area and also out of reach from pets and kids. That way, you know that neither will destroy the decor. You can select the bag creative and design, based on your walls color and home decor as well.
It's a great gifting option to a fellow dog lover as well. No dog lover would say no to such a delightful gift. So you can take a picture of your friend's dog and get it printed the way you want in a bag. If you want you can also add an adorable caption.
Add a personal note with the bag, and it will make the gift thoughtful. This personal touch will make your gift memorable as well. You can gift this to a dear one his/her birthday, his/her dog's birthday or even when there is no occasion.
Important things to keep in mind
Today, several companies have come up helping you to personalize dog bags. When you decide to opt-in for this bag, you need to keep a few reminders in mind. They are as follows:
Check out the reputation of the service provider before you place an order.
Research online on the price before you invest so that you don't overpay! Browse through the best sites, and you will get to know the average price of a bag.
Try and find out the best material used for the bags and stick to that. It's is essential to personalize a bag that lasts you longer. That way, you will have a better value for money. And if the bag lasts long, it will also add to your savings.
Find out how many pictures can use in one bag. Ask the company, and you'll get to know. That way you can add two or three of your favorite photos.
Getting a dog bag personalized is easy and simple. Since there are several service providers today, you can choose a leading name from many companies. So take time to research and choose wisely.