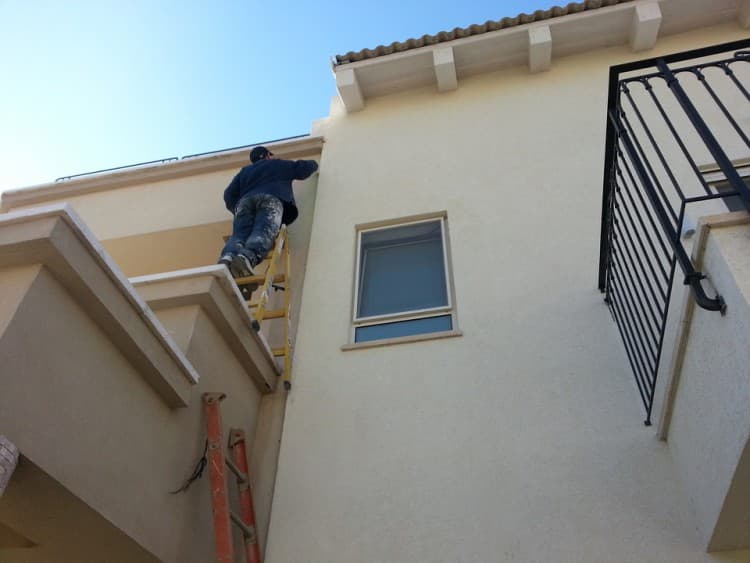 Can you smell the lovely aroma of flowers blooming? Can you hear the beautiful sound of birds, returned at last? Can you feel the tickle of a fresh spring breeze on your face? If you can, and you're a homeowner, that means there's work to do! Whether your home is in a suburban development, in an urban neighborhood, or in the heart of the country, there are simple steps that you should take for spring maintenance. Follow these 9 tips to get your property whipped into shape so that you can get a fresh start and enjoy your spring.
1. Inspect your roof and attic for leaks and other damage.
Spring is an extremely wet season in many parts of the U.S., so some of the most important tasks will involve getting your home ready for increased precipitation. One of the most critical ones, and one you definitely shouldn't put off, is inspecting your roof's integrity
Check your roof for obvious tears, holes and other problems with your shingles, but make sure you also give your attic a good look-through. If you notice any wet spots or places where the wood has started to rot, or even if you just notice a general damp feeling in the air, call a professional immediately to have your roof assessed.
2. Make sure gutters and downspouts are clear and clean.
The storms of spring can dump down water on your home and, if your gutters and downspouts aren't there to direct it, the water will roll straight off your roof, creating a bundle of bad effects. These include water stains on your house, erosion of your yard and your foundation becoming inundated with water.
That last one is an especially big issue—stains and erosion can be fixed, but if your foundation is getting more moisture than it can handle, it can lead to big, long-term structural problems. Thus, make sure your gutters are clean and clear of leaves and other debris, and that your downspouts are flowing properly. (You might need to wait until after the first storm to get an accurate picture.)
3. Check the caulking on your window and door sills, and re-touch it if you need to.
Caulking is a key component of your home's moisture and air sealing and, if it's in bad condition, it can cause drafts and moisture leaks. Check the condition of the caulking on your windows, including out-of-the-way windows you might not normally think about such as basement windows. If you need to clean old caulking off your window, it's fortunately pretty easy. Take a razor knife and run it along the edge of the window to shear off the bad caulking. Then, use a sponge with a bleach-water mixture to clear off the excess gunk, and re-caulk with a fresh tube.
4. Make sure your driveway and patio are in good shape.
Cracks in your driveway and patio are likely to get bigger and meaner with the help of spring precipitation, so now is the time to address them. Keep an eye out for weeds growing through the paving, as well as cracks, holes, dips and other irregularities.Depending on what your driveway or patio is made of, you may be able to fix it yourself. Asphalt, for example, can often be patched using some simple DIY skills. However, for more serious fixes, you might need to call a contractor.
4. Touch up your home's paint or give it a new coat.
Keeping your home's paint fresh has a variety of benefits, both aesthetic and practical. It will increase your curb appeal, but it also protects your home from the elements. Most modern house paints are designed with weather-resistant components, so applying a fresh coat can be helpful in maintaining your home's exterior.
5. Give your fireplace and chimney a good cleaning.
If you have a fireplace, winter is probably when you use it the most. So, come spring, it's time to get the chimney cleaned out to avoid creosote and ash buildup. These problems can present a fire hazard if left unaddressed, as well as potentially create unpleasant odors and damage your chimney. This is one where you'll probably need to employ a professional, as chimney-sweeping isn't as easy as Mary Poppins makes it look.
6. Clean your garage or storage shed.
There's nothing like a good spring cleaning—it's the perfect time to get your life and home organized. If possible, do a full clean-out of your garage and/or storage shed, taking everything out, deciding what you need and what you don't and thoroughly cleaning the space. This is also a good opportunity to find signs of rodent intrusion that you might have missed before, such as droppings, nests or holes in the walls.
7. Keep your trees healthy and your home safe by pruning and trimming.
Trees that have loose or dead limbs are a major threat to the safety of your home and family, as these limbs can fall and damage your house or cause injury. They also present an easy opportunity for insects and tree parasites to infest your trees. Thus, it's vital for the health of your trees to give them a spring pruning.
If you're not sure how to safely remove some of the limbs, don't take chances—call a qualified arborist service. If you do choose to DIY, make sure you've got a pair of work gloves to help you keep your grip on the chainsaw, as well as safety work boots with anti-slip protection.
8. Get a maintenance tune-up for your HVAC system.
In most parts of the U.S., summer will give your air conditioning a workout, so it's key to make sure that it's working properly before it needs to operate at peak capacity. Many HVAC companies offer spring and fall tune-up services for homeowners to make sure their HVAC units are in tip-top shape. It's a good idea to invest in one of these ahead of time so that you aren't faced with potentially expensive repairs later that will also take your AC out of commission during the summer.
Spring is a time for starting fresh and building for success, and one of the best ways to do that is through regular home maintenance tasks. You'll get your home in good shape, you'll get some exercise and you might even catch one of those nice spring breezes on your face!