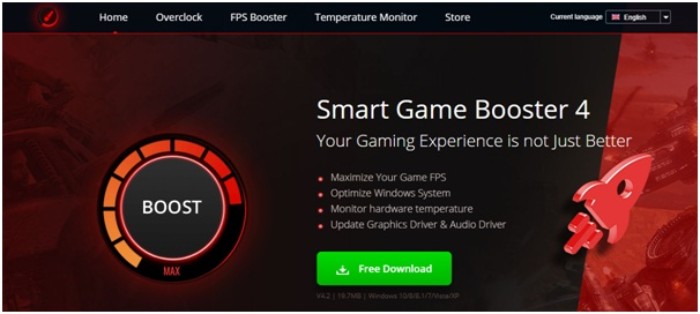 Low FPS is every player's nightmare for a good reason. Whether you're playing solo or multiplayer, an unstable frame rate can ruin the whole experience. The obvious solution is to get new hardware, but if your budget doesn't allow it or you can't justify spending on slightly better performance; try to take advantage of what you already have. This is where the Smart Game Booster comes in. You can disable various non-critical processes and services on your computer to free up additional memory and processing power for your games. The software also serves as a quick start for your games and also includes other useful tools.
The Smart Game Booster team recently released a new version. It comes in a small package, and you can get it up and running in no time. The software is compatible with all modern Windows platforms, and you do not have to meet any special requirements to run it.
See its new feature below:
What's New:
+ NEW Super Boost – Over clock most Nvidia and AMD graphics card
+ NEW Auto Update Drivers – Update drivers automatically while the system is idle
+ NEW Auto Defrag Disk – Defrag hard disks automatically while the system is idle
+ NEW Do Not Disturb – No notifications from Smart Game Booster when a full-screen task or specified program is running
+ More Powerful Detection – Detect more games from popular gaming platforms including Steam, Origin, Epic, Uplay, and BattleNet
+ Improved UI for a more user-friendly experience
Simple Steps to Use Smart Game Booster
The program has a modern and elegant user interface, with clear and easy controls. You can add the game's executables to a list with a standard navigation option, and then click a substantial "Boost" button. The push process takes several seconds, during which the program temporarily stops essential operations and services. Once the configuration process is complete, the program will start the game automatically, and you will have fun with some additional features available.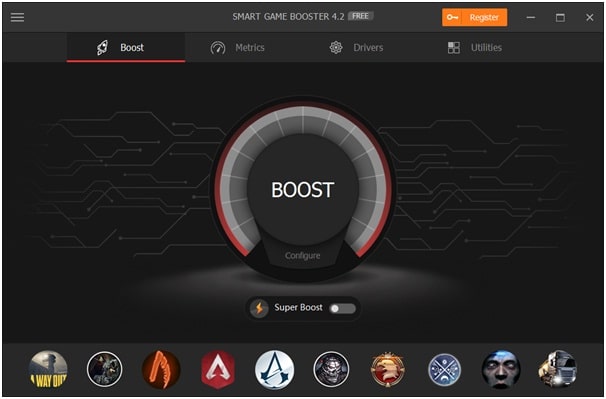 Monitor & Increase FPS on Your Computer
You can find a "Configuration" button integrated into the "Impulse" button, which allows you to decide which components to close. If you want to see your performance, you can activate a hud in the game, which shows your current FPS, as well as the hardware temperatures, to make sure everything is going well and that there is no risk. Also, the software will emit warning sounds if the temperature exceeds the recommended levels, so you can react quickly and avoid damage.It's really a great FPS booster.
Overclock CPU & GPU to Boost Your GamePerformance
What is overclocking? It increases the operating speed of a specific component or hardware. In computing, overclocking is the practice of improving the clock speed of a computer to exceed the limits designed by the manufacturer and to enhance the performance of the processor or GPU. In general, what we have overclocked to improve PC performance includes processors, GPUs, and memory cards.
Sometimes, to increase the pace of the game and increase the performance of the game, players want to overcome the CPU / GPU to make the difference even if they already have a high-end PC. Although overclocking can have terrible consequences, such as finding the processor, GPU, and overheating the PC fan, Smart Game Booster offers the solution to control and monitor the temperature of the CPU and GPU in real-time, both in-game.
Useful Driver Updater
Smart Game Booster includes several other utilities that help you run your computer smoothly. For example, the software can search for outdated drivers and install the latest versions. It may take something, maybe a little longer than when you do it manually, but you can let the program do it in the background without disturbing you. Also, you can use other tools to run diagnostics and detect the complete configuration of your computer, adjust various system settings and defragment your hard drive, all to keep the games running correctly on your computer.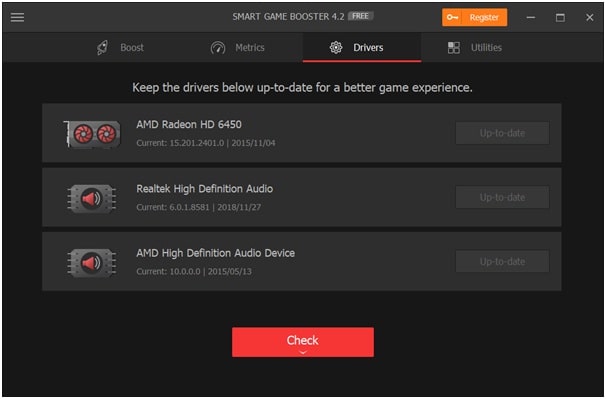 Conclusion
Smart Game Booster can give you the edge you need in gaming and performance, and the best part is that you only need a few clicks.
Pros
The program can interrupt non-critical components to improve the performance of your games. It allows you to decide what to deactivate or leave alone. The elegant and modern user interface will enable you to perform any task comfortably. What's more, it allows you to capture and record the game moments with the easy hot keys.
Cons
There are no apparent disadvantages to resolve.