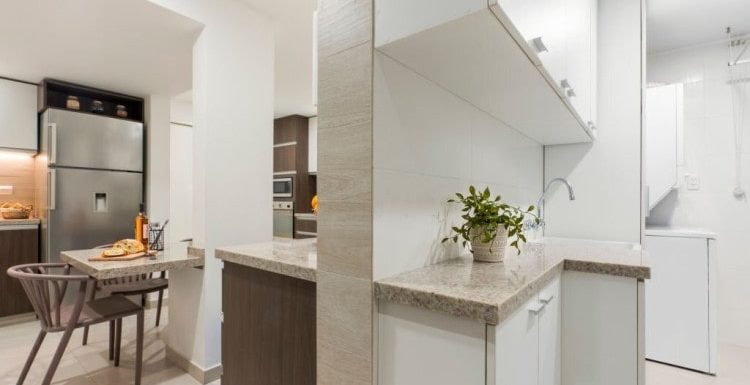 Before the fitted kitchen became mainstream, there were few appliances for homeowners to choose from. The very earliest appearance of a fitted kitchen was from Austrian architect Margarete Schutte-Lihotzky in 1926, but it took a good few years for this idea to catch on. 
Early kitchens were incredibly simple and typically just housed a cooker along with furniture such as a kitchen table, a dresser and potentially a larder. 
Make sure to read below for our guide to integrated appliances, written in collaboration with Joe Graham & Son Ltd, the leading suppliers of Integrated Fridge Freezers and other appliances.
The Rise of Integrated Appliances
Skip ahead 90 or so years, and you'll find kitchens packed full of a range of appliances, including different appliances, fridge freezers, laundry appliances, dishwashers and even coffee machines.
There is a wide range of reasons to choose integrated appliances (or as they are also known 'built-in'). One of the main driving factors is that they are a lot sleeker, they're modern-looking and while they won't necessarily help you to cram more fixtures in, you'll definitely be left with a less cluttered-feeling space. This can be particularly useful in smaller kitchen spaces, where every inch counts.
If you don't have the luxury of a separate laundry room to work with, having a hidden washing machine and tumble dryer behind your cabinet doors will be an excellent solution. It'll conceal what are frankly ugly white goods behind doors and create a consistent appearance whilst also deadening sound.
Building-in has never been easier, either. Many manufacturers are developing ranges that will sit together perfectly and feature matching design elements such as controls, LED displays and even matching handles, to give a sense of consistency.
The downside of having built-in appliances is that they'll be more expensive to buy in comparison to freestanding models with the same specifications. They'll also cost slightly more to install as they require special cabinetry to sit around it.
Freestanding Appliances
These days, freestanding appliances can be a good choice in the terms of budget, especially because they are cheap compared to their built-in counterparts. Often, kitchens will be built around a range or a family-sized American-style fridge freezer. This is a great way to create a statement, whilst also ensuring that the appliance is sitting comfortably alongside kitchen furniture. 
Another benefit of freestanding appliances, aside from the cost, is that they will have a slightly larger capacity than built-in ones. This can be particularly useful for items such as fridges, dishwashers and washing machines in family households.
It's also important to remember that freestanding appliances will be much easier to remove and repair or replace should something go wrong. What's more, if you move home, you'll be able to take them with you!
Choose the Best of Both Worlds
Of course, you can also mix between the two different types, to suit you and your home. This can be particularly true if you have an appliance such as an AGA. You could supplement a cast-iron range with a built-in oven as a great compromise.
Similarly, you could choose a SMEG fridge freezer and mix it in with some seriously modern cooking kit built-in within cabinetry. 
We hope that the above blog has given you the hints and tips you need to design the perfect kitchen and purchase the right appliances to fit.