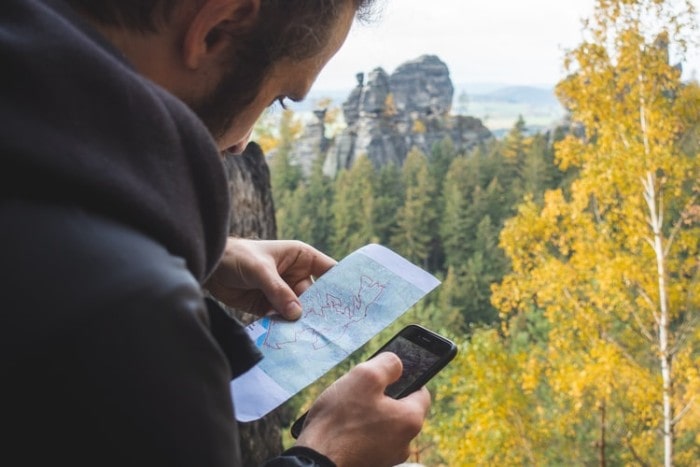 Traveling has become a common hobby of today's generation. With cheap plane tickets and visa-free countries, it has become easy to hop from one country to another.
More so, traveling doesn't have to be complicated and scary because technology has made everything smooth and easy. There is no need to wonder what you can do in a specific city, where to go to eat the perfect pasta, where to book a room, and so on.
Thousands of travel apps are available in app stores that will help avid travelers in their journey.
If you are planning to take your next trip, ditch the map, and check out these travel apps that will help you at your next destination.
Airbnb
If you want to stay close to the feeling of your home, you can choose Airbnb. It has thousands of hosts all over the world who opened their doors to travelers.
You can book a single room or the whole house if desired. Instead of staying in a hotel, you can make yourself comfortable with beautiful houses offered for rental.
The app works the same way as the website version. You can search for the type of house you want, the price, and amenities.
Airbnb also offers other activities like tours or workshops, besides booking for a place to stay.
The app is available in both the Android and iOS app stores for free.
Hopper
If you are looking for cheap flights to save money, you can use Hopper. This traveling app for booking flights and accommodation will give you an overview of how much a plane ticket to a specific destination costs in a year.
Each color code specifies how much a flight might cost, where the green one being the cheapest flight you can book.
It also helps in making decisions for travelers if they should book the flight or wait for a cheaper alternative. Also, it will send alerts if there are any changes in the price.
Available in the Google Play store and Apple store for free.
LoungeBuddy
Waiting in airports is painstaking, especially when it takes hours before your next flight. There are airports with poor WI-FI connection, bad food, and no places to sit and wait. Often, lounges are only available for those traveling business class or with membership
But LoungeBuddy makes waiting less stressful. The app allows users to find a lounge regardless of the flying class you have. Some of the lounges are free, while some come with an additional fee.
Also, it will include the amenities the lounge offers.
It is only available in the Apple store for free.
Hotels.com
You can reserve your hotel room easily with Hotels.com. It allows you to search, compare, and book a place to stay, whether in advance or on a last-minute.
The app also offers discounts and sales that can help you save money on your trip. Also, they have packages and promos, like when you booked and stayed for ten days you get one night free.
The app is available for download at the Apple and Google Play store for free.
RoadTrippers
You can now do everything with the help of RoadTrippers. This app allows you to see different places or stops without missing one. You can stop at museums, restaurants, campsites, and more. Plus, it allows you to book hotels and activities you want to try.
RoadTrippers offer a premium plan which costs $29.99 a year. With their premium plan, you can save maps offline and add unlimited stops to your road trip.
It is available in both the Apple and Google Play store for free.
Google Translate
Not everyone knows the English language. That's why avid travelers must have a tool that will help them to understand and communicate well.
Google translator is a handy tool you can bring with you when you travel overseas.
It can translate into 103 different languages, and it also has a camera translator with over 37 languages. You point the camera to a text, and it will instantly translate the image's language.
It can also be accessed offline but limited to 60 languages only.
The app is available in the Apple and Google Play store for free.
Google Maps
Google maps will always be a traveler's trusty app. It helps you find the way to a place you need to go to or when you need to return to your hotel. You can check on directions, time on how long it takes to be at one place, check reviews, and book reservations.
You can access the map of a specific place offline when you have downloaded the map.
The app is available in the Apple and Google Play store.
HappyCow
HappyCow is an app design for people with a vegan and vegetarian diet. It helps users locate thousands of restaurants that offer a plant-based diet. Not only does it show restaurants to try but, bakeries, coffee shops, farmers market, and groceries that offer vegan and vegetarian choices.
You can also check on reviews if the restaurant has excellent service from people who have been there.
The app is available for free in the Google Play store. In the Apple store, it cost $3.99.
TripAdvisor
It's an online travel company that allows its users to share and review places all over the world. It also has an app version.
TripAdvisor is one of the best apps to use if you want to check on a city, hotel, restaurant, and more. It includes reviews that will suggest if a place is outstanding or serves poorly.
Aside from hotels and restaurant reviews, you can also find flights and things to do.
TripAdvisor is free for download in the Apple and Google Play stores.
Uber
If you don't know how to get to your destination and you don't speak the language of that city, Uber can help you with that. It is a ride-hailing app where you don't need to communicate with your driver about your destination. All you have to do is input your pick up location and your desired destination.
Uber is available in more than 700 cities in the world.
Uber app is free for download in the Apple and Google Play stores.
Other Apps
The apps mentioned above have terrific ratings and are often used by travelers. But, if you want to try other apps for your journey, here are some of it.
Flight booking and finding: Skyscanner, Google Flights, and Kiwi.com
Accommodations: Couchsurfing, Hostelworld, and HotelTonight
Organizing trips: TripIt and PackPoint
Activities: TheFork, Viator, and OpenRice
Other traveling apps: Detour, Waze, GasBuddy, and AllTrails
Traveling becomes easy when you have a trusted companion to guide you on your journey. You can go to one destination to another without worrying anything at all. These apps will help every traveler from the time they book their ticket and accommodation until they reach their destination.
Author Bio:
Ramon has been writing about technology trends, entertainment, and gaming ever since he left the busy world of corporate HR Tech behind. He currently writes about software and user experiences for Softvire Australia– the leading software e-Commerce company in Australia. In his spare time, Ramon writes science fiction, collects little yellow men and plastic spaceships.