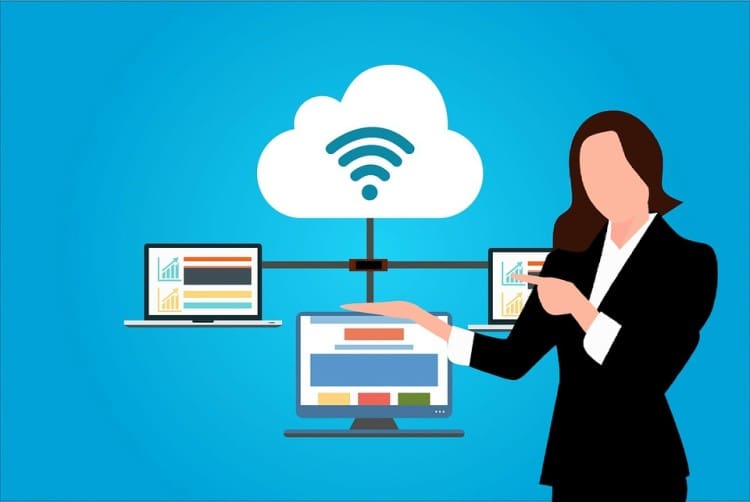 Accordingto the global market intelligence firm, International Data Corporation (IDC), sales from hardware for cloud IT infrastructures surpassed revenue generated from traditional infrastructure for the first time in Q3 in 2018, according to IDC. https://www.channelweb.co.uk/crn-uk/news/3069299/more-spent-on-cloud-hardware-than-traditional-infrastructure-for-the-first-time-analyst
The growth saw spending on public and private cloud infrastructures equate to 50.9% of the market – with traditional IT infrastructures making up 49.1%. This is a 'true blue' indication that both SMB's and enterprises are moving with the evolution of technologies and that traditional IT infrastructures are fast becoming a thing of the past.
Below is a breakdown of what the benefits and drawbacks are for each cloud model:
Public Cloud
When cloud computing is generally being discussed, public cloud is often the main deployment model spoken of due to how easy it is to access it.
Public cloud is a group of cloud services offered to the general public; meaning anyone with a credit card can use it. You can log in to a public cloud like AWS by opening an account and begin using a public cloud service instantly.
Many public cloud hosting services provide the free limited budget to play around and get familiar with the system capability.
This type of cloud infrastructure is owned and managed by the public cloud providers. They are responsible for the hardware equipment and software tools being installed in their numerous data centers worldwide. They are responsible for the security of their infrastructure, all manner of performance issues, hardware failure and much more… 24 hours a day… 7 days a week… 365 days a year.
From a customer perspective, virtual cloud resources can be provisioned and managed by the end users, based on the type of services they have chosen. This is the basic concept of public cloud outsourcing an organisations' IT infrastructure so they can begin to modernise their services.
The ability to share available resources across multiple customers is a key feature of the public cloud model – hosting cloud services for multiple customers, multiple business units, departments or end users on the same infrastructure.
In public cloud services, end users pay for usage of resources – consuming only what is needed when it is needed. Much like when an electricity utility company measures power consumption per customer then sends a bill according to total consumption per calendar month.
Companies who choose a public cloud service offering can benefit from 'Economy of Scale'. When this type of cloud service is sold to multiple organisations, every company can benefit from the shared environment in the form of reduced cost, increased capability, better scaling options etc.
This is great if you are a start-up company providing some sort of mobile application. They can use a public cloud service without having to invest in a complex hardware installation. You can pay only for the resources which your company has used.
Such flexibility with computing resources is a very useful capability for SMB's.
Private Cloud
If Cloud Hosting as a concept is so great and so useful in a public cloud setting – why not implement its core capabilities in an existing private data center of which you already own?
This is the core concept of what private cloud is. It is private because it is used by a single organisation. Private clouds are usually deployed on-premise, which means inside the private data center owned by the organisation.
Another not-so common option is for a third-party cloud provider to host it in their data center.
In both cases, the private cloud will be deployed on a single tenant environment, unlike public cloud where it is a multi-tenant environment.
This is the core concept behind private cloud.
Private Cloud is essentially a cloud infrastructure operated for one business only. It is not available to the general public as with public cloud. Within one organisation, there can be multiple business units, departments or end users that use this private cloud infrastructure. 
Private Clouds are good for large organisations with significant data assets, looking to move away from limited traditional IT environments and into modern cloud technologies.
If you are new to IT, you may think to yourself:
"What is the difference between regular, on premise private data centers and private cloud infrastructures?"
This is a sensible question. The simple way to approach it is by considering private cloud as the natural evolution of traditional data centers. Many companies have been virtualising their IT environment for several years now, so this is nothing new.
Virtualisation provides additional cost saving benefits as well as enhanced flexibility to ongoing new demands. Private cloud is also taking existing virtualised infrastructures to another level.
A new level where resources can be allocated by users and applications in more automated ways. For example, managed IT services providers are using user portals within their client's IT infrastructure to allocate resources by using 'auto-scaling features' that can eliminate the need for a client's internal IT department to manually respond to any increase or decrease in computing resource demand.
From an IT perspective, private cloud offers the key advantages of speed, agility and efficiency while maintaining control of sensitive workload running on the data center.
Hybrid Cloud
The cloud doesn't exist in isolation from your other business IT investments.
Businesses are not restricted to choose one single solution from either public or private cloud. Many companies are taking advantage and benefiting from both public and private cloud.
This is the basic concept of a hybrid cloud solution. that is a mix of different cloud deployments integrated together to form a combined IT infrastructure.
With this type of infrastructure, end-users can utilize resources from their local private cloud in parallel to using resources from the public cloud.
Organisations currently using private clouds are likely to evolve into the hybrid cloud direction. Therefore, this hybrid model is becoming increasingly popular and is sure to grow in popularity in the future.
One very useful scenario for the hybrid cloud model is called cloud bursting. This is the ability to create virtual machines on demand then remove them when they are no longer needed.
The application creates a dynamic workload based on usage patterns and it is expected that a hybrid cloud will be able to scale up and down as required. If you have the same application workload then you don't need a new virtual machine on the private cloud.
However, as soon as you develop a growing demand on the application workload, you may need additional virtual machines in the private cloud and intelligent predictions need to be made concerning future growth based on previous growth in demand on your allocated resources.
There will be a limit within your private cloud where you can provision up to x number of virtual machines. From that point onwards, you will need to start using virtual machines from your public cloud resources.
If you need to add more virtual machines, you can but within your public cloud resource limit.
As soon as you see the public cloud workload is shrinking, you can release one virtual machine from the public cloud and release another until you are back to your private cloud resources.
This is a simple example of cloud bursting in the hybrid cloud model – demonstrating how you can use your allocated resources in your private cloud and extend the workload to your public cloud if you need to. This flexibility is one of the main reasons why the hybrid cloud model is surging in popularity.