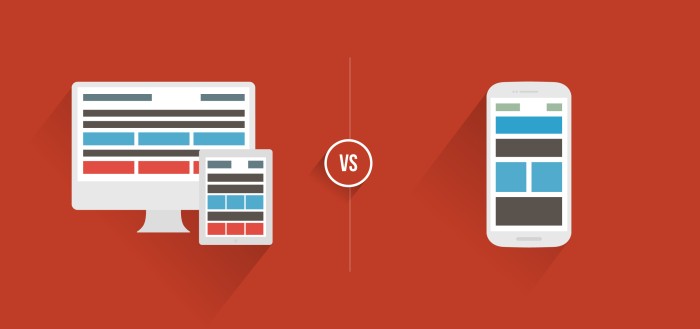 Businesses are tapping into a broad market as they establish their brand and identity in the online world. Website design is changing to cater to the need for better user experience when providing service to their customers.This article's focus is not to put down the importance of websites. Instead, we will try to understand the different ways mobile apps are more beneficial for users and why mobile phones make up 67% of website traffic worldwide, as of 2017.
Current trends also see that mobile devices had a much higher share of organic traffic to search engines as of 2018, according to Statista. It increased by 30% from 2013 to 2018. By the end of that year, there was 57% more mobile traffic compared to desktop traffic.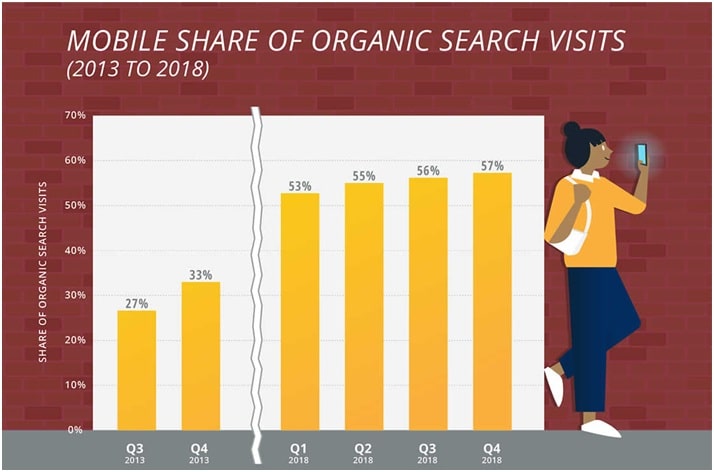 The numbers are exponentially growing, with mobile users spending 86% of their time on mobile apps, only 14% viewing time is left for mobile websites.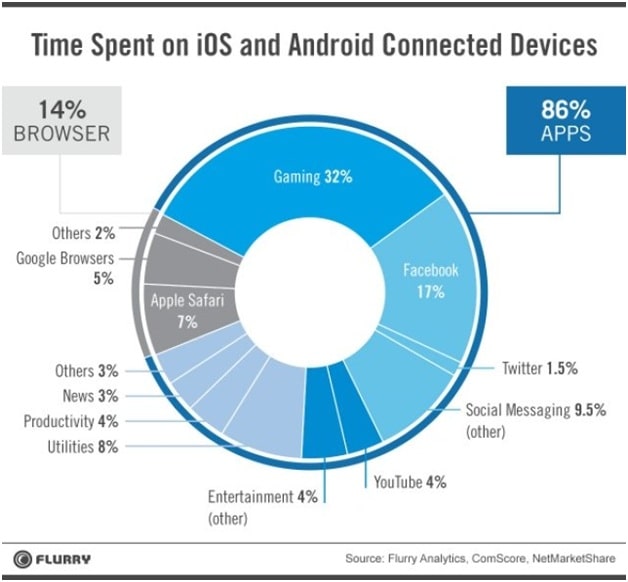 We need to see how to utilize the strength of mobile apps on your brand's website to maximize this current trend fully.
Ten Ways Mobile Apps Outperform Websites
1.  Mobile apps can provide offline access and capability.
Websites work in an HTML environment that would need an internet connection. Although all types of devices keep a cache of elements required for a website to load faster, this does not equate to full offline access. An internet connection is integral to websites.
Some people may not have an issue being online all the time. Should they have a great mobile data plan, then they would not have a problem with it. But for some people, the ability to work offline is an asset.
Mobile apps provide content and features while offline, and the changes you've made would just be uploaded when you are online. It is possibly the most significant distinction between a mobile app and a mobile website.
Let's take the example of the banking app. Banking apps can provide features like tax calculation, installment calculation, and determination of loan limit even without an internet connection. The functionality of the app may be limited, however, despite caching to load web pages without an internet connection. However, users can still use the app somehow even when offline.
2. Mobile apps provide user-friendly features.
Websites are beginning to change. Increasingly, they start looking and feel like a mobile app. Take a second look at the user interface and user experience, and you will see a stark contrast to how websites used to look and feel. Mobile apps make use of, if not a full integration, of all the mobile phone features.
For example, if you are completing a form online, you would probably need to make use of a camera to take a picture that you can attach as one of the proofs of your identity.
Although websites and mobile apps can meet this need, mobile apps give the consumer a faster response rate for finishing the task. Our mobile devices carry a wealth of capabilities that are available for use to use individually. We have, at our fingertips, GPS capability, a touchscreen, WIFI, a front and back camera, an embedded memory, a chipset that rivals the speed of a personal computer, Bluetooth, and infrared capability, and the ability to sync with your other devices.
Our experience changes when we can experience the integration of these features with regards to our favorite mobile apps. Let us take into consideration that mobile websites can utilize some elements of your phone like GPS or your camera. Still, a mobile app gives you the ability almost fully to integrate the features existing in your phone.
3. Mobile apps provide customization or personalization.
Customization is an excellent asset for businesses, as well as for personal use. Being able to put your preferences into your app as you create or update your account adds a lot to the whole process.
Customization allows your clients to assert one's uniqueness and identity even in an app. But from a business perspective, you will be able to cater to the needs of your clients as you can provide updates to the mobile app giving the app the necessary customization it needs for your clients.
Mobile apps can allow users to set their preferences. Applications can also monitor user engagement and use it to offer users personalized tips and alerts. We can also identify user locations in real-time to provide content based on a specific geography.
Personalization or customization options also help improve the conversion rate of applications because when users are pampered with custom content, they have a better likelihood to subscribe, buy, and even become loyal patrons of your app or brand.
4. Mobile apps offer a new way for user experience
Giving your clients a new and better experience is related to the section above about customization. Mobile websites, as was previously mentioned, is growing in providing better user experience.
At the moment, with the help of gestures, mobile apps offer a better user experience by letting the user perform better in the tasks related to the app. Mobile apps also load content faster than mobile websites because most of the data is stored locally within the device.
And with the proper use of updates, content in your data is updated. And for the most part, mobile apps provide a much more precise way of navigating through the services and features that your business may offer.
A company that can give a new way of user experience for their clients will most likely retain their clientele. Installation of mobile apps in a client's phone serves as a form of "loyalty cards" where a company can reward a user for the patronage of their business.
With the installation of a company's mobile app, client retention is achieved because it represents the clients who have seen the advantages of having your mobile app. It's a way to properly inform and communicate with your clients about your new offers and services.
5. Mobile apps work faster.
A well-designed mobile app can function much quicker than a mobile website.
Mobile apps keep most of their data within the mobile device, and this gives the advantage of utilizing the device's core processor speed and not much on the internet connection. Mobile websites run on javascript, and mobile apps' language and framework run faster than this code.
This feature of saving data locally within the mobile device also helps in keeping the client's preferences intact and remembering the user's choices every time they would open the mobile app.
Users can save time by saving their interests and authorizing them to take proactive actions on behalf of users.
6. It is easier to send notifications thru mobile apps.
Email has been the most frequently used corporate tool for communication. Businesses use email heavily to reach their customers. As a result, email has lost its once-held efficiency and its open rates and click rates have fallen steadily.
This is where mobile app notifications come to the rescue. Push and in-app notifications are strategic ways to interact less intrusively with app users.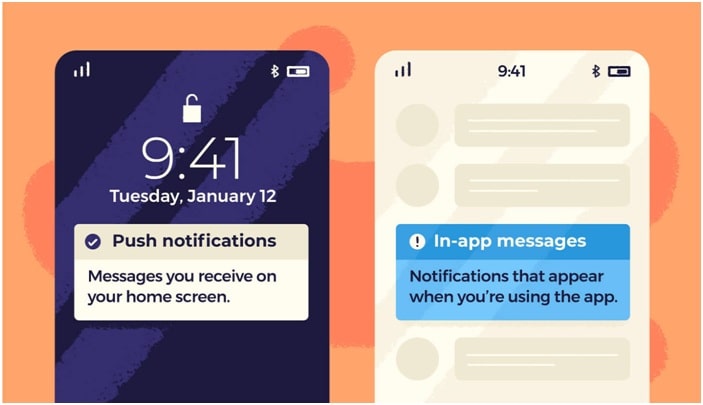 Push notifications are rich or text media messages that display on your status bar or home screen, while in-app notifications appear as you are actively using an app. After installing an app, you can opt-in or opt-out to receive push notifications.
Both kinds of notifications aim to increase user engagements. For instance, push notifications can increase retention rates by 23% and even bring back dormant or inactive app users.
7.  Mobile app developers have more freedom in design.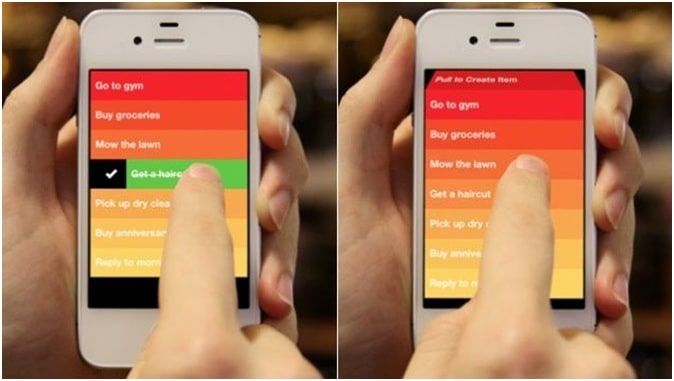 Even with all the technological advances in web design, mobile websites have to depend primarily on browsers to execute even the most basic tasks, like back button, refresh button, and address bar.
Mobile apps are not restricted I this manner. A mobile app can be designed based on advanced movements such as tap,swipe,drag,pinch,hold, and other gestures. Apps can use these innovative gestures to help users perform a task better.
8. Mobile apps provide new branding experiences.
Since a mobile app is different from a company's website, it's free to offer users a new branding experience. It means the company may try out new branding strategies for the app to boost brand awareness.
Businesses can even leverage mobile apps to shift into new brand stylesThis can also be used for promoting a sub-brand, an event, or a newly-launched service.
9. Mobile apps offer new streams of conversions.
Mobile apps can move users thru the conversion funnel and generate both top-of-the-funnel (ToFu) and bottom-of-the-funnel (BoFu) users.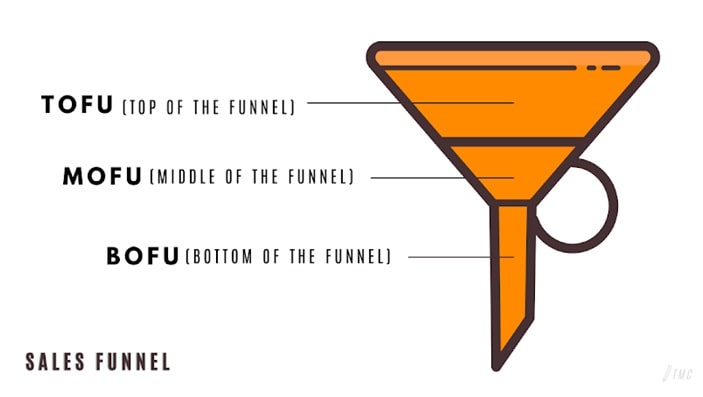 Getting leads can be made more efficient with mobile apps. You tap a wider range in the market, even reach users that websites and website apps cannot reach.
Since mobile apps are much more targeted through their content and functionality, they can be optimized to target more specific users. While mobile websites, on the other hand, touch a variety of audiences, both those that more likely convert, to those that will likely not.
10. Mobile apps strengthen a brand's presence.
Whether your business is new or you are in the process of rebranding, mobile apps can help enhance brand awareness.
Instead of expensive billboards and other expensive advertisements, building a mobile app can be more efficient minus the hefty costs.
Build your app in a way that it encourages consumers to engage regularly in your app regularly. The more often users interact with the app and with you, the more likely they will purchase products or subscribe to more of your services. This is effective frequency in advertising means customers must see the brand more than 20 times, to truly notice it. Effective frequency is enhanced with the help of mobile apps. The daily experience of using app is a great promotional tool for apps.
And even if users are not actively using the mobile app, users are still reminded of the brand associated with the app because of the app's icon that acts as a mini-advertisement for the brand. That is app presence that subconsciously influencesa user's perception about a brand.
Conclusion
In the end, it should not be one against the other—mobile devices versus desktop. Website makers (business owners, designers, and the like) must see the importance of using both technologies side-by-side to provide the most convenience and accessibility for customers.
See the role of web design in your business's profitability and start creating or revamping your websites today to include mobile apps as an extended channel of your brand. Seriously, no brand that desires to dominate the market should be without one.
AUTHOR'S BIO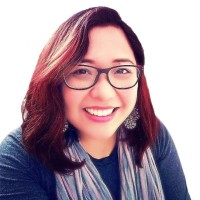 MayleenMeñez worked for seven years in TV and Radio production, and also as a Graphic Artist/Editor. Finding her true passion, she devoted 15 years in NGO and community development work, where she experienced being a coordinator and teacher, travelling both in the Philippines and countries in Asia. She home schools her three kids and reinvents Filipino dishes in her spare time. Writing has always been a hobby and pursuit, and she recently added content writing with Softvire up her sleeve, while preparing for her next adventure in the nations.