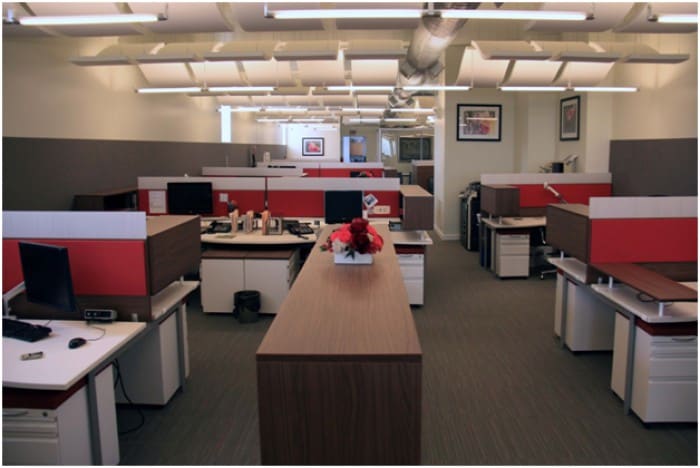 Your office is not just a workplace; it's the second home for many of your employees and the face of your company when guests and business partners arrive. While it has been emphasised that quality office decor impresses and intimidates in equal measure, there are other perks that come with styling up your office. Researchers suggest that going an extra mile with a little spit-shine and polishing your workplace helps your office feel more lively and comfortable. This helps reduce stress and ultimately increase work productivity.
Check out these sure-fire 5 ways to upgrade workplace aesthetics and boost appeal.
One of the most important things to remember when designing an office space is the type of equipment you buy and where you put that equipment. Equipment can be anything from a photocopier to a cafeteria table, it decides how people move around the office and interact with each other. Open office designs are trending as these designs have a benching style workstation thereby removing the isolation of individual cubicles and bring employees closer favouring collaboration.
While I am not here to argue for a particular side, having a balance is effective in anything in life. Various studies have shown that providing employees with different spaces to work, whether it a lounge area with bean bags or a soundproof room to focus by yourself, allow employees to work effectively and complete different tasks. The office layout not only refers to large furniture and general structure of the office but little things as well that make up the rest of the space. Art, plants and other personalized decor liven up the office and give your eyes somewhere to rest beside on a computer screen. With employees spending more and more time at the office, giving them some space to help refocus, energise and motivate them and hence achieve higher levels of productivity.
Redo the ceiling of your office to boost the aesthetic appeal. One of the requisites for creating chic and elegant office space is adding a false ceiling. This is trending these days as apart from giving an aesthetic boost, it has its added advantages. The false ceiling can conceal exposed cables, wires, ducts and cracks in the main concrete ceiling. Several materials are used in making a false ceiling and are constructed with metal panels coupled with insulating materials. The metal panels could be made of aluminium or steel and laid out on a visible grid with T-sections that are suspended from the ceiling and have a long-lasting surface.
Gypsum board is another great material used to create false ceiling because it is lightweight, flexible and fire and moisture resistant. These boards are tough and economical and are fast replacing other ceiling materials. However, having a false ceiling may appear as a little costly proposition first, but has distinct functional as well as aesthetic advantages making it worth the money. So, if you have been thinking to redo the ceiling of your office space then hiring professional commercial plasterers would be a great idea.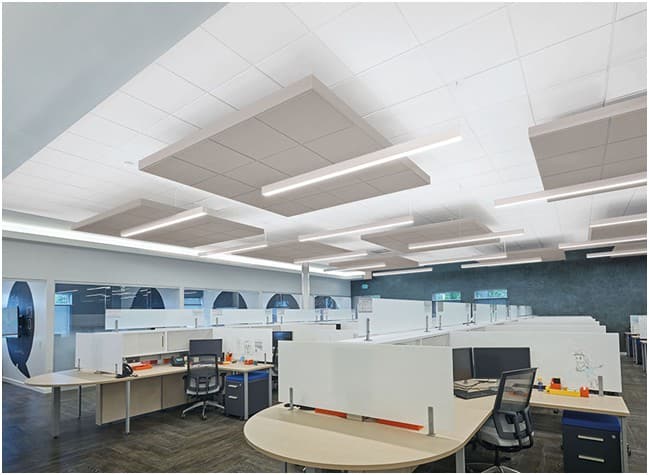 If your workplace is great looking which is very rare, then don't expose it to harsh fluorescent lights or stuff it away in dark, windowless dungeons. Studies have shown that increasing the amount of natural lighting in the workplace has a direct impact on employee productivity, attention and alertness as well as 15% reduction in absenteeism. So pull back the shades, yank up the blinds and let the natural light filter into the office. By increasing the level of natural light or replacing fluorescent bulbs with softer and more ambient lighting in case getting the natural light it is not possible increases the overall sense of wellness and encourages productive activity. Offices illuminated with natural light are more visually appealing and appear more comfortable and spacious than those lit with artificial lighting.
Plain dull walls are likely to bore guests and clients and lower employee morale. Painting and other forms of wall art on your office walls can inspire and recharge everyone who walks through your doors. Decorating your workplace with elegant painting gives personality to your office space. However, choosing a piece of artwork is not as simple as it seems. When thinking about what kind of artwork to incorporate into your office design, consider the colour and subject of the art. Ensure that it is eye-catchy and brings out a sense of sophistication that creates a polished look. You can choose the artwork of local artists or the art of your employees, which is a great way to engage with the community and show your clients that you care.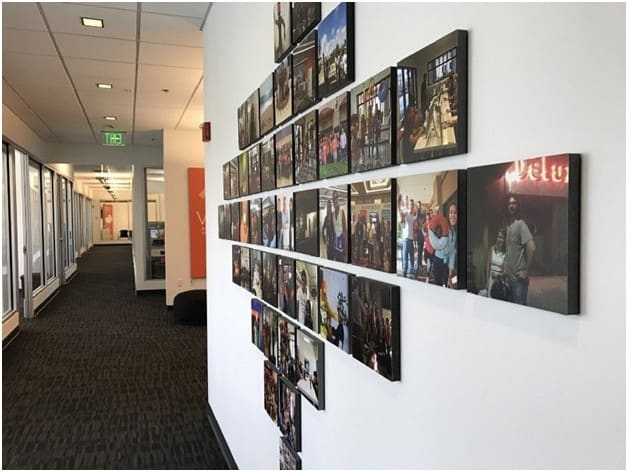 Decorating your workplace with soothing plants can help employees relax during stressful situations and provide a fresh, light feeling to the office environment. Better yet, plants help clean out the air and reduce bacteria helping your employees breathe easier and protect them from illnesses.  While giving the office a cool and fresh environment plants also make the office feel lively making it a better place to work in. When picking up plants for your workplace consider the ones that require little to zero maintenance. Some of the plants which you can buy include ferns, lilies, spider plants, ivies and succulents.
Making some updates to your workplace could increase the safety, productivity and enjoyment as well as increase the aesthetic appeal. However, each of these updates is also a great investment. You can make one of these updates at a time and hire professionals to do the job by letting them come in over the weekend or after office hours to complete the task.