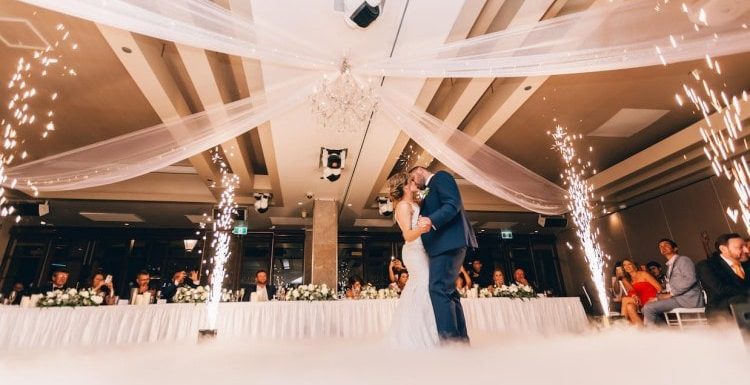 A wedding ceremony is typically followed by a wedding reception, which is a party meant to show your guests some hospitality for attending the wedding ceremony. Planning a wedding reception does not have to be difficult, but it can be if you do not give yourself enough time to plan and do not do it properly. This step-by-step guide will help you plan the perfect wedding reception that your guests will remember for years to come.
Set the Wedding Date
It is a good idea to set a wedding date before looking for a venue and making other arrangements. The reason is that the availability of different venues will depend on how far in advance you start planning everything. Some venues might be booked up to a year in advance, depending on how popular they are. Planning early gives you some flexibility in that you can change the wedding date or find another location if the one you want is not available on the chosen date.
Most weddings are held on Saturdays, so you might have limited options if you plan one on that day. These days, it is perfectly fine to hold a wedding on a Sunday. Doing so gives you many more venue options, especially if you are doing the wedding in the peak season and will also save you some money overall.
Create a Budget
It is very important to know how much you will spend on the wedding reception as early as possible. Setting a budget allows you to know how much you can spend on each person for drinks, meals, party favors, place settings, and more.
Find a Venue
Before moving on to other details, you should find the best rental space for events Colorado Springs. Some people will tell you that you need to create a guest list before finding a venue, but you can also use the venue to estimate how many people to invite.
Some venues will ask for a deposit and a partial payment for some of the services they will offer on the day, so selecting a venue will also affect how you create the wedding reception budget. The venue will also need an estimate of the number of people you would like to invite so they can give you a better approximation of the total cost.
It is a good idea to check out the space after booking so you know whether you will hold a large or small reception depending on the size of the space and your budget. The venue might also want to finalize details about the catering as soon as possible.
This means that you should finalize details about how many people you will invite soon after booking the space so the owners can start making the necessary arrangements and you can see if you need to adjust your budget.
If you plan on getting outside catering, it is a good idea to find out what you can and cannot do. Venues usually have restrictions on things like alcoholic beverages, so it is best to ask about and understand the restrictions before you continue planning the reception.
Create a Guest List
You now have a space and an idea of how many people you will invite. So, who do you invite? The guest list should be a collaboration between the couple so they both feel represented once the list is finalized. You can start with family members and people who are important to you and then complete the list by adding your friends and other people you want to attend.
Some people also start with a huge list and then trim it down to fit their budget and space. While you might feel guilty about removing people from your guest list, know that this is your big day, and everyone should be at the reception for a reason.
You should also consider using an app or guest list template to keep things organized. Either option will make it easy to keep track of all invitations as they are sent, RSVPs, the number of people attending, the entrée choices, seating, and much more.
Make Seating Arrangements
Even if you do not have a sit-in dinner, it is still a good idea to have specific seating arrangements. Sorting out the sitting can be complicated, so you should start on it as soon as you have the guest list finalized. Also, be prepared to alter it because some people might not be able to attend.
Ideally, the couple should have a table that faces the guests or have a table for them and the bridal party. Couples are also allowed to place their table among their guests if they want everyone to feel included.
Parents can have their own table alongside and behind which you can place tables for other friends and family. Do consider things like speaker locations and accessibility to ensure you do not seat people where they will be inconvenienced.
There is also an option to let people pick their own seating. As long as you have separate tables for the couple, the bridal party, and the parents, you can let people choose their own seating so they can sit where they are most comfortable.
Mail the Invitations
You can start mailing save the dates and invitations once you have about eight to six months before the wedding. There are numerous options for the design of the cards and invites, so it is easy to find one that you and your guests will like.
The more important details to include on Save the Dates are your name, the date, and the location. The invitation will have more details such as the directions to where their wedding ceremony and the reception will be held.
You can also build a simple website that includes details about the ceremony and reception and let your guests know that the website will have the latest updates and information.
Hire Reception Vendors
You will need various vendors for the reception to be successful. The first vendor you should hire is a caterer if you plan on planning this yourself and an optional bartender. Everything will go more smoothly if you have specific people in charge of the food and drinks. Hiring a caterer and bartender also means you have one less thing to worry about. Some venues take care of the food and drinks so this is something you might not have to worry about. Ask the business whether they do this so that you can make the right plans.
You should also hire a DJ or wedding band. They will provide the music as well as the sound system you need to make any speeches or announcements. If you do not have the budget to hire either one, get a sound system and create a playlist on your phone. As long as you have someone in charge of the music, everything should be fine.
Since you will want to capture the moment, it is also a good idea to hire a photographer. You can even put them in charge of the wedding and the reception, but you will pay a lot more if you go with this option. You can also set it up such that all the photos your guests take go to an online folder so everyone can view them.
You will also need a reception coordinator plus vendors for glassware, tents, decorations, tables, chairs, and everything else you will need for the wedding.
You should be able to plan a fun and engaging wedding reception if you give yourself enough time and know what to do. Use the guide above to plan the best wedding reception to ensure it is a successful and fun day for everyone.