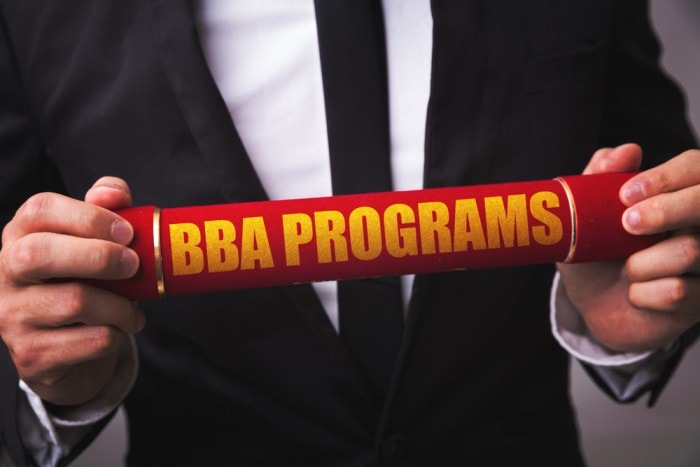 While everyone resented math and numbers, if you've always been someone who loved everything math, then BBA finance and accounting is for you. Pursuing this career field will give you an opportunity to play with numbers even more. It also has a promising career in the future with great benefits. You can rest assured as you will find yourself working with some of the top players in the job market.
After completion of BBA finance and accounting, you can work in various career fields where you'll get plenty of opportunities to take your love for numbers further. There will be multiple new challenges and tasks that will be thrown your way; you'd have to solve these efficiently with your finance and accounting skills. You'd be able to proudly say that you love what you do with a career in finance and accounting.
If you're choosing the course to pursue after the completion of your 12th grade, then BBA in finance is right up your alley. In case you are still skeptical about opting for BBA financial accounting to enhance your love for numbers and math; here are a few reasons to assure you that it's the right decision to make.
Studying Latest Developments
We all are aware of the latest addition of GST by the government of India in the finance and accounting sector. Addition of GST makes it a new horizon to study in this field. By pursuing BBA in finance and accounting, you are made to study this aspect in detail so that you can later apply it in your field of work. Studying this course will give you an upper hand as previous graduates will have little to no knowledge in this field. It'll help you reach greater heights in your career, much sooner than the others that are already in the field of finance.
Great Career Scope
The scope of financial professionals is high in the job market. There are many career fields that BBA finance and accounting graduates can explore; some of these are asset management, corporate finance, fund management, investment banking, trading, insurance, and such. Some of the top recruiters are MNCs, banks, mortgage and credit companies, retailers, and more. If you manage to procure a job with one of the above, you are bound to have a secure future.Also, a degree such as MBA in Finance and Accounting can help you land a job in both the private and public sector.
Financial Security
If you love numbers, you'd have plenty in your bank account as well with a career after BBA finance and accounting. Any career path that you choose to walk upon after your graduation in this field, you are bound to encounter success, and with that an excellent salary package. In most cases, the salary begins to increase exponentially as one venture into middle managerial roles. With hard work and keeping your love for numbers alive, you are bound to reach new and better heights. Finance is also a highly stable career option and is likely to provide you with ample financial security.
Opportunity for Higher Education
If you are interested in taking your passion for numbers forward, then you can pursue further studies. There's plenty of scope to pursue your studies, you can choose to do post-graduation in management studies, financial planning, wealth management, and more. You can also choose to go forth with getting an MBA degree which will equip you with sufficient skills to turn you into a professional. With higher education, better prospects also open up for you. You will not only be offered jobs at a reputable post and company but also get decently compensated for it. You can pursue a career in academics by pursuing PhD after your MBA degree and it will surely put you in a excellent career.
It can be safely said that BBA finance and accounting is a viable course to opt if you want to continue your love for numbers. However, it is essential that you enroll yourself in a university that not only gives you the best education but also makes you a future leader. For a university that has it all when it comes to making students the best in their field is UPES. This university helps hone your skills with carefully curated curriculum, which is taught by the best faculty. The faculty in this university has in-depth knowledge and also has industrial exposure that they can pass on to their students to make them skilled professionals. It is the first and only university in the nation to be awarded QS 5 Stars for employability.
The university is located amidst the beautiful mountains of Dehradun, making it a desirable location to be at. Don't even think twice anymore to enhance your love for numbers with BBA in finance and accounting.