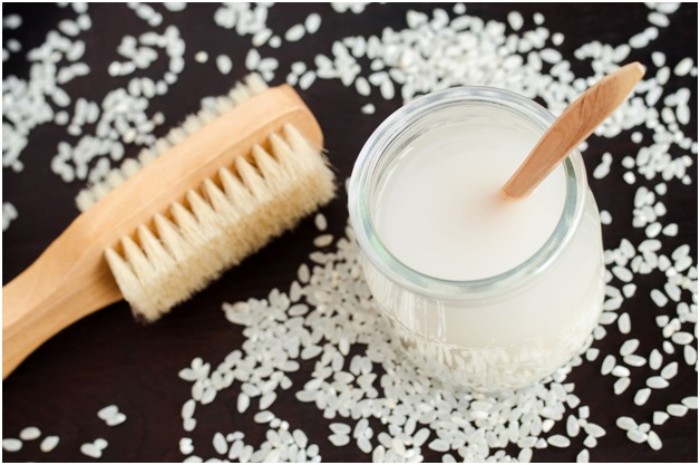 If one is to look at the beauty sector, on the whole, it will be easy to understand that people are not shy of spending on products that can make them look and feel good. In fact, as per the global surveys conducted by people at COMTEX and the Cosmetics Product Market, the entire cosmetic industry is expecting to give profits of USD 805.61 billion by the year 2023. Talk about people spending billions just to look good!
But, what if there were simpler remedies available at home which you could use to take care of your skin and hair? Surprised or shocked by this question? Well, don't be, because before mankind gave rise to this billion-dollar cosmetic and skincare industry, people were using Do It Yourself regimes using the basic household commodities.
To start with, what if we tell you that all your hair and skin worries can be solved with the basic ingredient of rice water? No, we are definitely not joking, and here is when you tell you how. Rice is a rich source of vitamins B, C and E which are otherwise also known to be a rich source of amino acids. The water that you use to cook and soak rice eventually is a rich supply of both these vitamins and amino acids (next time don't just drain this water in the sink).
So let us take a look and find out how rice water helps unlock the hidden beauty factors of hair and skin both.
Resonating Beautiful Skin and Hair with Rice Water Hacks 
Goodbye Frizzy and tangled hair: for most ladies with long hair of any kind and type, the number one concern is when post-wash they get all frizzy and messy. Rather than spending thousands on hair spa routines, the ideal solution will be to use rice water to rinse your hair at least twice. With the rich source of amino acids in the rice water, all the breakage and gaps in your hair will be filled and you will get smooth and shiny hair in absolutely no time! Now, this is something you ought to be taking advantage of considering the fact that we all eat an abundance of rice.
Behold, supple and soft dreamy skin: it takes seconds if not a few minutes to go through all the fancy skin care products such as anti-ageing creams to figure out all the benefits and pros. Rather than putting yourself through all the confusion of that use the effective rice water to get supple and soft skin. Rice water helps detoxify the skin and helps make you look younger and more radiant. The best results one can get by soaking some cotton in rice water and then dabbing your face with it.
Au revoir allergy-ridden skin: just like in the case of getting soft and radiant skin, you can also bid goodbye to skin allergies. Now, we all know that these skin allergies are adamant and keep returning time and again. There is no way of saying when they will strike again, but with the help of rice water, there is definitely a way of controlling it. The moment allergy comes patching your skin, forget everything else and dab that area with cool rice water. 
Pardon away all your pimple woes: the one common reason why acne and pimples cause so much of wreckage is because of open pores on your facial skin area. There are tons of face wash products that claim to slow the pimple growth, but, let's face it pimples also have a nasty way of finding their way back. Rather than focusing on ways to stop pimples, why not block their entry in the first place? One of the most efficient ways to tighten and close open pores in by making the use of rice water. Swipe your face with rice water and forbid pimples from finding their way back.
Block the sun rays away with this natural sunscreen: SPF 30s and SPF 40s will all go to a complete shame when they know more about the easy and affordable rice water hack. Rice water by far is considered to be a natural shield against the harmful UV rays. What's more if every you do get patches of sunburned skin, just make sure you get your hands on some rice water and get immediate respite.
When in search of a chemical-free hair cleanser- let rice water be the resolve: after skin, if there is one genuine cause of worry it is for your hair. It goes without saying that there are tons of chemicals and supplies that are out for the purpose of hair care, but least to say they can be the most damaging as well. When you wash your hair with shampoo, you mostly always need a conditioner as well. This means subjecting your hair to hair products with twice the amounts of chemicals. One easy way to keep your hair safe from all the high dosage of chemicals is by using rice water which is a chemical-free hair cleanser.
Body washes rich in vitamin Rice water: besides just helping the skin on your face, rice water is something that can be used on the whole for the whole body. When deciding to get in for a bath, mix 2 cups of rice water in the remaining water and add a few drops of your favourite essential body oil. The benefit that you get while using rice water to wash your face will be seen on the rest of your body as well.
They say that sometimes the most effective hacks lie in the cupboards of our kitchens and homes. And, yet we go around experimenting on our skin and hair products that are laced with chemicals. With all the havoc being caused in recent times, it is time to ideally go back to the basics and use ingredients that are easily available and chemical-free. 
Author Bio :-  Lucy Miranda is a writer and editor at GoAssignmentHelp, that provides Assignment Writing Services. She is devoted to her family, work and friends. She is News Enthusiast and a Bookworm. She loves Swimming and dancing too. She is interested in educational, marketing and blogging issues. Feel free to connect with her on Twitter.