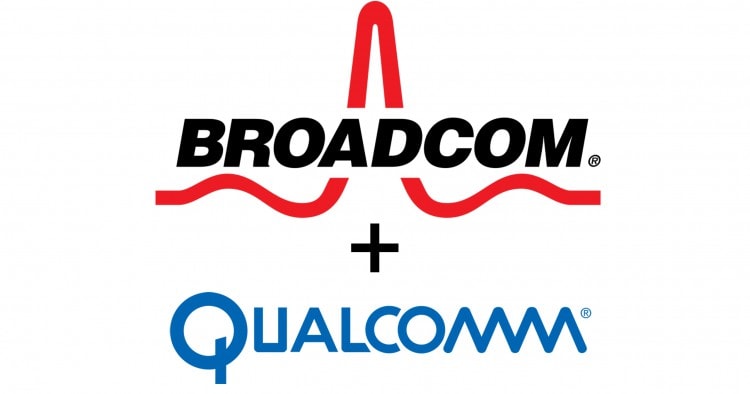 The immediate exchange of information in real-time is powerful in modern society, which lends to the popularity of wireless devices such as Bluetooth for consumers and companies. All wireless products require connectivity chips, and billions of chips are distributed annually for individual use and business purposes.
As wireless communications continue to be a dominating and ever-growing force in our lives, the demand for connectivity chips won't be slowing down any time soon.
Qualcomm and Broadcom are two of the biggest wireless connectivity chip providers in the world, so the possible acquisition of Qualcomm by Broadcom is big news. If Broadcom successfully acquires Qualcomm, it would be a historic move and the largest buyout in the technology industry to date.
Qualcomm and Broadcom: Additional Details
Broadcom and Qualcomm are competitors who are major players in the technology sector. Both businesses make chips and computer parts that can be used to connect mobile phones, Bluetooth technology, gaming systems, computers, and more. If you're familiar with Intel and Samsung, you're probably using Broadcom and Qualcomm products without being aware of it.
On the front end, most of us recognize wireless technology for its convenience factor, but we seldom stop to reflect on the true impact that wireless products have on our lives during work and leisure activities. Consider the wireless electronics we use each day. Some wireless products may be personal devices, others may be in use at stores and businesses to record and store data. Regardless of its purposes, all wireless technology uses connectivity chips and computerized parts to function at full capacity. Qualcomm recognized this long ago and works to constantly improve our wireless communication devices.
Qualcomm Incorporated is known for creating chips for some of the most flexible wireless technologies while leading the pack on upcoming chip distributions that will integrate with the latest tech trends. The brand became famous for their connectivity pairing with mobile technology that allows us to easily talk to one another, stay updated on news and events, or enjoy our favorite shows streaming to our cell phones.
Qualcomm is well-known for their Snapdragon chips in the Galaxy S8 and the virtual reality Google Daydream system, but Broadcom technology is famous for its integration with Nintendo Wii and Apple products. Both companies rank highly in the technology industry. While Qualcomm brings in the most revenue of the two businesses, Broadcom isn't far behind.
Company Conflicts
Although Qualcomm ranks higher in popularity than Broadcom, some shareholders are scratching their heads in regard to Broadcom's interest in acquiring Qualcomm, especially when considering the recent legal battles involving Qualcomm and Apple. In the past, Qualcomm has also dealt with legal conflicts involving the United States Federal Trade Commission.
Where Broadcom has avoided legal tensions, the company was victim to a security breach instead. Hackers pose a threat for any technology provider because companies can quickly lose value in the market and lose customer loyalty if hacked. The larger the network and consumer base, the greater the risk for people to fall victim to exposed personal information and identity theft. When Broadcom had a security vulnerability, hackers were able to enter the system through Wi-Fi and control devices that used Broadcom chips. This cyber attack hit iOS 10 users and affected Google Nexus devices.  Luckily, the breach was patched up quickly.
Qualcomm didn't feel the brunt of a security breach, but the company is still facing off with Apple (the iconic brand in affiliation with Broadcom) after being sued by the enterprise for patent infringement. This lawsuit began to bring down Qualcomm's market value, and Broadcom saw this as the ideal time to attempt to buy out the company.
As news of Broadcom's possible acquisition of Qualcomm became public, Qualcomm shares went up to $65. Considering that shares hadn't been above $70 since the lawsuit with Apple began, both corporations took notice of the change. As Broadcom moved to acquire Qualcomm, the company announced that it would be relocating their headquarters from Singapore to the United States, which is now seeming to be a strategic move.
Broadcom's Acquisition Attempts Are Ongoing
After Qualcomm turned down Broadcom's cash-and-stock bid of $82 per share, a meeting was arranged between the two companies. The purpose of the meeting was for Broadcom to discuss a $121 billion acquisition bid for Qualcomm. Qualcomm remains hesitant of this proposal and wants to know how Broadcom will address financial risks, security uncertainties, and meet regulatory standards. The brand has also cited customer loyalty as a concern during the transition of sealing the deal with Broadcom.
As a result, negotiations will continue into March with a voting session for Qualcomm shareholders to decide if Broadcom nominees should be added to the board. Broadcom has agreed to pay an annual 6% ticking fee if it takes more than a year to close the deal. If regulators decide against the deal, Broadcom will also pay an $8 billion breakup fee.
Broadcom and Qualcomm's Relationship Connects with Consumers and Employees
Broadcom and Qualcomm are chip makers with reliance on wireless systems, but one of Qualcomm's major differences is their production operations because the company outsources their work. If the companies merge, people beyond outsourced workers will notice the differences.
Businesses across all sectors are relying on wireless technology as a primary means of communication. Project managers are using wireless connections to foster an environment of transparency, allowing management and employees to exchange information quickly and push critical details down the pipeline.
The convergence of Broadcom and Qualcomm will increase share prices, the price of services will change (usually becoming higher), and employees of both companies will have to adapt to new work processes and management.
The push and pull between these two companies is to be expected, and speculations abound as everyone waits to see what happens next. Because an acquisition that merges the two connectivity giants would result in an enterprise that controls the majority of the wireless technology market, the world is keeping up with Qualcomm's stance and Broadcom's acquisition status.
Author: Princella Talley