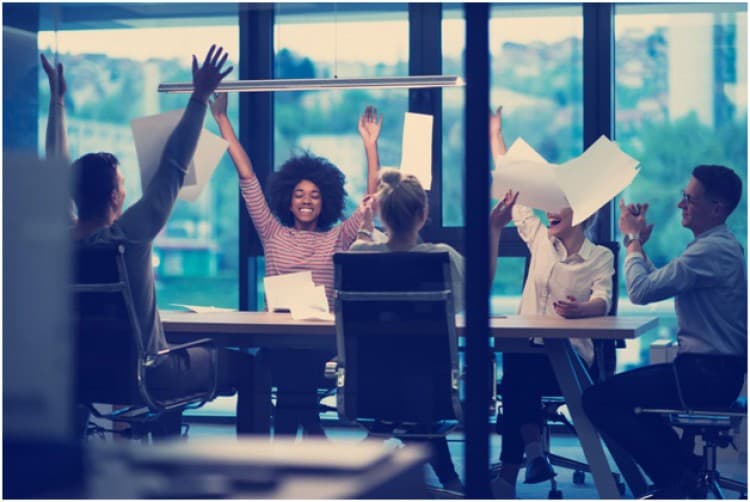 It has been estimated that around 70 percent of employers host the Christmas parties for their employees. Considering the staggering number of such events that honor the beginning of winter holidays, one can't help but wonder: Do they all look the same? Additionally, how much do these parties cost and what can be done to mitigate any unexpected expenses? All these questions pop to mind because Christmas office parties, as popular as they are nowadays, can often seem dull, costly, and uninventive. To tackle this issue, here are some useful tips and suggestions to really spice up this annual party, build morale, and embrace the holiday spirit.
Cookie tasting
Cookies are the epitome of winter holidays. So why not ask the coworkers to bring in their cookies fresh from the oven for a company tasting? Add punch, soft drinks, and mulled cider to really get the party going. Other bakery products are also welcome in this festive recipe just makes sure there is enough variety so that each employee can find something to his or her liking. You can also include music and gift certificate prizes for baker-employees with the most delicious home-made cookies into your Christmas office party repertoire. This type of event is great to find some sponsors on the side and create a cookie-themed office soiree that will get everyone engaged and entertained.
The ugly sweater
Now, we all know that those Christmas sweaters are, in the best case, horrendous. So why not make an office party theme around it? The worse the better! After months of work, employees will love the opportunity to turn things upside down and create a celebratory situation that will get everyone laughing. Accompany this pageant festivity with fun photographs and drink, and you have a recipe for unforgettable annual Christmas-fuelled fun!
Office card exchange and secret Santas
If your office has a developed HR sector and employees are well acquainted with one another, maybe you can sign everyone up for a card exchange or secret Santa. Large companies, in particular, aren't completely able to keep everyone connected so sending cards or anonymous gifts is a great way to introduce the newbies and spark fun among the seniors. You can also pull names from a hat so coworkers can exchange a reasonable amount of cards or you can just limit cards to departments. Remember to keep the recipients secret and do the exchange sometimes during lunch, where all of you can show off your ugly sweaters and home-made cookies.
Charities
There is nothing more rewarding when doing humanitarian work. And since Christmas holidays are all about giving, this is a perfect opportunity to pool in your company's effort and resources to do something charitable on a larger scale. After all, employees live seeing food; gifts, toys, household items, and clothing pile up underneath the Christmas tree in the lobby or break room. It feels good to take part in this noble endeavor, which will help develop camaraderie among workers and also bring back something to the community. This alternative beats having regular Christmas parties anytime so get cracking!
Incorporate another theme with Christmas
Who says Halloween cannot be combined with the spirit of Christmas? Or may be a masquerade ball? Or maybe even a Night before Christmas party? If you feel your office is more casual than it is supposed to be, we encourage you to put on a theater mask and a costume to really make the event shine. Use harlequin dolls, funky cocktails, finger foods, and pumping music to really make things decadent. You can also set up a mask/making station with all the fun decorative elements to add that extra layer of pizzazz to the entire occasion.
On the other hand, if you want to transform the office into something entertainingly dark, you can always turn to Tim Burton for inspiration. Instead of Santa hats, switch to skulls and skeletons. Find balloons that look like Jack-o-lanterns and the Christmas tree can contain all sorts of eerie ornamentation that the employees can take home with them. OR, you can go for the winter wonderland theme where everything will look frozen solid as if you are in an icy fantasy world. Theme options are essential many so include your employees into the whole creative process and each year you can do something fresh and new.
Change the season
Every day is a reason to celebrate so why wait for a calendar occasion? Whether it's in spring, midsummer's eve in July or the early harvest in September, every business should find time to celebrate its successes and get the employees together. When it isn't holiday season, venues are much more available and far less expensive. You can either make it a solemn occasion or go for a casual gathering that is jam-packed with food, drinks, music, and entertainment. Use your imagination, ask your employee's for opinions, too. And most importantly, enable your company a much-needed blowout, especially when stress becomes an everyday condition at the workplace.