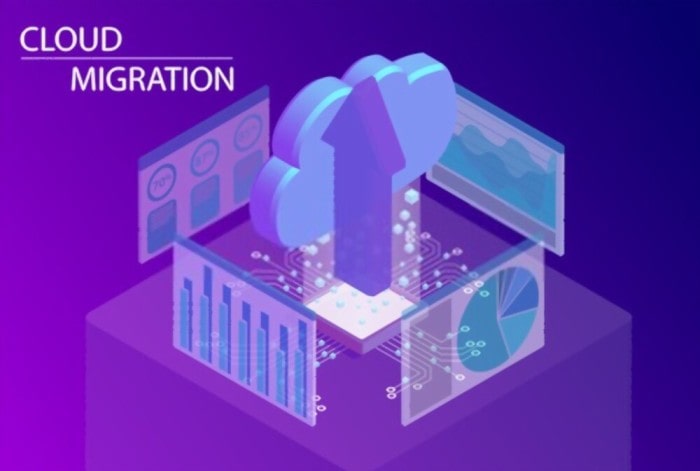 As customers embrace digital transformation and begin to implement a cloud strategy in their operations, the most common question that arises is, "Which applications should we move to the cloud first?" This choice is based on not just one factor. Deciding which applications to move (and not move) to the cloud should be based on a careful analysis of your IT landscape.
There are different types of cloud migrations an enterprise can perform. The commonly used model is the transfer of data and applications from a local, on-premises data center to the public cloud. Another model is moving information and applications from one cloud provider to a different provider – a model known as cloud-to-cloud migration. The third sort of migration is reverse cloud migration, cloud repatriation or cloud exit, where data or applications are moved off the cloud and back to a local data center.
Why enterprises should move to the cloud
The overall objective or advantage of any cloud migration is to host applications and information in the most effective IT environment possible based on components like performance, cost and security.
For example, numerous organizations perform the migration of on-premises applications and data from their local data center to the public cloud framework to take advantage of benefits such as greater flexibility, self-administration provisioning, increased availability and an adaptable, pay-per-use model.
Cloud migration strategies
Moving workloads to the cloud requires a thoroughly examined methodology that addresses a complex combination of management and technology challenges as well as staff and resource realignment. There are choices in the type of migration to perform as well as the type of data that you should move. You can seek guidance from Cloud Migration Consultants to ensure your migration strategy is secure and it meets budget and timeframe goals. It is critical to consider the following cloud migration steps before making a move.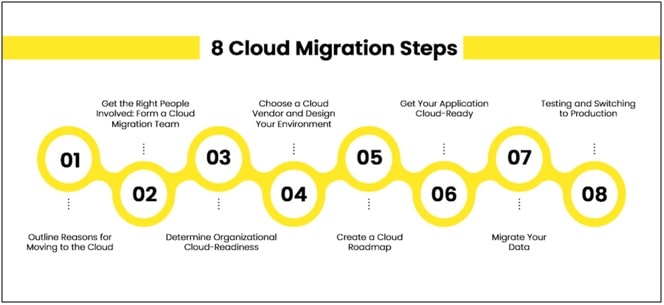 8 Cloud Migration Steps
Outline Reasons for Moving to the Cloud
When migrating to the cloud, organizations need to follow an analysis-based approach. If your business is looking to solve a prompt issue, your group might have the option to recognize 'quick wins' by integrating a cloud solution into your current environment instead of moving everything to the Cloud.
Get the Right People Involved
Form a Cloud Migration Team. At a high level, organizations looking to migrate to the cloud will need to incorporate these sorts of experts or assets that envelop these ranges of abilities:
Project Manager
Business Analyst
Architect
Subject matter expert familiar with the business processes and use cases
Infrastructure and/or Application Specialist
Security Specialist
Vendor Management
The particular skill required will come down to what applications and cloud stages your group will be working with.
Determine Organizational Cloud-Readiness
Once you've laid out your objectives for moving to the cloud, the next step is to direct a comprehensive business and specialized technical analysis of your present environment, applications, and framework.
If your organization doesn't have the skills in-house, you can work with a cloud migration consulting company that provides a Cloud-Readiness Assessment.
Choose a Cloud Vendor and Design Your Environment
The next step for cloud migrations is deciding between cloud vendors: Microsoft Azure, Amazon AWS and Google Cloud Platform are the most prominent cloud hosting platforms. The correct platform for your business will rely on your particular prerequisites, the design of the applications moving to the cloud, integrations, and other different components.
Create a Cloud Roadmap
Making a comprehensive cloud roadmap can be a priceless asset – particularly if your business is deciding to steadily migrate functions to the cloud. Roadmaps help teams stay in focus, diminish the chances that components get missed, and give a more exact timeline as each task is separated into rough periods and can be changed along the way.
Get Your Application Cloud-Ready
There are two common migration models: Lift and Shift (Rehost) and Re Architect (Refactor). Rehosting is accepting your application as it is and moving it into a cloud environment. Whereas Refactoring implies making changes to the application design to get the most of cloud capabilities. Refactoring can be highly time-intensive or even impossible for certain applications but delivers the best results if implemented.
Migrate Your Data
A proper data migration procedure will look to review the information to prevent any sudden issues, clean-up any recognized concerns, set up controls to guarantee data quality, and put in place appropriate governance through tracking and monitoring.
Data migrations commonly include three essential steps:
Extract data
Transform data
Load data
Testing and Switching to Production
Now that your cloud environment is set up to meet your specific business requirements, your applications are in the cloud, your information has been populated – the next step in the cloud migration process is to flip the switch. Even with broad testing in the test environment, things can turn out badly when moving to production. The more complicated your architecture, the more mindful you should be and implement steady testing and rollouts wherever possible.
Author Bio –
Ben is a technical writer at Nuvento,  a cloud migration consulting company in the US. He enjoys telling about tech innovations and digital ways to boost businesses.