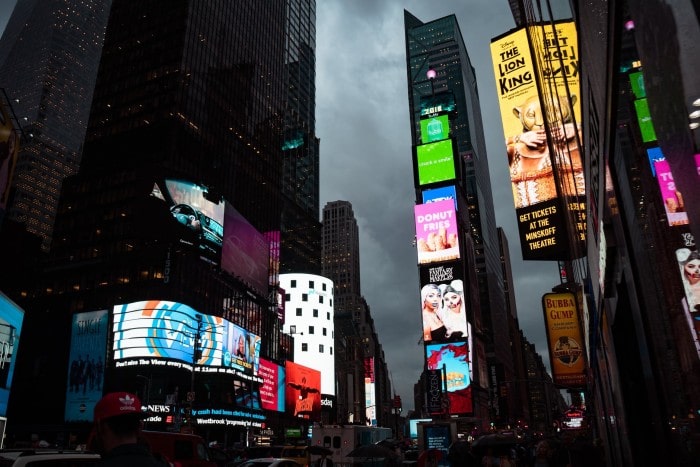 Every year, the digital advertising world is in transformation. In truth it's a fast-moving multi-billion dollar juggernaut in 2018, speculation of where the digital advertising industry is headed is rife, and 2019 should be the industry's most significant year so far.
Outdoor digital signage was a novel idea only ten years ago, we knew LED's opened up more opportunities than bulbs did, but we couldn't have envisioned how this would shape the future of advertising. What we can be sure of is that digital signage's advertising value that it carries is something all business big and small can't ignore.
Businesses From A-Z are Using Digital Signage
As with nearly all technology when it becomes more advanced, it tends to move along a traditional and predictable price pattern. The pricing of Digital signage makes it more inclusive and mainstream, so many different businesses have access to what they thought was beyond budget. Its core value is responsiveness and superior ROI.
A mere decade ago not many small businesses could envisage themselves measuring this kind of technology across the boardroom table when deciding the yearly marketing budget, and considering it to be cheaper than many other options on the table. In the case of a smaller business, utilising digital advertising as an affordable option is a string to their bow. It is flexible unlike other marketing strategies allowing control over production time coupled with being able to react to market pressures; you can change your approach overnight.
As technology moves on it becomes more affordable and accessible. Now with third-party agents purchasing space on digital billboards it is available and open to all.  Another way firms are structuring this, is by offering and selling the advertising space online, so potential advertisers can pick slots and times to suit location and audience demographic, this makes a lot of sense for brand reach.
Big Name Companies Propelling Digital Signage
The most significant rise in spending on digital advertising in the United States in 2017 were companies like McDonald's, Apple, Geico, American Express, Coca-Cola, and Amazon and many other big-name firms chasing their tails; we will cover more on this in a moment.
For advertisers who are reliant on technology, digital advertising makes perfect sense. For tech companies who are eager to gain an audience for their latest products and features, this is the ideal platform. As technology continues to grow, so will DOOH (Digital Out of Home), let's face it static displays are in the process of being made to look like an ancient art form.
The OAAA have recent released a report stating that nearly a quarter of the top OOH advertisers are major tech brands, citing that of the top 100 OOH advertisers in 2017, 64 had increased their spending equal or greater to the industries increase of 1.2 per cent.  With a quarter of these being tech companies.
The market is moving that fast that even companies that are not associated or reliant on tech are strategizing on how to use and integrate digital signage and apply their brand to it to catch the eye of savvy consumers.
Personalized Consumer Experiences will Increase
A crucial marketing tool is finding the marriage between digital signage and online apps. Consumer experience with integration and customisation is what will drive this market forward. In today's business world an incredible amount of data has been collected and available. Data on our everyday likes and preferences online, and from any surveys we complete are used to enhance our purchasing experience. Currently, this primarily takes place online, but now more and more bricks and mortar stores are looking to create the same feeling for their walk-in customers.
Digital signage can be a good fit for customers who opt-in to retailer apps, by advertising special offers that are relevant as they near the store location. Linking outdoor and indoor displays during the visit and time in the store.  Various reminders to customers of special promotions to save money through smart appliances and online grocery list apps throughout their duration in the store is a powerful subliminal marketing tool.
The Highly Documented Millennial Factor
According to Forbes magazine. Millennials will be around 75% of the workforce by 2025. With such a young workforce not only purchasing items as they are progressing in their careers but also millennials starting to fill up boardrooms and making executive marketing decisions it's easy to see where the marketing world is headed, fuelled by social sharing and word of mouth. Millenials have more information at their fingertips than ever before, product information, costs comparisons at a press of a button, constantly looking for convenience at a minimum price.
Responsive Content
Responsive content reacts to an external trigger that will automatically change the content in different circumstances, here's a few examples:
Weather
Example: If the weather is hot the sign will show soft drinks and ice cream
Traffic
Example:  If there is a traffic jam the sign will show alternative routes
Time of day
Example: On The London Underground screens that change at rush hour to promote goods and services.
It's about creating and providing information entirely relevant to the public's needs and also in a subliminal marketing sense always being pertinent to their current situation.
Recently at Star Wars Celebration Europe digital signage was used in real-time to show queuing times across the whole event, couple with up-to-the second ticket availability and in-the-moment stock levels of specific items.
Final Thoughts
Digital signage is on the move, and I am fully expecting the industry to grow considerably as the above statistics of the major corporations and increase their spending. As the industry moves forward, it is not just about making changes to the screen technology, is about user experience. Expect more emphasis on responsiveness, interactivity, and personalisation, put those together, and you have a seamless user experience.  The marriage of the economy and technology is here to stay.