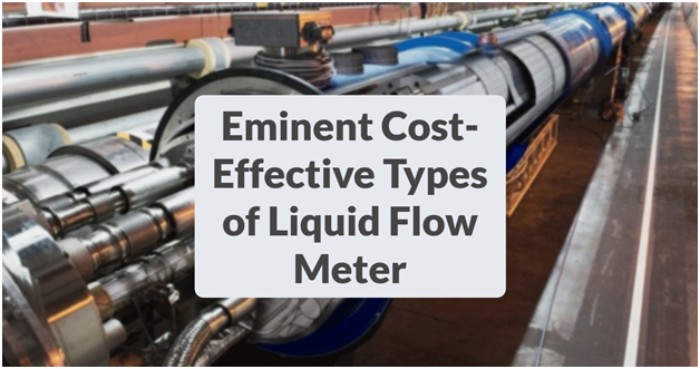 Getting accurate results on the flow rate has never been more critical than today. Besides, a flowmeter has made things easy if you seek to monitor the flow status in liquid, gases, and steam. A liquid flow meter is critical to reducing the loss that may arise from an overflow. A low fluid flow rate may also lead to losses.
But what's a flow meter? This device that aids you to measure flow rate, both mass and volumetric, or quantity of fluid that passes through a pipe. Many flowmeter types are available in the market. So, you need careful analysis of every flowmeter device. That way, you can make the best choice of a liquid flow meter that meets your unique needs.
Flowmeter types
An Open Channel Flowmeter

You can measure liquid flow in an open channel that includes flumes, weirs, or v-notch. All you need is an open channel flowmeter. That liquid flow meter measures liquid that is open to the atmosphere in the flow measurement path. You may have the fluid flowing in a closed pipe or open to the atmosphere.
These kinds of flow meters have a primary device, a transducer, and then a transmitter. A wetted primary device is used to restrict the liquid flow stream. The restriction will lead to a rise in liquid level within the flowing condition at a given location. It can be within the flowmeter or upstream. As the flow goes up, the level goes higher.
A transducer is fitted near or on the primary device to help sense the level. The signals that come from the transducer are then received by the transmitter and helps to measure liquid flow.
Do you intend to use this flowmeter? Don't forget it can be affected by debris, sediments, and dirt. They use primary devices, and debris may accumulate at the bottom. If that happens, you may get the wrong flow rate. The device can also tear and wear with ease.
A Mass Flowmeter

This is a liquid flow meter that can offer good flow rate results in a mass related process. They help to measure the force that comes from speeding up of mass. Instead of volume per unit of time, this flowmeter measures mass that moves per unit of time.
Thermal dispersion and Coriolis flowmeters are suitable types of mass flow meters. The Coriolis flowmeters have straight and curved tube designs. Mass liquid flow meter measures density and mass flow but depends on the vibrations of the tube.
Velocity Flowmeters

Do you intend to measure the volumetric flow rate of a stream? This will be the best flowmeter to go for. The flowmeter helps to determine the average velocity at a given point. It can also measure the rate across the whole stream. A velocity flowmeter is waterproof. But it's important not to submerge the LCD.
When using this flowmeter to determine the stream's velocity, you are required to ensure that the prop can turn freely. Once you decide to buy a liquid flow meter, make sure you understand how each works. You will find many flow meters on sale but work in different ways. Know the way each function can help you make the right choice. For example, you can't use a magnetic flowmeter to measure hydrocarbon liquids. They are not good if you intend to use them to find the flow rate of de-ionized water.
Some velocity flow meters have moving parts, while others do not. You will also get flow meters that can be affected by fluid density but not all of them. That's why it will be essential to examine the medium you will monitor before the final decision on your flowmeter.
A positive Displacement Liquid Flow meter

A DP flowmeter helps measure a volume filled with fluid by delivering it ahead and filling it again. They are the only devices that measure the volume of fluid as it flows through the flow meter. Among the pros of this liquid flow meter is that it gives high levels of accurate results. The PD flowmeter can process a vast range of viscosity. If you get the correct liquid flow meter based on the use, PD will give you reliable results.
Are you looking for a liquid flow meter that won't cost you much to maintain? PD will be your best choice. How you keep a flowmeter will depend on the medium you are monitoring. You may be using a flow meter to measure fluid that has lubricating aspects? That will reduce the frequency of maintaining it.
A Differential Pressure Flowmeter

These are types of flow meters that apply for similar plates, venturi tubes, or nozzle. It may use orifice to create artificial compression. After that, they measure the loss of pressure in fluids that pass through the compression. The drop in force across the compression is relative to the square of the flow rate. If the pressure drop is higher, that indicates a higher flow rate. You can use these flow meters to measure a wide range of clean gases and fluids.
These flowmeters have secondary and primary elements. The primary element creates a change in kinetic energy. It uses the orifice plate, flow nozzle, or venturi flow meters. But the secondary element measures the pressure difference. Then, it gives out a signal. That way, they help to measure the fluid flow rate.
Conclusion
Get the right liquid flow meter. It will aid you in finding the fluid flow rate and attain accurate results. It's crucial to monitor the fluid you are handling. You can eliminate losses that come due to overflow or low flow rate in the system. All you need is the right flowmeter. But ensure you know how different flow meters work before buying.