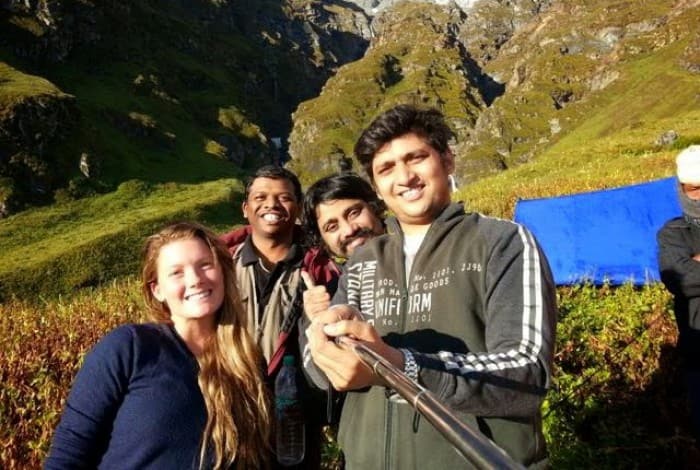 Saptarishi Kund is the place of origin of river Yamuna which is born from the Champasar Glacier that flows down from the Bandarpunch Mountain. Also popularly known as the Yamunotri, this place, which has the Yamunotri temple at a distance of 10 kms is a perfect place for trekking. Saptarishi is nearly 500 meters in diameter and has dark blue waters which are considered crystal clear and pure. The water from all the nearby glaciers gathers and flows down into this lake which is none other than the SaptarishiKund. On the banks of this Kund, you will find natural slate stones and also a rare variety of flower called the Bramha Lotus which is never seen anywhere else other than on the banks of this Saptarishi Kund. So when you get the chance to talk about or read about such an interesting place, why not start scrolling down and read along? Let's talk more about the legendary Saptarishi Lake.
Coming to the name 'SaptarishiKund', it is originated from Sanskrit and from the Hindu Mythology. 'Saptarishi' mean the seven holy sages namely Kasyapa, Atri, Bharadwaj, Vishwamitra, Gautama, Jamadagni and Vasistha while the word 'Kund' means a lake or a place of storage for water. It is believed that during the ancient times, these seven sages used to come here and sit by the lake to meditate. Now this tale makes it one of the most holy places to visit and worship. This is not the only thing about this place. This kund with such magnificent and enchanting surroundings of the pure glaciers is the main natural source for Sapphire. This is the place where you can find some of the high quality Blue Sapphires which are precious gemstones.
Now all of this scenic beauty that is to be marveled is present at an altitude of 4421 meters and that makes it one of the most difficult and challenging places to trek at in the Himalayas. Even the route to the SaptarishiKund is filled with ice. Then comes the dense forest land which is equally dangerous as it is so dense and filled with many dangerous animals that one needs to be very careful while crossing it. All of this is again blocked by the rugged mountain terrain. But like a little ray of hope in the darkness, you will get to see a small camp site around 5 kms up the hill between two rivulets. You can camp here for a while or may be for a night or two before going ahead for another 5 kms to finally reach the tremendously beautiful SaptarishiKund. It is impossible to camp near the lake due to the heavy winds and the uneven and unpredicted weather conditions.
Nevertheless, we always find some brave-hearts coming here and daring to trek in this place which is a great show of bravery and this impeccable show of guts has also inspired the government to help with the improvement of roadways which will help in easing the transport. You even find villages like Hanuman Chatti, NaradChatti, PhoolChatti, JankiChatti, etc. which are very small compared to the other villages in India. These villages fall at different altitudes on your way to the Yamunotri and there you also get the essentials which are very useful to you for your trekking experience.
So I hope you all would want to book some business class flights before you start working hard to reach this place as it is totally worth it. Do not miss the chance to visit this place because it is definitely a once in a lifetime experience for all the people out there. So if you are in USA or any other country other than India then make sure to look for cheap last minute flights to come down to climb this place on the altitude. Indian Eagle offers best deals on cheap flight tickets to India almost every season and so do not miss out on this chance at all. You will be finding guides at every point and they will make it all the more easy for you to visit this place without many inconveniences. So if you sit and keep thinking then you will never really have the guts to come out. So just listen to your heart for once and start pumping up the positive energy already.
Now if you find this article worthy then make sure to like, comment and share this article to everyone you know and stay in touch with me for the next interesting topic. Happy and a safe journey to you all!
Author Bio:
Passionate about traveling and then penning down the experiences, Rajesh didn't have to leave any sort of corporate job or anything as he immediately started working for Indian Eagle as a traveler. It has been more than a year and he has not thought about taking a break from this. He rather enjoys it. Travel through his articles to know more about her world.