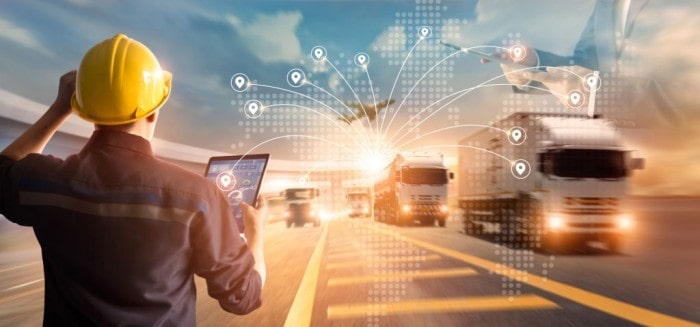 Companies are looking for ways that they can take real steps to improve their corporate social responsibility and reduce their carbon footprint. Fleet management requires a lot of vehicles to be on the road, which, depending on the nature of the business, can lead to high emissions. This isn't something that should be ignored; there needs to be a change in attitude if we are going to improve our society and world.
Managing a vehicle fleet effectively can help to provide benefits such as cost savings, improved service levels, assessment and control risk, and reduced environmental impact. This is particularly important for organizations that are focused on sustainability and having a positive effect on the community.
Most fleet vehicles are used to deliver goods, provide services or patrol a site, which means there is an opportunity to improve efficiency and reduce a business's carbon footprint. Establishing effective fleet management procedures may include looking at the following:
The length of time vehicles are used in service or on the road, as well as how they are used. For example, the number of short local trips versus long-distance travel.
Technology offers a solution through fleet telematics
Fleet telematics is a technology designed to help manage the performance and optimization of commercial vehicles. It harnesses the power of GPS (Global Positioning System) to transmit real-time location and performance data on users' fleet vehicles. The goals of any fleet management software are to enhance the efficiency of business vehicles, control company assets, assess and reduce risk and ensure the company always acts in a compliant manner.
Understand what is happening on the road
To make any improvements, a manager requires accurate data, and fleet telematics provides vehicle data. Using the data collected, fleet managers can see what time the vehicle was used; where it has been used, how fast it was going, and even in which gear. This provides managers with essential data to make improvements in their operations.
Convert the data into useful information
There are many tools available to convert the raw vehicle performance data obtained through telematics into usable information, such as reports and analysis tools. The reports can be used to quickly identify any issues immediately. This can even include information on driver habits or whether a vehicle needs a mechanical service.
Develop policies and procedures based on real-world information
Using the information provided, fleet managers can make informed decisions rather than rely on arbitrary vehicle manufacturer guidelines. To illustrate this, consider a vehicle that is used exclusively in town versus the same model used for long journeys. These vehicles are going to need tailored maintenance programs. A manufacturer's guidelines won't take this into account – however, using telematics data, maintenance schedules can be amended based on the actual vehicle requirements.
Assess, reduce and control risk
By collecting and analyzing essential data from vehicles on the road, fleet managers can assess risk. This allows the manager to identify any potential problems with vehicles and quickly address any issues before they affect customers or other road users. By providing detailed reports on driver and vehicle performance, management is assured of accurate information that can be used to evaluate driver safety and vehicle safety, thereby removing or minimizing a lot of the risk associated with running a fleet of vehicles
Improve efficiency
Understanding and being able to monitor real-world activities will empower transport managers so that they can improve their fleet efficiency by:
route planning
increase fuel economy
keep assets on the road
in-vehicle coaching to help drivers adopt cost-effective practices.
Data gathered from real-world journeys can be analyzed to determine the most efficient type of vehicle to use for a particular task. For example, electric vans are becoming more widely available, but they may not be entirely suitable for some routes. On-going monitoring can build a business case for their use where applicable and help avoid deploying them where they don't offer a benefit.
Compliance
The data gathered can also be used to ensure compliance with the DOT and FDA. Gather data needed to file compliance reports. Compliance reports are also useful for demonstrating a vehicle's compliance with road regulations.
For example, fleet telematics can:
monitor drivers' driving hours
meet FDA regulations for transporting perishable goods and drugs
Conclusion
Through the use of technology, fleet managers will become more efficient and effective by incorporating telematics into their fleet management. This will help to ensure compliance, maintain vehicles on the road longer, and reduce costs. It also can decrease the amount of fuel being used, which will, in turn, decrease greenhouse gas emissions. Customers are demanding more action on environmental issues from businesses. There are many advantages of improving a business's environmental impact and reducing its carbon footprint. Improved efficiency, reduced risk, and financial savings are just some of the benefits that businesses can reap if they implement effective fleet management and telematics technology.