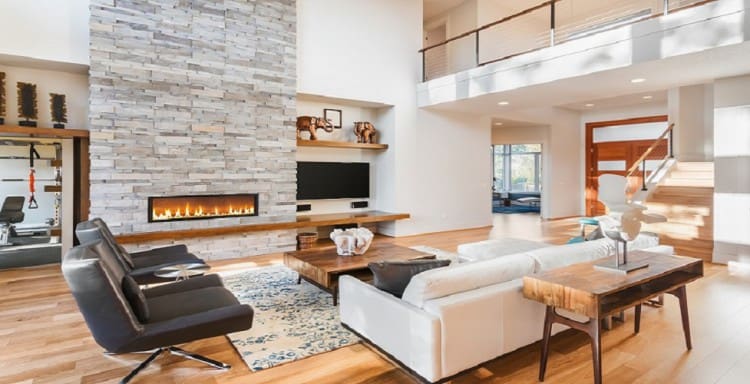 Ever since the first time you saw a gas log fireplace they would have ignited a desire in your mind to have one at home. They have that magical pull factor that is hard to ignore. The number of homeowners who are installing gas logs has grown exponentially in the last few years. It won't be wrong to say that it is on everyone's to-do list. The popularity of gas logs has also meant that prices have come down from what they were only few years back. Manufacturers are coming out with gas logs that cater to everyone's lifestyle needs and tastes.
Enjoy the warmth and comfort…
What makes fireplaces such a special thing in the living space? It would be the warmth and comfort without any doubt. Read a book sitting by it or enjoy your favourite drink and you can't ask for more in life. Fireplaces have always been the centerpiece of attraction in any living room. This is where you'd entertain your guests or a place where a family sits together and enjoys those joyous moments of life. Think of maintaining wood log fireplaces and most of the charm suddenly disappears from your mind! This is where gas logs have become popular as they offer you all the warmth, charm and comfort minus those tiring hours that you have to spend in maintaining them.
If you wish to add that classical Victorian touch to your home with these fireplaces you can find one that would sit right in the place where you have your existing one. For more modern and chic fireplaces sky is the only limit as you will be able to choose from a wide range of products for your gas log fireplace installation. Even if you have a small living space you will surely find one that is perfect for the space and doesn't burn a hole in your pocket. In other words irrespective of the choice you make these fireplaces would immediately redefine the look and feel of your room.
Bring in the flexibility with gas logs…
If you think traditional fireplaces are boring, you may have good reasons to do so. Ignore the surround and they all look the same where you find them sitting on one of the walls in the living room. What if you could bring one in the centre of your home? That's possible with gas logs and this is perhaps why they are very popular. If you opt for vent-free fireplaces you can have they installed anywhere in the room. Wish to add little more of chic touch you can opt for the double sided gas logs. They would definitely be a cool addition to your fireplace and one that would catch everyone's attention.
They add to the home value…
Apart from redefining the décor of your home gas log fireplace installation will also increase the value of your home. Ask any realty agent and they would tell you the homes installed with gas log fireplaces are fast sells compared to those that have traditional fireplaces or none. It has been an established fact that homes that have fireplaces command higher interest and prices than those that don't. What has slightly changed in the last few years in the property market is the preference for gas logs. Like you were bowled over by the beauty and elegance of this fireplace the first time you saw them the same goes for prospective home buyers. When they come to look around the property, gas logs is often the first thing that strikes their eyes. Once you arouse that curiosity and desire in their mind you are close to a deal.
Getting an expert on board…
You may have seen numerous DYI guides on the Internet taking you through the various steps of installing gas logs. If you have been careful enough to note the steps you'd know for sure that the task is challenging. If you are a DIY expert that's another story but most homeowners don't have the level of expertise that is needed to play around with inflammable gas powered fireplaces. This is where it is a wiser choice to bring experts in gas log fireplace installation onboard. They will not only help you install the fireplace but also let you make the right choice in your choice of fireplace based on aesthetic, functionality and of course your budget. If you wish to spice up the room décor further or try something unique with the surrounds they would handle that job too. In other words you will achieve a fireplace that defines your lifestyle and adds to the value of your property.
So what's in your mind? Go for gas log fireplace installation and it will help you redefine the look of your property and let you enjoy your book or drink every day.
Author Bio:
The Author of the article a professional plumber and who have years of experience in providing gas log fireplace installation, repair and fitting work of existing fireplaces.