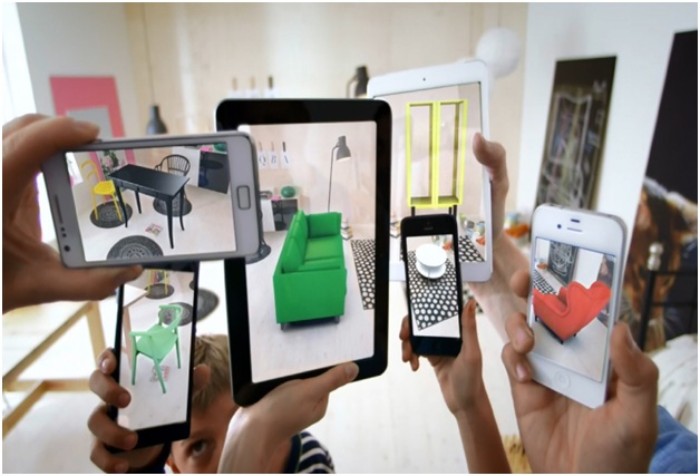 Gone are those days when the fashion retail business was bounded to four walls only. With the advancements in VR and AR technology, the retail business has evolved and taken steps towards digitalization. This advancement was more important than other changes in the fashion retail industry. Do you wonder why? Well, people were not enjoying online shopping experiences because it was destroying the way retailers or shoppers understood physical shopping. Most of the 20th-century brands even closed their physical outlets after online shopping success. However, later it was discovered that these stores with huge external windows, big doors, attractive apparel, and accessories were playing a big role in drawing shoppers to the store.
ONLINE SHOPPING
Millennials consider online shopping is pretty efficient as it saves your time and provides the utmost convenience. You can shop for anything by enjoying the comfort of your home. And from a retailer's point of view, it's more convenient to sell products by saving a huge cost margin on parking lots, overheads and direct store expenses.
ULTIMATE RETAIL APOCALYPSE – THE RISE OF AR FASHION RETAILING
Retail apocalypse doesn't mean that people stopped visiting physical outlets or ceased buying anything from the store. But after the declining rate of consumers visiting the retail business, shop owners used smart AR tech to reinvent their outlets and digitize the shopping experience for the customers. Even according to a local report, brands like H&M, Ralph Lauren or Michael Kors were planning to close stores, then they adopted the AR technique to stick to the fashion industry.
Well, the mantra to face competition in the fashion industry currently is pretty simple. All you need to do is follow the latest tech trend which will help you stay and impress the audience. This is the reason why the majority of fashion retail brands are investing in implementing AR tech to their online and physical outlets. They are using omnichannel retailing platforms that enable the customer to experience shopping unlike usual. With this modern approach, both retailers and consumers can perform in a better way. From displaying and viewing the product's information (traceability and transparency) to stock's availability, everything can be done perfectly. AR tech enables consumers to experience shopping more realistically.
BRIEF INTRO ABOUT THE AR TECHNOLOGY
According to tech veterans, Augmented Reality (AR) is the real-time tech that is used to manipulate the real-life images and portray them in a better way. They add virtual enhancements that are integrated with the real objects. From interaction to displaying features, it efficiently adds value to all elements.
AR VS VR
VR is more like experiencing a computer-generated 3D environment that completely manipulates the real-world. It is touch-sensitive and comes with immersive head-mounted displays and headsets. On one side where AR is easily accessible and does not manipulate the real-world elements completely, VR on the other side enables the user to experience a fully computer-generated environment.
IMMERSIVE AR TECH TO ASSIST FASHION RETAILERS
Millennials are more interested in experiencing shopping rather than just buying a bunch of products. That's why shop brands are evolving and using high-end AR tech to improve a user's experience. Want to know how? Brand's name and the flagship is not the only thing that eventually effects a shopper's decision. However, a unique shopping experience can convince people to visit the outlet over and over. AR designed software are enabling people to shop unlike usual. If you are thinking about how it is effectively assisting then big brands are using the AR tech to let people immersively view the product and make their decision based on that experience. For instance, if you are looking at a dress, you can simply take out your phone, position it towards the dress and all details related to the dress will seamlessly appear on your mobile phone screens.
ZARA STEPPED TOWARDS THE AR TECH
Zara stepped towards the AI and AR world by launching a pop-up store in London. This store is not like any other store in London but with integrated and advanced technology, both offline and online customers can experience shopping. The store is designed by using updated technology that smartly elevates the customer's experience. You might be thinking about how they made it work? The store employees provide mobile devices to the customers which helped them choose the product by viewing it from different angles. A few weeks earlier, Zara also launched an Augmented Reality (AR) shopping app that allows the customers to shop better online.
AR AND VR STARTUPS & COMPANIES
Similar to Zara, there are a few companies that are specializing and investing in the Fashion retail business. This list of companies will help you get a better idea:
VIRTUSIZE
Virtusize is known as the best fashion retailer that perfectly illustrates 3D imaging by implementing AR tech to online shopping apps. With these apps, shoppers can conveniently shop and retailers can plan, restock inventory and share the latest products to the audience.
OBSESS
Obsess is a professional AI tech provider that is helping fashion retailers and brands to Augmented & Virtual Reality shopping experiences for mobile. Now, this can happen via mobile applications or responsive websites and Obsess is effectively associating these platforms with in-store merchandise and product information.
MODIFACE
Modiface was successfully acquired by L´Oréal in March 2018. And being an AR-based app, it allows consumers to experience shopping perfectly. It enables users to easily simulate skin care assessments, 3D makeup and photo-realistic hair coloring with advanced options.
AVAMETRIC
It allows retailers to create an omnichannel platform by recreating automated online shopping experiences for consumers. Avametric allows brands to deliver fully-tailored 3D rendering displays of products and their description.
VALTECH
As an excellent digital consultancy, experts at Valtech provide strategic solutions to meet your niche business requirements. With technical power, creative edge and AR technology, it is allowing the fashion retail industry to grow rapidly.
HOLITION
Holition provides professional AR tech services to assist luxury fashion retailers in the market. It has immersive 3D tech that enables both interaction and innovation. Holition is simply amazing for digital consumers and cutting edge leaders.
SYMPHONY RETAILAI
Being a trusted and popular global provider of Artificial Intelligence (AI), Symphony Retailai offers smart and customer-centric solutions that drive validated growth for retailers. It is effectively helping people to use both AI and AR altogether to personalize marketing and merchandising experiences.
TAKELEAP
As a highly interactive digital media, marketing and tech agency, Takelap offers unparalleled VR & AR tech services in projecting holograms, app development and designing services. Takelap is investing and involving in digitizing the fashion retail industry with the help of Augmented Reality.
IN CONTEXT SOLUTIONS
In Context, Solutions is a mixed reality platform that is assisting retailers to adopt the new AR in-store shopping concept. With the mixed reality solution, it is allowing the businesses for total retail optimization by enabling people to experience more.
IN CONCLUSION
AR is a powerful tech is taking over multiple industries including the fashion retail business more quickly. It not only allows retailers to receive multiple benefits but enables consumers to experience shopping better than before.
AUTHOR'S BIO:
Sarah Jay works as a creative content writer for Six Sigma Studios. She is truly committed to her work which makes her deal with digital marketing, new tech, and the latest VR &AR design. Most of her work is related to digital marketing, graphics, and illustration. She loves reading and traveling in her free time.