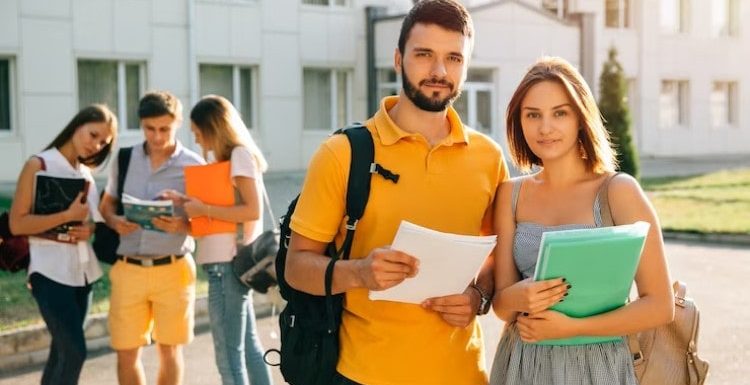 With the major goal of attaining quality education, utilizing opportunities and attaining a competitive advantage, it is almost every student's dream to study in a foreign country. Many students leave their native countries to pursue their higher education in countries like the UK, US, Australia, Canada, and Singapore among others.
In fact, the latest statistics indicate that the US had about 948,519 international students during the  2021/22 academic year. Overall, the number of international students is expected to increase in the present century. With that, you might be among the many yearning to study in a foreign country. Studying in a foreign university is associated with a range of benefits besides upgrading your CV.
It can offer you a chance to explore the world, attain innovative training, and build a professional network. Moreso, students who attain a certain level of education in first-world countries always have something valuable to offer when back home. But before you enjoy the results, how can you plan the entire process?
How Students can Plan their Overseas Education
Before you take this huge step, there are a few things that can be of great help when planning your overseas education. This is regardless of the country of your choice, the relations you have in that university, and the things you plan to do once you land in that country. Evaluate the following;
What is your Area of Interest?
Are you an undergraduate, or postgraduate, or desire to pursue a training program? What additional skills do you wish to develop during your study? It is important to clarify what you want to study or what you want to be in the future. Being clear on the course you want to pursue and the country that provides the best education will help you make the right decision.
It will eliminate the confusion that you may suffer due to poor planning. With that, settle down and reflect on what you want to be depending on your interests.To do so Reflection models can help you understand the area of study that interests you the most supported by your previous scores. These will help you know whether the university of your choice offers the course you desire. And whether it has co-curricular programs for your personal development needs.
Additionally, understand the length of your course and related matters. For example, you may desire to work while studying in order to get the required financial help. Check whether such possibilities are available in your area of specialization and the preferred college.
Do you have the Required Credentials?
As much as millions of students dream of studying abroad, only a few attain this dream annually. That's because enrolment in an international university comes with heavy requisites.
Depending on the preferred country and college, a student may require excellent academic records, a statement of purpose, letters of recommendation, and English proficiency test scores. A student must also submit the original academic transcripts from previous academic institutions and bank statements among others.
With such conditions, many students are left behind annually due to poor academic scores or failure to attain the appropriate IELTS/ TOEFL results. Yet, many fail to reach that dream due to financial constraints. It is important to understand the prerequisites and ascertain whether you can adhere to them.
Have you Made Thorough Research
There is a lot of fraud online and if not careful, you might end up spending a lot of money on it. It is recommended that you get in touch with the college or university of your preference. Check the online information, but as well make sure to have a word of mouth with the concerned authorities in the university of your choice.
There are many cases where students end up disappointed just because they followed online advertisements. Whether your destination for international study is China, the US, the UK, or Canada, it is recommended that you make a thorough research about the university you're opting for.
Check the education quality of that particular country, the course requirements, and job replacement chances after completion. If possible, speak to a former student or a current student who is pursuing a course in the college of your choice. First-hand information is always more reliable than online material.
Sign up for Financial Aid If Possible
Studying abroad means daily expenses. Streaming from the accommodation, transportation, tuition fees, and food to medication, you need to have a guaranteed and reliable financial source to meet your needs. Such costs are quite high for parents hence the surging student debt in many countries like Australia.
If possible, look for student scholarships or grants in order to manage tuition needs. It is very important for a student to start studying with a clear understanding of where the tuition is going to come from.
Also, consider developing effective financial and time management skills to reduce financial pressures and earn while studying. As a student, you can also consider getting a part-time job to meet your expenses. There are many part-time job opportunities for students online and in-office. These not only cater to proper time utilization but also help in skill and personality development.
Get in Touch with an Experienced Counselor
Want to complete an MBA abroad, yet there are hindering blocks? Or to pursue engineering and technology, or social sciences courses, but are unaware of whether the college offers such courses? Talk to a counselor. Unlike before, there are many educational consultants that represent international universities.
These consultants are able to assess your needs, analyze your gaps, and offer the right information on what to do. Even before you start processing your student visa. They will be able to tell you the type of English proficiency test to take, the available financial aid, and accommodation facilities among others. However, ensure to find the registered offices for such educational consultants.
Conclusion
International studies are mainly influenced by push and pull factors. Even before the 2020 pandemic, pull factors like scholarships and innovative educational programs attracted many students. Countries like the United States, the UK, China, Australia, and Germany still welcome hundreds of students annually. However, it is important to attain ample information about the course, university, and fee structure before processing your student visa. This piece of content provides the best mediums you can follow when planning your overseas study. They will surely help you make informed decisions.