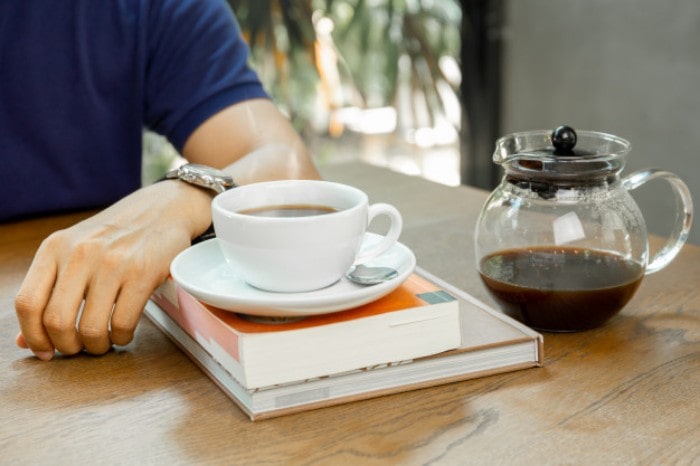 What's your favourite coffee shop? Whether you love coffee or you hate it, there's something undeniably compelling about the atmosphere of a coffee shop. The oak panelling on the walls, the rustic charm of the burlap coffee sacks in the corner, the smell of the beans roasting…nothing quite beats a coffee shop for a place to work, to chat with friends, or to just relax.
If you love coffee shops, you're probably wondering just how they manage to get that ambience. How do coffee shops create the atmosphere you know and love? How can you get that atmosphere for your own home? Well, we've got good news – it's easier than you might think. Here are just some of the ways you can create a coffee shop-style feel in your home.
Made to measure furniture 
You're not going to bring coffee shop ambience to your home with mismatched or oddly-sized kitchen furniture. With a set of made to measure furnishings, you're declaring that you love your home and you care about the arrangements of objects within it. Your kitchen should be the hub of your home when it comes to serving coffee; why limit comfortable spaces to just your living room? Using made to measure furniture ensures your kitchen will look and feel just right. Pair this with a comfortable set of chairs and a few rustic wooden tables and your home will look just like a coffee shop.
The aroma of coffee 
Nothing screams coffee shop quite like the aroma of roasting coffee beans. Naturally, the easiest and most cost-effective way to achieve this would be to pick up an espresso machine or something similar. Not only will you be able to serve first-rate coffee to guests, but you'll also have a centrepiece you can draw attention to. Most coffee shops don't hide away their apparatus; they display it proudly so customers can see where the magic happens. By filling your home with the aroma of coffee – as well as its visual presence with the machine – you're establishing it as a place to gather and relax.
Chalkboards 
When was the last time you went into a coffee shop and didn't see any chalkboards? These handy little fixtures don't need to be permanently fixed to your walls; they can just be picked up from flea markets or similar places for next to nothing. The effect they'll have on your burgeoning coffee shop home is remarkable, though. You could go the whole hog here and write a fake (or real!) coffee menu for guests and family members. Alternately, you could just write something fun, or an in-joke your family will understand. Just the appearance of a chalkboard will lend a sense of authenticity to your coffee shop in the making.
Bookshelves 
Hey – people go to coffee shops to have intellectual discussions and learn things, right? Whether or not that's actually true, creating a sense of homeliness and cosiness is crucial if you want to make your home feel like a coffee shop. Installing bookshelves will go a long way towards getting there. You should probably fill the bookshelves with all kinds of different books in order to cater for everyone's tastes. Classic novels, books about succeeding in business, and biographies are all great ideas to start with. If you're a bookworm, even better – just use your own collection and you're quids in.
Lighting 
One thing you'll notice about most coffee shops is that they're the complete opposite of harshly lit. Nobody wants to sit and chat over a steaming cappuccino if they can't see for the blinding light above them. Wherever you're putting your coffee bar, you should make sure the lighting isn't too oppressive. The best way to go about this is probably to install dimmer switches. By being able to control the light yourself, you're ensuring that people will always feel comfortable when they're drinking coffee at your place. If the occasion calls for something a tad brighter, fine. If it's a more relaxed, low-key affair, dim the lights. You can create whatever atmosphere you like with lighting.
Music 
Most coffee shops have music playing in the background, softly enough that it doesn't interrupt conversation but loudly enough that customers can just about hear it. If you want to have full control over the sounds in your coffee place, you should probably check out a smart speaker. These devices allow you to give commands above and beyond simply playing music, so they're a great all-round piece of tech to have in a hangout space. As for the music choice, well, this should come naturally to you. Jazz is a must, but if you prefer classical music or even soft acoustic pop, these are also options. Just don't fill the coffee shop with the strains of Metallica.
Artwork
There are plenty of options when it comes to adorning the walls of your new coffee hangout with artwork. You could go the quirky and home-made route, or you could buy some professional art and display it proudly. There are, of course, some things to remember here. Don't pick art that's too controversial or provocative. Nobody's coming to your space to feel threatened or overstimulated. Try to keep the coffee theme going – art revolving around coffee itself, or hot drinks in general, is ideal. Finally, keep the colours complementary. You don't want the art to be too effective in drawing your guests' attention away from the main event.