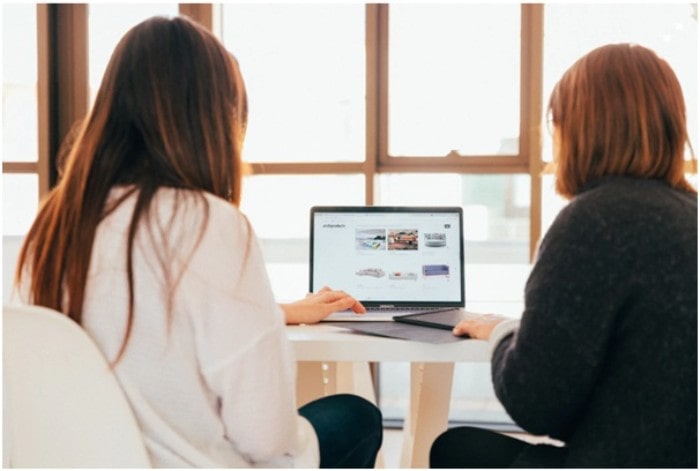 The Lone Star State's third largest city is known for its internationally-recognized architecture and a thriving entrepreneurial ecosystem. In fact, Dallas was ranked among the 10 best cities to start a business in the U.S. and the third best city where small businesses flourish!
With a history rich in innovation and commerce, it's no wonder Dallas is currently home to a myriad of start-ups and tech companies. Dallas boasts a culture where thought leadership is valued and sharing is emphasized.In addition to a business-friendly climate and a history of a can-do entrepreneurial spirit, Dallas has a favorable tax environment and great access to talent.
It's hard enough to launch a business in this highly competitive landscape ridden with bigger competitors, let alone stay in business and achieve sustained growth. So, how do you break into the fast-growing Dallas market and stand out?
By leveraging the power of Search Engine Optimization (SEO).
In today's digital age, SEO is an investment rather than an expense. In fact, for a lot of small businesses, SEO is necessary to survive!When you're operating on a limited budget, aligning SEO with your digital marketing efforts is the most cost-effective way to reach potential clients and promote your offerings.
Additionally, it helps you drive higher quantities and quality of organic traffic to your site, turning visitors into paying customers. Plus, unlike other forms of marketing,SEO allows you to directly connect with customers and qualified leads.
With the help of SEO experts, you can build a robust website that attracts customers and generates leads. And what's the cornerstone of a well-optimized website? A high converting landing page.
Landing Page as an Important Element of Lead Generation
A good, persuasive landing page is a critical must-have for all websites. It is a web page on which your potential customers "land" to learn more information or convert to a particular action, such as making a purchase, filling out a contact form or subscribing to a service. It is usually a standalone page created for a specific sale, campaign, or product.
Here's an example of a landing page: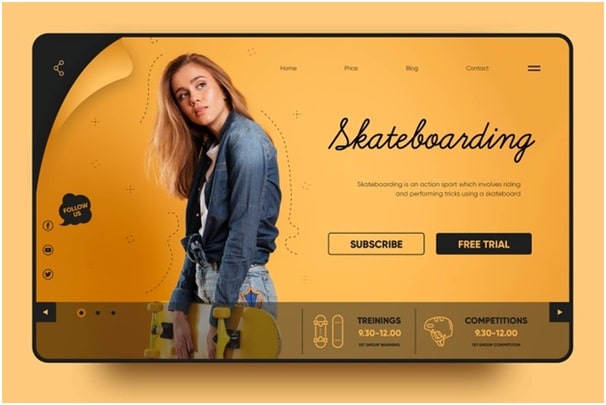 Landing pages are incredibly valuable in driving visitors to a certain section of the website, grabbing their attention, and compelling them to complete a conversion.
Landing pages gently nudge the visitors to perform a certain action and tell them how and why they should do it. They provide a targeted platform to convert a higher percentage of visitors into leads.Compared to other web pages, they have an average of 5-15% conversion rate.
Homepages, on the other hand, offer an overview of the company to the masses instead of focusing on a particular task. People often find homepages through social media or word of mouth, while landing pages are found organically via high-ranking search results and keywords.
Instead of overshadowing landing pages with homepages, an ideal strategy would be to use the homepage to direct traffic to your landing page for the final conversion.
The best landing pages speak to the right audience. Here are some tips on creating winning landing pages:
1. Clean, Organized, and Uncluttered
Your landing page should provide all the necessary information without overwhelming the visitors. Remember, you have less than 5 seconds to attract the visitors' attention and encourage them to convert.
Make sure all the elements on the page are eye-catching and easy to comprehend. Limit the number of images, links, and media to only what's necessary.
Here are the questions your landing page should answer for visitors at a glance:
Why did I arrive on this page?
How do I achieve the objective I came here for?
What value does the company offer in exchange forthe information I provide?
Avoid any surplus wording, selling unrelated offers, or distracting images. Think streamlined and easy to read!
2. It Must Contain the Following Essential Landing Page Elements
A Killer Headline and (Optional) Persuasive Sub-Headline
Catchy headlines make all the difference in grasping the attention of the readers. Make sure it is short, sweet, and gets straight to the point of introducing your offerings.
You can include a sub-headline with an element of persuasiveness to elaborate on the headline's general idea.
A Supporting Image
Visual content plays a big role in communicating a product, service, or brand instantly. Our brain interprets images much quicker than text, which is why the images on your landing page are essentially the first impression of your brand.
Incorporate high-quality, relevant images that not only grab attention, but also demonstrate relevance to the visitors. For tools and software products, including screenshots is a great idea.
Social Proof
Display supporting proof elements such as customer logos, testimonials, or security badges prominently on your landing page. Research shows that nearly 71% of millennials are likely to purchase something if it has good reviews and has been recommended online.
A Brief Description of Your Offering
Your landing page should include a straightforward explanation of what you're offering. Make sure it capitalizes on the user's pain points that your product or service is addressing. It should be benefit-oriented.
You might be tempted to make it 'unique' and 'fun,' but your top priority when creating the description should be clarity. You can also include a visual walkthrough of your product with an embedded video.
A Powerful Call-To-Action
The CTA is the most important part of your landing page. After all, it is ultimately what converts visitors into paying customers.
Use a large CTA button that stands out with contrasting colors that compel the click. Another important aspect is the positioning of your CTA; hard-to-miss form placement of a CTA makes it impossible to ignore.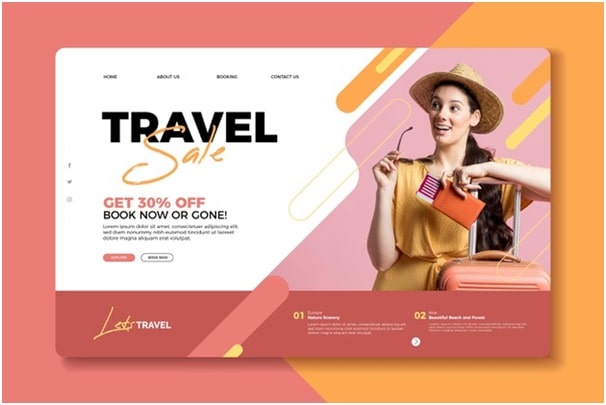 3. Leverage Local SEO to Maximize Leads
To rank your Dallas business at the top positions in search results, you need to optimize your landing page from a Local SEO perspective.
Local SEO involves optimizing your site to appear for geo-targeted keywords. With Google focusing more and more on locally-targeted content, you can use the synergy of landing page conventions and Local SEO ranking factors to create a perfect landing page for your Dallas business.
Here's how you can go about it:
Strategically Include Geo-Targeted Keywords in the Landing Page
Make sure to mention the city and state you're targeting in the headline, the page title, and the H1/H2 tags naturally.
Clickable NAP
Incorporate the name of your city, town, region, and neighborhood in your landing pages as crawlable HTML text, following Google's N.A.P rule.
Make It Mobile-Friendly
Since nine out of ten users conduct local searches on their devices, make sure your landing page is responsive and user-friendly.
Speed Up Your Page
Page speed is a confirmed ranking factor for Google. Nearly half of your visitors are likely to abandon your page if it takes over 3 seconds to load, so be sure to speed up your load time.
In your quest to create SEO-friendly landing pages, you can outsource to SEO services in Dallas. A seasoned team of SEO professionals can help you devise a multi-platform approach and increase your odds of competingwith giants in the digital space in Dallas.
4. Remove Navigation Elements
Your landing page serves one purpose and one purpose alone: to drive visitors to take a specific action. So, make sure it doesn't require them to navigate to another page and leave them wandering.
All the elements on your landing page should follow a logical flow to keep them moving forward towards the CTA and pushing them to complete the goal set out for them.
Check out this example landing page by Spotify that has a single visual focus and an incredibly simple flow from the headline to the CTA button: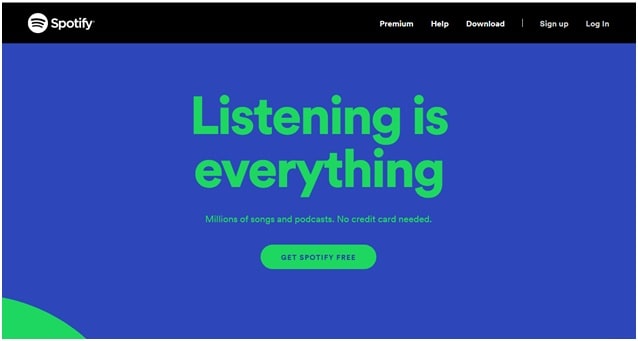 5. Make it shareable
Including social sharing widgets and social media sharing links on your landing page allow your visitors to easily share that content across the social space. Users love to share the company's offers with their personal networks after they've signed up themselves. This serves as a word-of-mouth endorsement and presents more opportunities for lead conversion.
Concluding Thoughts
A landing page is where all your SEO efforts and marketing dollars come to fruition so make sure to optimize it well for conversions. Start by implementing these simple steps to boost the performance of your landing page.
You can also choose to outsource to a leading SEO service in Dallas that can help you build a brand for your small business and drive high-quality traffic with the best SEO practices.
About the Author:
The author is a business reputation management and SEO expert at Search Berg, an award-winning digital marketing firm serving SEO services in Dallas. The author specializes in on-page SEO, link building and providing online reputation management services.