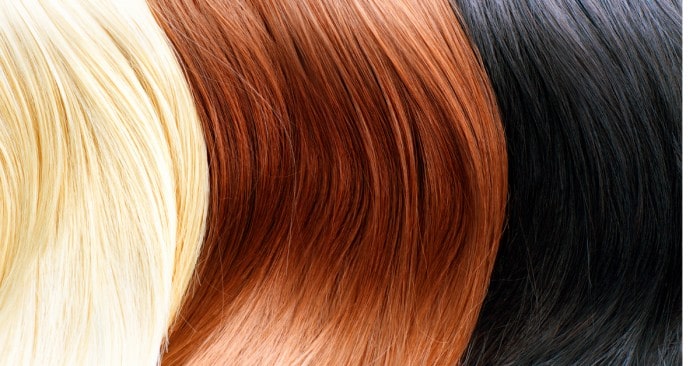 Everyone is excited about the prospect of going from brown hair to blonde hair. These days, a lot of brunettes want to go blonde. In the market, there are a number of products claiming to transform dark brown hair into blonde or even simply dark brown hair into blonde.
It's true that bleaching your hair is the quickest and easiest way to lighten it, but it's also the most expensive method. Bleaching removes the pigment molecules from your hair, but it also removes the natural fatty acids from the hair shaft. This can lead to brittle, weak hair and, in extreme cases, complete hair loss.
Blond hair colour without bleach
Blonde hair can be achieved with bleach, but what if you're allergic to it or don't want to use it for any other reason than aesthetic reasons? Bleach has its downsides, but fortunately, it's not always necessary to use it.
It is feasible to achieve blonde hair colour without bleach  if your hair is light enough. It is possible to utilize a high lift dye or even a conventional permanent dye in a variety of situations. This article will discuss the various chemical and natural products that are available to help you obtain your desired shade of blonde without bleach.
1. Chemical Process
Depending on how dark your hair is and how light you want it to be, there are two chemical; methods for dying it blonde. In order to go blonde, you can use either:
One-step process
Two-step process
a. One-Step Process
The usage of permanent hair dye or high lift dye is required for a one-step process to lighten your hair to a golden blonde color. From a technical standpoint, both of these items are very comparable in terms of what they are and how they operate. Basically, it contains additional ammonia and other added boost boosters that allow the product to perform more efficiently (but still significantly less ammonia than bleach).
b. Double Process
A two-step process, on the other hand, first lightens the hair, then tones it down to the desired shade. With hair bleach, you usually make your natural color lighter. You then use a demi-permanent toner or a permanent toner to get rid of colors like orange and yellow tone. There is greater lightening with this type of treatment because the substance is stronger and is often put on for longer periods of time. Once your hair has reached the desired level of depth, only then should toning be performed. This is the most reliable method of lifting very dark hair because you can watch the color change and make adjustments to time and procedures as it occurs.
2. Natural Process
Lightening your hair is extremely difficult because your hair's natural melanin pigments are extremely hardy. When you use bleach or dye on your hair, you're changing the physical structure of melanin in your hair, making it colorless.
Some of the most notorious alternative methods for hair lightening, however, should be addressed because, while some of them may produce some lightening, none of them should be used on dark hair. Here are a few examples:
a. Lemon Juice
Lemon juice and non bleach hair dye natural form can be used to lighten hair, but it can also be hazardous to one's hair health. It has such a high acidity that it might damage your hair. The most effective approach to utilize it is to combine it with conditioner or even coconut oil, which will provide you with the necessary moisturizing and reparative properties.
b. Saltwater Solution
After coloring your hair, if you still want to lighten it more, you can do so by exposing your hair to the sun. Color-treated hair should be sprayed with a mixture of water and salt. This will allow the hair cuticle to be slightly exposed to the sun, resulting in healthier and brighter hair, then you can dying black hair blonde without bleach .
c. Apple Cider Vinegar
In addition to lightening hair, apple cider vinegar can also remove oil and residue build up from your hair and scalp, allowing it to thrive. Apple cider vinegar also aids in hair detangling and frizz control. You may do this twice a week without fear of drying out or harming your hair because apple cider vinegar reacts less harshly to sunlight than. Rinse your hair completely after applying the mixture and waiting 15 to 30 minutes.
d. Baking Soda and H2O2
Mixing hydrogen peroxide and baking soda produces a paste that may be applied to your hair and work its magic, lightening it by one to two shades in a matter of minutes. Despite the widespread popularity of this hair whitening procedure, both baking soda and hydrogen peroxide are extremely abrasive chemicals that can damage the cuticle and irritate the scalp if you apply too much paste to your hair and leave it on for an extended period of time.
e. Cinnamon and Honey
Honey and cinnamon work together to activate the hydrogen peroxide traces present in the honey. A chemical reaction occurs when this is mixed with the glucose oxidase found in honey. Your hair color will shift (to) one or two shades lighter if you have light brown hair as a result of this reaction. For an extra hydrating mask, combine two tablespoons of honey (raw honey is excellent), one tablespoon of cinnamon, and one tablespoon of olive oil for added moisture to make a paste.
f. Vitamin C
Vitamin C is only used as a last option. Generally speaking, it is not suggested for use in home hair coloring transformations from brown to blond, but it can be utilized. It is also one of the procedures for transforming brown hair into blonde hair that does not include the use of bleach. You can use Vitamin C tablets or gel to make a paste for your hair and then let the sun shine through it to condition it. As a result, you can transition from Brunette to Blonde without having to use bleach.
g. Chamomile Tea
At home, you may easily transform your brown hair into blonde by rinsing it out with chamomile tea. It is possible to increase the amount of chamomile tea used if your hair is significantly darker.