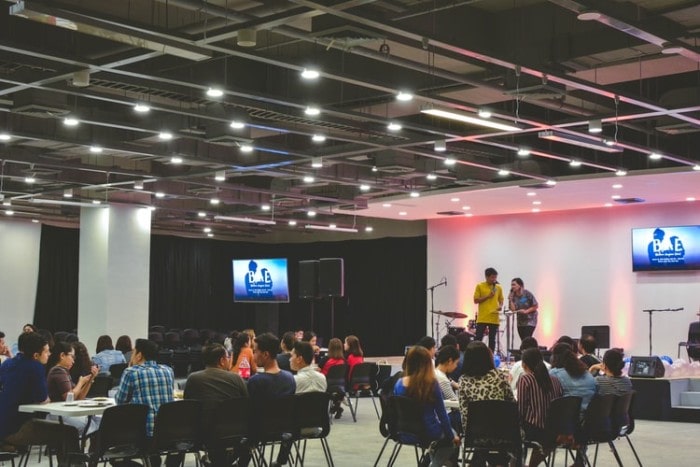 Running a corporate event can bring some real benefits to your business. In a world where digital marketing seems to be taking center stage, building real, in-person connections is vital. A recent study showed that, when surveying the total number of sales across the retail sector, 94% of those sales were made in person.
People buy from people, after all.
A great way to showcase your services or product, especially in the business-to-business space, is to run a corporate event for partners and potential customers.
Why a corporate event?
When we think of corporate events, everyone gets visions of those awkward networking meetings or terrible icebreakers. No more! The events space has expanded over recent years, and there are now many different options when it comes to event themes and ideas, ideas that will get prospective clients and customers excited rather than dreading your event!
Having those face-to-face conversations with your prospective clients or customers can be better than a thousand new social media followers or newsletter sign-ups. You can attend corporate events for less than the price of an online marketing campaign, and running your own event means people leave with your branded merch, your card, and, ideally, a good impression of the new business they will be working with.
Choosing your event theme
Picking a theme for your event is vital. Your theme will dictate how things look and feel and will help you choose what you spend your money on, from event planners to corporate bartenders to stylists to PR firms with proven track records.
The trick to picking a theme and running a successful event is to make it look effortless. That comes with great organization and a strong idea behind the process. This can take a lot of practice, so hiring professionals is a great idea.
Here are three theme ideas for your next corporate event:
Company Festival
Everyone has heard horror stories about company conferences, and it's true that there aren't many people in the world who do genuinely look forward to company conferences, but if you were to think outside the box, you would find new ways to run that conference.
Bring in the hay bales, put up the bunting, order in some live entertainment, and hold your workshops outside or under canvas. Make your conference feel more like a festival and get everyone motivated to attend.
Breakfast Club
Lunch and Learn has been a popular term in business for a long time, using employee's free time to improve skills over lunch, but breakfast meetings can be an excellent way to run a corporate event. Catch people before they get to work and allow them the rest of the day to continue making connections online after your event.
Auctions
It might be an off the wall idea, but an auction can be a great corporate event, especially if there is a charitable aspect to the event. Auctions can be formal, black-tie affairs or more casual fundraisers for everyone to enjoy.