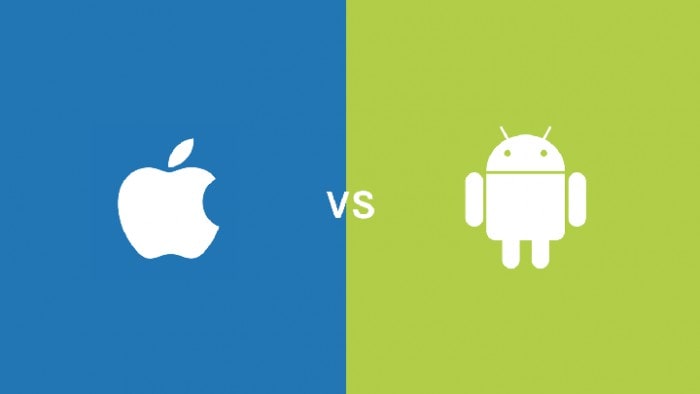 With over 99.6% of the mobile market, Android and iOS are becoming the two most preferred platforms for developing a mobile app. With the rising demand of mobile application development, it has become a bit difficult for businesses to choose a single platform that can take their business to an elevated height in the future. For this, you must be well aware of the pros and cons of both the platforms.
Choosing the right platform is extremely important to start with. It is an important aspect for all businesses. In this blog, there is a quick comparison of the two platforms, i.e. Android and iOS.
iOS 
Pros
Great consumer experience: iOS mobile apps are quite valuable than Android. Owing to flawless software, excellent hardware, iOS has emerged as a superior brand. With Android, there are some apps that work on downloading and some that do not work at all. However, with iOS you will find every single app working fluidly. This offers a great user experience which is quite essential for a business.
Excellent UI: The only objective behind creating a supreme app is an excellent client service. The more enjoyable the app will be, the better would be company's relationship with the client. iOS devices are always applauded for its balanced environment. They are also reckoned for being so smooth and easy to use. These are some features that make the business app desirable to use, thereby boosting its sales.
High-end security: While creating an app for the business, a company should choose a platform that offers utmost level of security. iOS devices are always secured for any kind of external threats. iOS offers a strong shield for virus and malware's, thereby making it a perfect choice for mobile app development.
Reach to tech-savvy audiences: For any business, attracting new clients is important to boost sales. iOS has always been an attractive choice to serve the needs of tech-savvy audiences. With a well-developed iOS app, businesses can enhance their reach. Designing iOS application for a business is a modern way to present the company, this also leads to enhanced brand recognition.
Increased ROI: Android apps are not that much profitable for a business. They produce less than 10% of the total amount that is spent on making it. An iOS app takes business to healthy finances with increased revenue and ROI. These scalable iOS apps have potential to serve the clients by maximizing reach of business.
Cons 
Low market share: There is a very small share for mobile apps that are able to make sufficient amount of money. So, the downside with choosing iOS platform is a low market share.
Stretched reviewing process: For all those businesses, who wish to release their app as soon as possible, this point can become a major drawback. This is generally because of the strict development guidelines. 
Android 
Pros 
Less development requisites: As compared to iOS and other platforms, Android has lesser requirements for development. You just require a PC or laptop with a great knowledge of Java programming. It is recommended to use IDE Android studio from Google to create fascinating Android mobile apps. There are many other development tools you can pick from the Android developer community. 
Great market share: It is one of the greatest advantages that will help you reach potential clients. Owing to its global reach of 82.8%, Android comprises the largest audiences.
Variety of devices: Android devices come with varied screen sizes and variable price in the market. Owing to the presence of multiple different devices, you will not be limited to a specific group of users. This variation will make it easier for a large number of people to install their mobile apps.
Increased ad revenue: Android has surpassed iOS and many other platforms. Android users do not spend much as compared to iOS users. However, there are many different ways to use the ones that are monetizing apps and displaying ads in that way. 
It is quite affordable to feature Android apps on play store: Android mobile apps usually take less time to acquire visibility on the app store. Therefore, you can easily publish your first mobile app in store. Additionally, it is also quite economical. So, it is a small budget, especially for independent mobile app developers.
Cons
Increased number of app bugs: As compared to iOS, Android has more potential bugs. This is due to the presence of large variety of devices and OS versions that make Android mobile app development somewhat tricky. This is tiresome when you need to launch an app to the earliest. 
Fragmentation problem: Fragmentation suggest how Android users operate and use various devices. Developers should be able to follow a development approach that caters to varied screen sizes, OS and technical capabilities. However, there are times when a developer is not able to do it all perfectly all the time. This is where the issue arises.
Making The Right Decision!
Having seen the positives and negatives to both the platforms, it is now the right time to decide which platform will you own for your mobile app development needs. Android can be great if you have knowledge of Java and wish to launch an app that displays ads. Similarly, iOS is great to start if the concern is about selling apps, developing apps quickly and if your targeted audience is both from urban and developed countries.
In short, it is important to keep your requirements in view before selecting the right platform for your business.
Author bio:
Jacob Colleen works as an iOS app developer at Webby Central, leading mobile app development company. His skills and knowledge in business consulting and branding are trusted by many leading businesses. In the above post, he has delivered a quick comparison between Android and iOS platforms. His write-ups are a valuable asset to the industry and serve useful knowledge to readers. They are meant at delivering realistic data and guiding readers in the right direction.