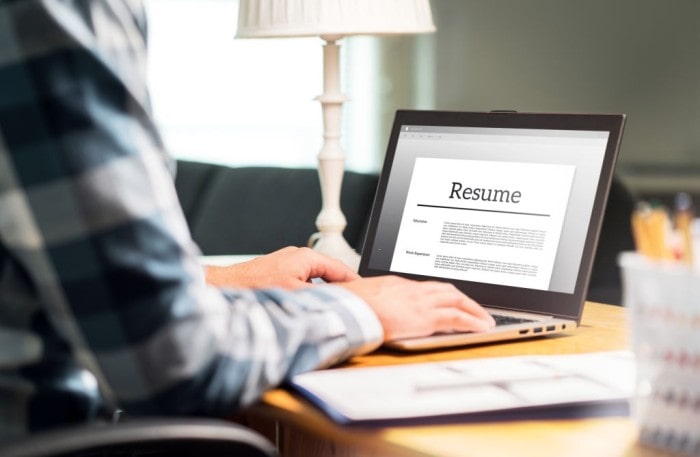 According to research by The Ladders, you have less than 7 seconds to make an impact on your employer with your resume. And when you consider the fact that one job posting on an average sees 250 resumes, you know you have to stand out from the crowd.
Applying for the job you want can be overwhelming, and putting together a resume can get even more overwhelming. Since you need to make a good, strong first impression, you need to make sure your resume is perfect. Your professional experience and skills can only work for you so well without an excellent resume. During such moments, online resume maker comes to your rescue. With resume builder online, you don't have to spend time arranging or formatting, and the template does it all for you to create a visually appealing resume.
In this article, we will look at five different kinds of resume builder online.
Best Free Resume Builder
Whatever the job is that you want, the best way to impress your potential employer is to have the perfect resumes. Here are 5 online resume maker:
VisualCV lets you to both upload data from a word document or inserts your data manually with the help of its easy UI. VisualCV comes for free with robust service, but with a paid upgrade of 12 USD per month, you obtain access to every available CV design, the capability of exporting CVs to Google Docs, and enhanced analytics.
Pros
VisualCV gives a neat and expert-looking definitive product that you can put online or send it privately to employers for free. Its free analytics lets you know the number of times your resume is downloaded and viewed.
The service also gives many sample CVs, based on industry.
Cons
It doesn't map your information accurately when you manually enter the data, so it requires a lot of editing on your part. Also, the free PDF download is not useful since it comes with a watermark, which is not proper for a professional context.
You get access to standard resume templates, restricted categories and entries, and cloud storage with your free account on this Free Resume Builder. For 48 USD for a year (or 15 USD/month), you can access all their premium templates, unlimited categories, and entries, cover letter choices, and email support.
You need to manually enter your education, personal data, and professional experience when you make a CV on Kickresume. Once finished, you can download a PDF of your resume. Premium users can also put their resume online and obtain a Kickresume URL that they can share with employers.
Pros
You can filter templates based on your profession, and UI is sleek and straightforward. They also offer analytics on premium accounts and the feature to craft cover letters based on your CV design.
Cons
You will always need to manually enter information and not export your resume from LinkedIn. The free version is good, but its best features are all reserved for premium users.
With Canva, you can choose either a template or you can create your own if you are confident with your designing skills with the huge variety of grids they provide. This gives you control over your design. If you choose a template, you need to remove the dummy text and put in your own. You can also put in extra elements like lines, shapes, icons, etc. When done, you can share the link on social media, email or download it as a PDF, JPEG, or PNG file.
Pros
Even if you are not a designer, this creative resume maker, online free has secure customization options. You can create a fantastic resume with the elements Canva provides, which is rare on another online resume maker. Also, the downloaded file doesn't contain a watermark.
Cons
While you can share the resume online, you can't do it till you make it public. Thus you don't get to be discreet. Also, you can't export your resume from other sites like LinkedIn or Google Docs.
If you want a visual resume, VisualizeMe is a good option. As the name says, you visualize your education and experience by exporting data from LinkedIn, and the site turns into infographics. However, you need to be conscious of what kind of job you can send such a resume too since corporate enterprises may not like such resumes.
Pros
Exporting resume from LinkedIn rids you of manually typing in information. You can also personalize the resume by choosing from a set of backgrounds, colors, and themes. You can share the URL also or embed it into your site.
Cons
If you want to download a JPEG/PNG file of your resume, you need to subscribe to their premium pack of 19 USD/month or 190 USD/year. Also, the icons and fonts are dated.
You get six basic templates (and more if you subscribe with 16 USD) and you need to enter your information manually—references, interests, qualifications, education, and experience. With the premium version, you can also send your resume with one click.
Pros
The service is robust even with the free version, and you can download and share your resume for free. You can download your file in TXT, PDF or HTML. Also, you only need to pay once for the upgrade.
Cons
Like most services, you can't export your resume from other sites. The templates also look similar, and you cannot make any layout or font changes.
Conclusion
While there are many free online resume makers out there, you need to choose according to your requirements and the job you are applying for. A visually pleasing resume often stands out over others.
Author Bio:
Manan Ghadawala is the founder of 21Twelve Interactive which is one of the best mobile app development company in India and the USA. He is an idealistic leader with a lively management style and thrives raising the company's growth with his talents. He is an astounding business professional with astonishing knowledge and applies artful tactics to reach those imaginary skies for his clients.