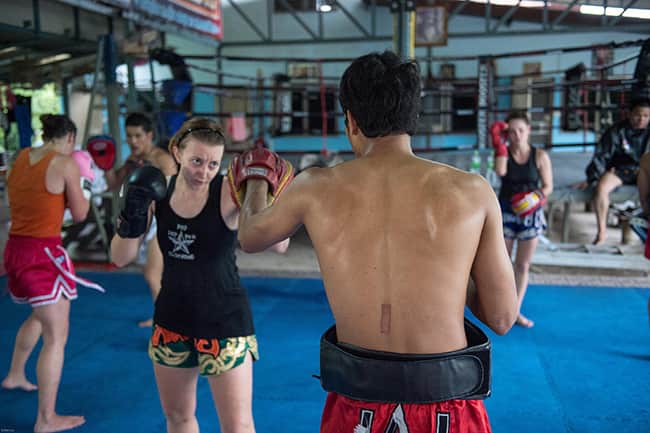 The secret to living longer lies in having better health and overall levels of fitness. Practicing martial arts in combination with positive habits like eating a nutrient-rich and balanced diet, resting and sleeping sufficiently, exercising regularly, and managing stress levels properly, training in martial arts is one of the most time efficient ways to live a longer, fuller, and overall healthier life.
Muay Thai is a martial arts technique hailing from Thailand. This exciting training routine will not only make you lose weight, but also tone and strengthen your body. This discipline, also known as Thai boxing, combines arm and leg striking movements as well as intense aerobic exercise into a complete workout, which significantly improve your levels of strength, endurance, flexibility, and overall fitness and health. In addition, kicking, punching, pushing and shoving will do wonders for proactive stress reduction. The health benefits provided by Muay Thai are unquestionable and a necessity in today's hectic world.
Here are some of the benefits you can expect to reap if you decide to train in Muay Thai:
Improve your coordination: In order to execute precision movements, most martial arts will place great emphasis on achieving greater stability and balance, especially in the lower part of the body. By having a stable and well-coordinated lower extremities you will achieve a stronger, firmer, more secure stance and posture. If you are somewhat clumsy, martial arts can help you reach your potential in coordination. Martial arts are also great way to boost physical rehabilitation processes.
Improved Cardiovascular Health: Virtually all medical research has found that the combination of aerobic and anaerobic exercises is the most efficient way to improve your cardiovascular system. Muay Thai offers, pound for pound, the best aerobic/anaerobic cardiovascular workout on the planet. Each training session usually lasts 90 minutes and you will spend most of them at an accelerated cardiovascular rate.
Improved Weigh Loss: The increased levels of cardiovascular exercise will also directly translate to increased rate of weight loss. The pounds will shed right off after only a couple of weeks of Muay Thai training. If you reduce your caloric intake by just 300 calories every day, you will see an insane reduction to your body fat levels.
Thailand's traditional sport of Muay Thai is one of the most physically rewarding martial arts known to man, and it is also one of the most exciting. Training Muay Thai will provide your body a complete workout and amazing health benefits. Your cardiovascular system as well as your balance and agility will be the most improved. Thailand has a instituted a very organized method for teaching Muay Thai in the most effective manner possible. There are numerous high-quality Muay Thai training camps dotting the nation. These programs provide new athletes with everything he or she will need to begin their journey towards better health and fitness. Many tourist want to train Muay Thai because by Muay Thai boxing camp can help them to improve health. Thailand's Muay Thai training camps often offer full room and board, nutritional assessment services, and custom-tailored training with the sport's most elite trainers. Stop wasting your time with other methods; Muay Thai is the best way to live a longer life.