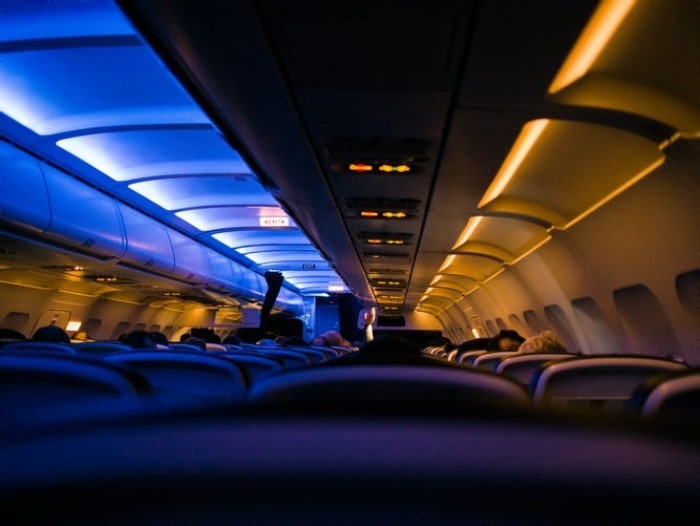 The finest leather upholstery. Custom LED lighting. Sleek wood paneling. Advanced in-flight entertainment systems. These are just a few of the high-end finishes and amenities to choose from when designing the interior of your private aircraft.
In the world of interior design, your vision is typically limited only by your imagination and by your budget — however, when it comes to aircraft cabin design, there are a few more hurdles to clear in the form of Federal Aviation Administration (FAA) requirements. But don't be disheartened: There is a way to achieve style, form and function all while remaining compliant withFAA rules. You just need to know what to look for beginning with a team that knows the processes and can partner with you to meet your objectives.
FAA Cabin Requirements
All aircraft, whether private or commercial, are required to undergo regular inspection sper the FAA in order to determine their airworthiness. Two key elements of maintaining airworthiness — and the ones most relevant to the subject of aircraft interior design — are the aircraft's weight and balance, and the combustibility of materials used in the cabin's design.
At the risk of stating the obvious, weight and balance have a direct effect on operational capabilities,as well as the overall safety of your aircraft. Depending on which materials you use in your cabin design, you could inadvertently limit your aircraft's range performance by increasing the overall weight of the aircraft.  It's important to understand the current weight and balance of your aircraft prior to initiating any interior refurbishment and design project. The good news is, with a little creativity, planning and ingenuity, you can work within these boundaries and remain within the aircraft specifications without sacrificing luxury.For example, if you prefer a heavy material such as marble, the modification center can use thinner slabs to reduce the weight without sacrificing the feel. Or, alternatively, they might suggest that you use a lighter composite material achieving the same look without adding the additional weight.
In addition to weight restrictions, the FAA also requires burn testing on aircraft interiors to assess the flammability and combustibility of design materials. Your modification center should be well-versed in which materials they can use and should provide the necessary documentation to confirm that FAA requirements have been met. To learn more about the FAA's fire safety requirements, we recommend taking a look at its official Aircraft Materials Fire Test Handbook.
Aircraft Interior Design Trends
Now that we've taken care of logistics, it's time to get to the good part. From accent lighting and hand-stitching to custom cabinetry, specialty carpets, hardware and plating, when it comes to designing an innovative and eye-catching cabin interior, if you have the right budget and the right design team, the world truly is your oyster.
Some of today's most popular trends in private aircraft interior design include:
Art Deco Style: Everything old is new again — and what better time to embrace this classic 1920s architectural style than in 2020? For a fresh take on this vintage motif, look to glossy mahogany wood paneling, jewel tone fabrics, gold accents and modernist forms. For additional inspiration, look no further than the Manhattan, one of Embraer's recent private jet concepts.
State-of-the-Art Technology: From changing lightning and temperature to turning on in-flight audio and visual entertainment systems, all at the touch of a button, today's cabin management system is more advanced than ever before and provides a truly world-class flying experience.
Cleaner, Greener Cabins: Private aircraft design firms with an eye for environmentalism are incorporating sustainable materials such as LEED-certified wool, bamboo fiber, quartz, organic cotton and natural silk into elegant, high-end designs.In addition to the impact that aircraft cabin design has on the environment, designers are also considering the impact that the environment within an aircraft has on passengers.To that end, Panasonic Avionics recently earned accolades from Aircraft Interiors International for its Nanoe air filtration system, which "suppresses airborne and surface viruses, bacteria, mold, pollutants and allergens within its local environment to eliminate odors and improve air quality for the passenger." Aircraft Interiors International also recognized Diehl Aviation for its UV-LED Water Disinfection unit, a retrofit antibacterial filter designed to make aircraft tap water safe to ingest.
Social Spaces:  A long-range flight onboard a private aircraft can be the perfect opportunity to socialize. Whether you frequently travel with friends, family members or colleagues, by incorporating open and inviting social spaces into your cabin design you can create opportunities to form meaningful connections, make memories or have important conversations — all before you even reach your destination.
For a truly timeless design, keep these best practices in mind:
If resale is in your future, keep things simple. A subdued color palette, classic finishes and understated design elements are more likely to age better and fetch a broader buyer's market than flashy, hyper-customized features.
Soft, flattering lighting can elevate even the most basic cabin design.
Make it easy to stay connected by investing in reliable Wi-Fi service.
No one likes to travel in cramped quarters, so make sure your cabin design incorporates innovative storage solutions to utilize space more efficiently.
Always keep you and your passengers' comfort, safety and convenience top of mind when choosing design elements.
When it comes to private aircraft interior design, once you've accounted for FAA requirements, the sky's the limits — and with the right consulting and design teams to support you, you can reach new heights of luxury.
Author Bio:
Lee Rohde, Founder, President and CEO of Essex Aviation, a business and private aviation aircraft acquisition and consulting firm, has 30+ years of experience in financial and operational analysis, manufacturing, distribution and corporate business development.