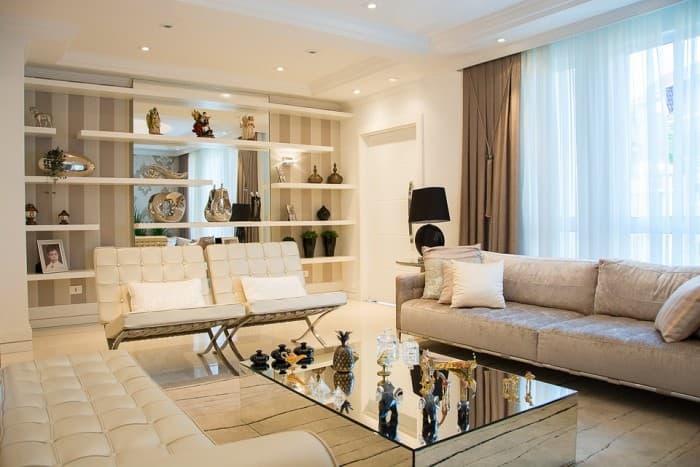 Apart from entertaining or making a statement, the living room still plays a major role in your personal time especially when it comes to unwinding or just relaxing. While people tend not to be too vocal, visually, with the living room as they are with the bedroom, the living room still reflects your personality and that of your family as everyone has some input in the design, color, arrangements and furniture. After all, home is for everyone and rooms like kitchen, living room and the study room or den is the mingling spot for the family members to catch up, enjoy a show or to simply and silently be with each other.
The living room is one space which plays a crucial role in balancing personal and social image of the family. Every piece of furniture, the decors and specifically the arrangements and the lamps, shelves or sofa designs play major role in creating that stunning look with the focal point playing the main role. Hence you will often find people changing the living room setting the most.
Tips on redecorating the living room
When it comes to redecorating, you need to take stock of your furniture first and decide what stays and what goes. Here are 5 tips from stylists on achieving the perfect look while redecorating your living room:
Furniture – not all furniture is ideal for all type of looks. Whether you are following a theme or making a statement, your pieces should be in accordance with that and anything additional is a risky matter. That said, redecorating might be a good time to add that narrow study table for living room to add a mix of professional to the space. Sectional sofas are a great choice too and their adjustable feature makes them perfect for a small space too.
Focal point – one of the main attractions of the living room is a focal point. While some have a fireplace acting as the focal point, with pictures and mementos completing the look, many do not have the luxury of owning a fireplace. In that case you can jazz up a wall with a statement photo with lighting highlighting that area or just create a masterpiece on the wall itself. Furniture too plays a major role in complementing the focal point.
Choose the right color – the walls of the room, the furniture, the accessories and the lighting all combine to create the perfect look and the color scheme is important. Whether you want to go all monochromatic or chic or even bohemian, the color of the walls and that of the furniture and accessories should merge and not clash.
Architectural trimwork – trimwork not only covers the meeting point of the wall to ceiling and the wall to floor, but they also add aesthetics and character to your space.
Functionality and space – there should be room for movement and above all, the living room should serve the purpose of being functional. Sofa setting, table and chair and the television should be set in a way that conversations are not awkward or stressful.
When it comes to redecorating your living room there are lots of things that are to be kept in consideration as this room is a mix of both personal and public. While you want to make a statement, you also want to keep things cozy and welcoming and this balance is a task.
A study table is the most important part of any study room. And like any other piece of furniture, there are certain things you need to consider first before buying a study table. It needs to be a suitable place for your work, sturdy and convenient.
So here are 5 things to consider before you buy a study table
Space Availability: Study tables come in various shapes, sizes and designs and it is always advisable to measure your room before you buy one to avoid an odd look. If you have the liberty of space you can go for the big, luxurious L-shaped or U-shaped tables which are especially handy if you have more than child.
For smaller rooms, it is advisable to buy small linear tables which can be pushed up against the wall or a corner. Even wall-mounted desks will be convenient in smaller rooms to help save space.
Mobility: you might sometimes need to move the furniture around and hence it is always cleverer to buy a study table with casters fixed. Be it for cleaning purpose, or just to give your room a new look, the wheels ensure mobility and moving a heavy desk around will be an easy job.
Shape, Texture and Décor: Study table designs are of utmost importance; not only for the aesthetics, but also in terms of quality and convenience. The shape of the study table should be decided keeping in mid the space available and also the shape of your room. The texture and material should all be in accordance with the décor of the room. You can even buy a study table keeping in mind a theme for your child's room. Maybe a classic mahogany wood desk to go with "Lord of the Rings" themed bed sheets and mattresses (mattresses online). Or maybe a brightly coloured desk to match your unicorn walls. Paying attention to the interior is very important to select just the right study table.
Storage: Study tables can be especially convenient when they come with storage capacity. You need to know what kind of storage space you require. Is it a small cupboard for your important files, or a drawer or your paintings? Maybe even some storage space for your handwork. Keep in mind what kind of storage space you need, if you need any at all, while buying your table.
Compare: it is possible that it is your first time designing a room and you have absolutely no idea about what you want to buy. That is perfectly alright. You have many options laid out in front of you, be it online or in the retail shop, so instead of selecting the first thing you see, move around and compare the different products. Look at what each has to offer. Look at the amenities and inconveniences, the colours, the designs, the material. And there is always the budget you need to pay attention to. The correct study table to go perfectly with your room will definitely catch your eyes.
The market is flooding with study tables just waiting to be bought. All you need o do is think about your requirements and budget, and select the right one- the right one obviously being the one which can survive the chaos that is a child's room.