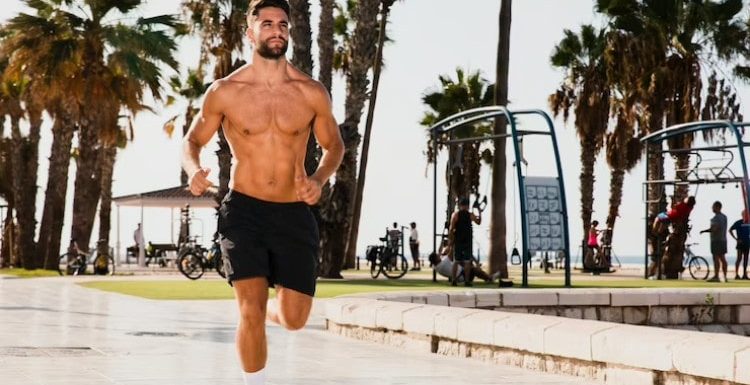 When you're running, it's important to have a comfortable range of motion. This allows you to move freely without chafing and helps keep your skin dry.
The best shorts should be loose enough to allow for this movement but fit comfortably to prevent a tight spot that could cause chafing. The length and width of these shorts are critical, as is the waistband.
Length
The length of a pair of running shorts is something that can be very personal. For example, if you prefer tight-fitting compression shorts, you may want to choose shorter ones. On the other hand, if you enjoy roomier, more lightweight fabrics, you might opt for longer ones.
Generally speaking, long inseam shorts provide the most coverage when running outdoors, so they are typically recommended for runners who train in harsher environments such as trail runs or marathons. These shorts are also ideal for those who tend to mix running with other training disciplines.
On the other hand, medium-length shorts are more suitable for track and road runners. They are designed to give you freedom of movement for tempo runs, races, and bigger workouts such as squats and lunges while giving you support and protection against injury.
It's worth pointing out that the exact length of a short depends on three factors: its type, your height, and the inseam. For example, a V-notch or split running short will appear shorter on you than a standard one because they cut up your thigh.
Another factor is the rise, which is the distance between your waistband and the bottom of the crotch. A higher rise will make the shorts look taller, but a lower rise will make them appear shorter.
Lastly, the material of your shorts is important. Ideally, you should look for breathable, sweat-wicking fabrics with anti-odor and anti-chafe properties. These fabrics should also be able to stretch in both directions.
The most common types of fabric used in running shorts are polyester, spandex, and lycra-spandex blends. These fabrics are very lightweight and breathable, but they can offer good support when worn as shorts or lined with a liner.
Waistband
Tight running shorts can make you feel like a chicken in a cage, while loose ones can keep your muscles moving freely and prevent chafing. The waistband on a pair of running shorts is vital to their performance. It must be sized properly and fit securely around the hips without digging in. It should also offer some type of pocket or storage for items such as phones, gels, and bank cards.
In general, a wide waistband is preferable because it provides a flattering shape that doesn't dig into the hips, but a thinner band can be more comfortable for those who want minimal coverage. Some shorts even come with a drawcord built into the waistband to ensure a snug fit on every run.
Compression shorts are another common type of running short and are designed to provide additional compression in the thigh area. These shorts are similar to spandex-type tights because they act like a second layer of skin that helps you feel secure as you exercise.
However, they require some extra work to make them feel right. You need to find the perfect fit for your legs, and the compression material can cause them to ride up if you don't wear them correctly or regularly.
To combat this, you can use a gusset on the waistband to reduce the compression effect. You can also sew in a lining to the waistband or cut off the excess fabric that is causing the problem.
Some runners have found that wearing a layer of underwear beneath the compression material is a better option. This is because the lining will help reduce chafing caused by sweat build-up and repeated movement.
If you want to try a layered approach, look for compression shorts with a sewn-in liner. The lining should be snug and smooth to avoid wrinkles, while the shorts themselves should be loose enough to give you a full range of motion.
You may also want to consider a pair of split running shorts. These are popular for runners because they don't dig into the hips and can be used under long tops to avoid chafing. They are also available in many different styles, so you're sure to find a pair that will fit your body and style.
Inseams
If you want to feel the best in your running shorts, picking the right length is important. For example, shorter styles may be more comfortable for you if you're a sprinter, while marathoners might prefer longer ones.
Length is measured based on the inseam, which is the length from the crotch to the end of the short on the inside thigh side. Using this measurement, you can find the correct inseam for your height and avoid getting an unsuitable pair of shorts.
Longer inseams will provide more coverage and protection from chafing. This is especially important for runners who often rub their thighs when they run. Runners with a broader hip range might also benefit from the extra coverage and support offered by longer inseams.
There are a variety of inseam lengths to choose from, from two inches to nine inches, and they come in different styles. The most popular style is the v-notch, which has an extra small notch at the leg opening to offer more movement.
This is a common feature on cross country and other running shorts, as it helps alleviate chafing. In addition, it allows for a more comfortable fit and can make modest runners feel better during their workouts.
Another important factor is the waistband, which should fit snugly around the body and keep the shorts in place while you're running. You should choose a waistband with an interior cord that will allow you to adjust the length to your preferred size and shape.
You should also consider the liner, which is usually included in most shorts, for additional breathability and comfort. You should look for a liner that is soft, lightweight, and comfortable to wear.
A liner can be an essential element of your running shorts, as it can improve your comfort and performance by wicking sweat away from the skin and keeping you dry and cool. Liners can also help prevent chaffing and other irritations that might otherwise occur while you're wearing compression shorts.
A pair of running shorts that fits you perfectly can be one of the best things you can buy for your workouts, as they ensure maximum freedom of movement. You should also choose a pair that doesn't ride up while you're running, so check the measurements to ensure you're getting the right size.
Pockets
Running shorts are designed to be lightweight, breathable, and comfortable while you run. They should also provide plenty of room for storing your essentials such as keys, credit cards, cash, and energy gels. Fortunately, many of these shorts have zippered pockets to keep your items secure.
The pocket design can make a big difference in the performance of your running shorts, so it's important to consider what type of pocket you want. Most running shorts feature a small pocket sewn on the front of the waistband, but some models also have side or back pockets.
Some runners like to have a pocket sewn inside the crotch area of their shorts to store small items such as keys and wallets. This helps to reduce the chances of them bouncing around and getting caught on branches and other objects as you run.
Others prefer a zippered pocket in the rear of their shorts or a pocket sewn into the side seams. These options are especially helpful if you have large items, such as a cell phone, that you'd like to secure to your body while you run.
If you're on a budget, plenty of affordable pairs with pockets exist. This pair from Baleaf, for example, features a polyester-spandex blend for durability and freedom of movement and a drawcord waistband to dial in a snug fit. The back of the waistband has a zippered pocket that can hold your keys or a phone.
Another great option is this pair from Nathan, which has two pockets built into the stretchy polyester-elastane liner. The pockets help to keep bulky items such as your phone snug against your legs, so they don't jostle around while you run. The nylon-polyester main fabric wicks sweat and dries quickly, while flatlock seams prevent irritation.
There are lots of different types of shorts, and it's important to find the right ones for you. The key is to select a style that works best for your lifestyle and activity level. For example, if you're a runner who enjoys running outdoors, you may want to choose a pair with waterproof pockets to store your water bottle. You should also consider a pair with a high waistband for added support and to avoid movement while running.