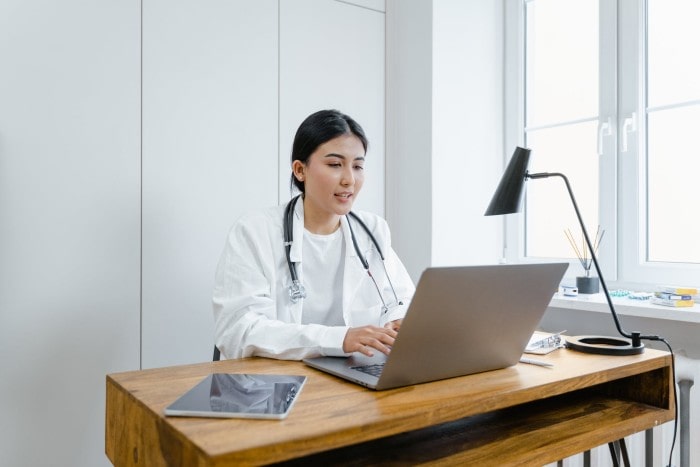 The attention towards telemedicine is currently surging all over the world despite the contrasting opinions surrounding the topic. As an alternative healthcare delivery option, telemedicine effectively connects patients and doctors through digital channels allowing a great deal of flexibility. Technology also makes medical services more accessible than ever before as online platforms and mobile apps lower the entrance barrier for many patients and offer extended virtual office hours.
From my experience working in a bespoke software development company, I learned to appreciate the significant role that technology plays in our digitised society. While just a decade ago it was unthinkable to visit your doctor virtually, now it is a feasible, but most importantly, a desirable option for many patients scared to infect themselves. Covid-19 was a facilitator for this long-predicted shift towards digitised healthcare services, and the era of telemedicine has just begun.
Here is a short guide to telemedicine with its most essential features, the advantages it has to offer and the expected challenges:
1. Telemedicine vs. Telehealth
A clear distinction between these two broad categories is sometimes hard because they often overlap each other in terms of meaning, services or means of delivery. The American Telemedical Association (ATA) even considers telemedicine and telehealth to be interchangeable. Telehealth encompasses a broad spectrum of medical services such as video conferencing, phone calls, remote file sharing, e-health mobile apps or even remote exam kits.
However, the more formal definition of telemedicine refers to the exchange of medical information with the help of information technology and electronic devices. The goal remains the same as in traditional face-to-face doctor's visit – to determine clinical patients' status and improve their health. Because telemedicine is not a separate speciality, it can become a healthcare delivery alternative for any licensed medical doctor who chooses to engage in online appointments.
2. Telemedicine Тypes
There are three main types of telemedicine that all became increasingly widespread during the Covid-19 pandemic. The first one is interactive telemedicine, also referred to as live telemedicine. As the name suggests, this is a real-time medical service that involves both participants, doctor and patient, to engage in active communication. The methods might include video calls, chats or phone consultations. Typical use cases for interactive telemedicine are primary care, follow-ups, medication adjustments as well as chronic disease management.
The next type is called store-and-forward or asynchronous telemedicine. It allows transmitting data between patients and doctors to review at their leisure. Documents such as lab results, diagnostic images or videos that are important but not urgent might be shared using this telemedical service. Finally, the last type of telemedicine is remote patient monitoring (RPM). This usually includes data collection devices, e.g. smart sensors, blood pressure devices, home ECG systems that directly send medical info to the healthcare provider. High-risk patients may especially benefit from it.
3. Benefits from Telemedicine
Undoubtedly, telemedical services provide numerous benefits for both patients and doctors. For patients, scheduling a virtual doctor's appointment enables them to be flexible and to spare communing expenses and paid leave from work. Studies show that especially the younger female adult patients are willing to or have already tried such remote healthcare options. They associate telemedicine with a higher degree of flexibility, accessibility and convenience, which are all critical aspects for them.
From a doctor's perspective, the advantages come with the fact that online telemedical platforms are often intuitively designed so that even older generations of healthcare professionals can easily adapt. Furthermore, doctors can block intervals without any appointments by simply adjusting their availability in the system and securing rest periods. Remote consultations can also reach patients living across the country or even in another country, which gives an incredible opportunity for doctors to expand their practice reach.
4. Challenges Surrounding Telemedicine
Telemedicine means using digital means of communication and thus requires interoperability between the communication partners. As with anything new, due to the highly restrictive regulations for transferring patients' data, ensuring personal data protection is a challenge for telemedicine. It still has a long way to go in regards to regulations, standardisations and trusted providers.
With easily integratable communication tool with embedded data protection compliance compliance healthcare providers and m-health software developers can exchange sensitive data without any second thoughts. On the other hand, another major challenge ahead of telemedical services is the reimbursement process. Currently, only a few countries such as the UK, the USA, Germany treat remote appointments like any other doctor's visit. Some insurers offer only partial policy coverage for online check-ups. When regulations take place over the world, insurance coverage is expected to be an area that is going to rapidly advance in the near future as telemedicine become even more widespread.
5. Applications of Telemedicine
Despite being a rather newly accepted alternative to give and receive medical services, telemedicine comes with lots of exciting applications. Almost any form of medical consultation can be transformed into a remote one with the exception of urgent or life-threatening conditions that require immediate interventions. From follow-up and monitoring patients in quarantine to sleep disorders and prescription management -all this is possible through video conferencing with a medical professional.
Above all, telemedicine can be effective for chronic disease management. It is estimated that around 40% of US citizens live with some sort of chronic health condition. For the UK the number is as high as 15 million people. All these long-term patients require expensive medications as well as regular follow-ups. With the help of technology, people's current symptoms can be triaged in real-time, which can reduce hospital's readmissions and thus further expenses.