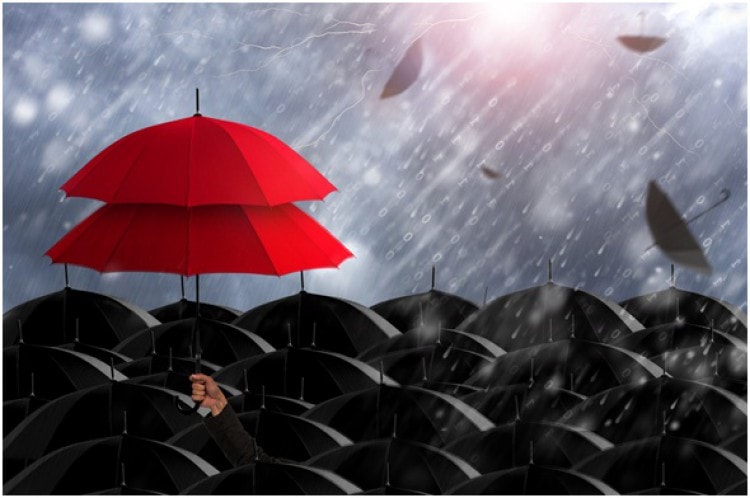 I came out of college in the early-90s and entered the world of advertising because I enjoyed messing around with words. Few years down the line, I got headhunted to a bigger agency with a bigger role (Hey, I got a 50% pay rise!)
Turns out, my team and I were very good at what we did – targets were always met, our campaigns regularly won awards and the numbers went up. The cherry on the cake was, I made friends with the most modest person by heart and a knowledgeable person by brain I had ever known, my teammate Satish. We worked together on different projects, and thoroughly enjoyed what we did.
Satish was in his 30's, reasonably healthy (I never heard him mentioning any health issue). He came from a very humble background, lived with his wife and a sweet 4-year-old daughter.
One day, out of the blue, while we were sipping our morning coffee in the office cafeteria,he complained of chest pain. I asked him to take a break and leave for home,but he dismissed saying that it was just acidity caused due to heavy dinner that he had last night. We spoke for a few more minutes about work,and I took off from office to visit a client for a meeting.
Within an hour, I received a phone call from my other teammate saying that Satish had a massive heart arrest and passed away on the way to the hospital. Hearing those words, I realized the actual meaning of everything around you going blurry. I was just talking to Satish an hour back,and now he was no more. I just couldn't believe it.
It took me some time to realize what had happened, I gained some courage and immediately rushed to the hospital. I was in absolute silence and a feeling of deep shock when I saw his wife.I still haven't forgotten her face.
Few days had passed since this incident. I resumed to work when our company's HR came to me asking, " Do you have any idea about Satish's Life Insurance Plan". "No, but let me talk to his wife", I said.
When I called his wife, I was left in utter shock realizing that Satish only had invested his savings in fixed deposits. She also told me about their home loan and how she was facing the financial crunch to manage the EMI's in his absence.
These words made me realize that even I had made the same mistake of not buying a life cover. I had always thought that – "What's the big deal behind having term insurance?"But the importance of having alife cover dawned upon me after watching the financial situation of Satish's family. Their life had changed forever in his absence.
While the void left by Satish could never be filled, he could have ensured that his wife and daughter led a comfortable life without any financial burdens. All this, by simply purchasing a 'Term Insurance Policy'.That was the day I realized the importance of having a Term Insurance Cover. As a breadwinner of my family, therefore, I considered it as my responsibility to make my family's life secure in my absence. I decided to purchase a term policy.
While researching about smart investment plans online, I stumbled upon a few term insurance policies. I got to know about the meaning of sum assured, policy duration, riders and the importance of choosing the right benefits with the term plan. I noticed that Insurers like Max Life Insurance also provided benefits like flexibility to receive the payout as monthly income in addition to lumpsum amount and option to enhance the term cover at major life-stages.
Taking few more hours to understand my needs and my family's goals, I zeroed in on the best term policy to secure my family's financial future. I was rest assured knowing that the lump sum amount from my term policy would provide the following benefits in the hour of need:
Cover the monthly household expenses of my family
Pay off my mortgage
Pay for my children's education expenses in my absence
Create a legacy for my family
Now I know that my family won't be left in a financial tailspin after losing me. The peace of mind knowing this cannot be compared with anything.
So if you have read this far, and still don't have the best term policy in your financial portfolio, I hope there is no reason to postpone this significant decision anymore.
The incidence of my best friend's demise changed my perspective on life, and how important friends and family are. Hope that reading thiswrite-up will change yours too!