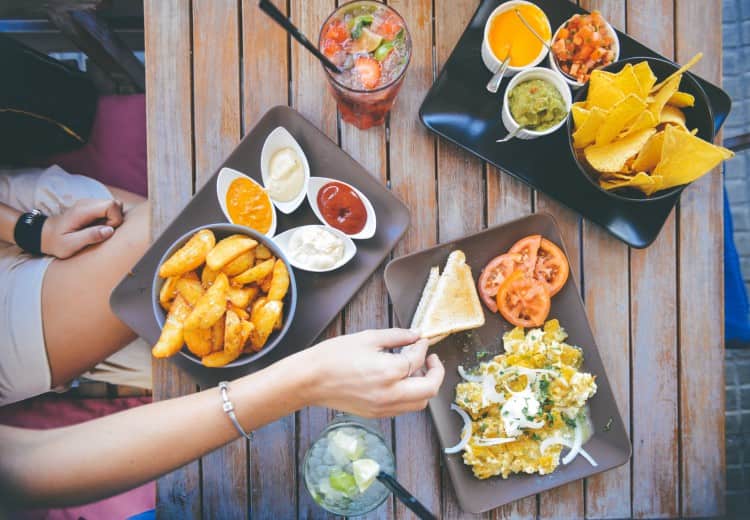 It's too late for you to have breakfast but too early to have lunch. What a conundrum. Luckily, the idea of "brunching" has become a popular phenomenon for those who need like to start their day a little later than possible and it's something that's taken off greatly in the heart of London. Brunch menus are now becoming extremely innovative and lavish in the capital city and although it might not compare to the likes of Hong Kong and Dubai, it's definitely tempting. Brunch options can start from simple egg dishes to a mix of sweet and savoury dishes. Here is a look at some of the best brunching spots London has to offer.
Berber & Q, Hackney
Looking for breakfast with a bit of an exotic flavour? Based in Hackey, Berber & Q blends the middle east with traditional English breakfasts to provide a truly unique dining experience. The general atmosphere is rather eccentric with music being glared in the background whilst you eat, but it still provides a chilled vibe. Some popular dishes on the menu include soft-boiled eggs with Avacado and honeyed feta and roast beetroot on hazelnut toast.
Caravan, Bankside
Caravan is known to be a popular favourite with the vegetarians, providing light and affordable dishes for the public. Its interior design is what many would call 'hipster', built up with traditional bricks and old-fashioned lights hanging from the wall decor. There are some intriguing dishes on the menu which have been inspired by flavours from all over the globe. Jalapeno cornbread with black bean, fried eggs and avocado is something that's worthy of a try. The healthy theme continues with the dishes including grilled flatbreads and aubergine puree also available on the menu.
Ella Canta, Hyde Park
If you're looking to dine in an aesthetically pleasing eatery in the late hours of the morning, then Ella Canta is definitely a brunch spot that's Instagram worthy. It puts a Mexican twist on brunching with unique aspects on show such as waitresses wearing flower filled headbands and a walnut hand-carved screen that covers the length of the restaurant. Ella Canta offers a 3-course menu for their brunch which includes sparkling wine and margaritas to get a bit boozy with whilst you eat. The flavours that are included in the dishes are truly something for the taste buds to enjoy, some dishes including over 60 ingredients!
Red Rooster, Shoreditch
How about a bit of soul food to settle your stomach at brunch? Shoreditch's Red Rooster is home to Marcus Samuelson, the lauded chef who provides scrumptious heart-warming food in Michelin style. Just some of the dishes that you can get your teeth and fingers stuck into include 'uptown' steak and eggs, Harlem-style chicken and waffles or the Bird Royale Feast. In the background, you can listen to tunes that originate from the '90s and UK garage scene and the decor comes with mismatched chairs and photography filled walls.
Sea Containers, Mondrian London
For a sophisticated brunching experience you can head down to Sea Containers restaurant which is at the Mondrian's London hotel. It's relatively busy on the majority of days, providing a buzzing atmosphere and a pleasant service at your table. The menu itself blends US dishes with UK ingredients. Some stand out dishes and food items include spicy Boston beans, a Dorset crab omelette and a slow-cooked Cumberland sausage. Not to move away too much from the routes, however, traditional roasts are still on offer which is extremely popular during the winter months. You can also take in the Sun when it peers out with the privilege of outdoor dining when it's available.
Flesh & Buns, Covent Garden
Flesh & Buns is a Japanese fusion on brunch and bottomless drinking is a speciality at the diner. You're welcomed with a cocktail and regular top up of your prosecco glass is consistent throughout your brunch. Small plates are also on offer to begin with as an unlimited amount can be ordered from the menu. Heading to the mains, the restaurant's signature dish is the gua bao with meaty or veggie options available. The restaurant is located underground so may drive away the sun-lovers of this world, but don't let it discourage you from the atmosphere that's created when the weather isn't all that well with an extremely buzzing created.
London is a unique experience in itself with plenty to do and things to see. So, when you've had an action-packed experience during your visit on your UK visa, there's nothing better than waking up late on a sunny morning and getting yourself a bit of brunch at one of the spots mentioned.