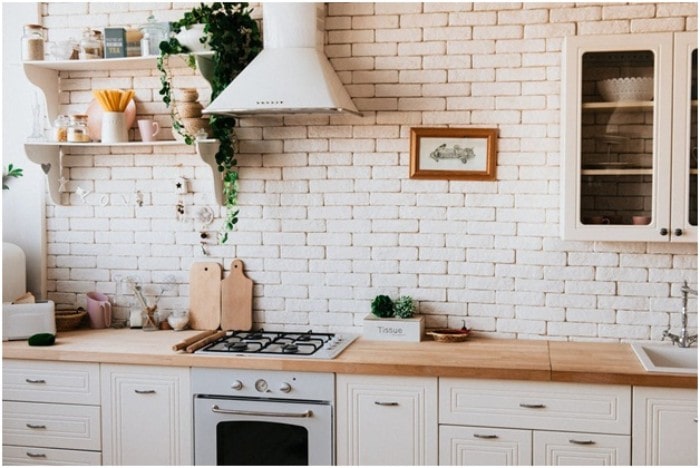 One of the places where we spend the most time inside our homes is our kitchen. It's where we cook delicious meals for family and friends.
That's why your kitchen's appearance must be carefully designed so that you can enjoy every moment you spend in that environment.
You can always call up a professional designer to guide you on how you can remodel your kitchen to its best potential. But if you think that the whole thing is too much for your budget and you really want a kitchen makeover, let us be of some assistance.
Below we have listed down some tips that can help you remodel your kitchen to make it look and feel far much better than it did before.
More Storage Space
When it comes to storage space in kitchens, many people don't realize the importance of more space being needed in the kitchen.
The reason can also be because the kitchen area may be limited which is why designers make the mistake of downsizing storage space. However, many items are kept in the kitchen and most of them have unique shapes.
Every kitchen has some space that isn't being utilized which is why it is important to get rid of that space and make room for storage. You can add in long upper cabinets for smaller kitchens. You can also add in cabinets above the refrigerator which is where kitchen space is mostly wasted. Have shelves build across the lower cabinet for easier access to more kitchen items.
Positioning Appliances
You need to plan smartly when it comes to placing your appliances in the kitchen. Finding a place where they can look good in the kitchen is not the only thing you should be considering.
When positioning appliances, make sure they are placed near their respective power sources. This way you won't have to worry later on to change their places if they aren't near the right power lines.
Another thing you need to keep in mind is that you should always measure your appliances and the kitchen space where you plan to place them. For example, if you have a Whynter wine cooler in your kitchen and you keep it in a place where it is exposed to natural sunlight, it can ruin the taste of your wine due to the UV rays affecting it.
Style with Safety Measures
Anyone can enter and walk around in your kitchen, both adults and children, so it's important that you should keep it as safe as possible.
Install countertops that have round edges and make sure your cooking spaces are at adult heights so that you don't risk anyone getting burned, especially young children.
Investing in slip-resistant floors is also an important factor you must consider. Wooden floors can be very attractive but they will have a shorter lifespan if you place ovens, fridge and other heavy appliances over them. Opt for natural stone flooring- the earthly vibe emitting from it will be very appealing for a kitchen floor.
The Kitchen Triangle
The kitchens triangle, according to kitchen designers, is referred to as the stove, refrigerator, and sink. This is where most of the work goes on and if you don't plan out a good remodeling plan for it, your everyday kitchen tasks can become tiring and tedious.
The key is to easily have access to the kitchen triangle. If your sink is placed in a poor position just because that's where the pipelines are, then the issue can be easily solved. Just call up a plumber to change the plumbing in places where you have planned to position your kitchens triangle.
Have their arrangements wide enough so that it's easy to move around. Ideally, the gap between them should be within 10 to 25 feet at least. This way it's not too small for you to cook in a cramped space and not too big enough for you to get tired of moving around while working in the kitchen.
Better Lighting
Having good lighting isn't only for making your kitchen look stunning. Sure it does have its own appeal, but its main role is to provide sufficient lighting within the kitchen so that you can perform your tasks efficiently.
Ventilation System
Good quality ventilation systems can be expensive but trust us when we say it will be worth your investment.
Imagine guests coming over to your house and they can still smell the heavy scent of your last night's cooked fish? It doesn't make a good impression now, does it? A ventilation system works effectively to draw out any leftover cooking smell out and leaves the air around your kitchen clean and fresh.
This makes your cooking time and having guests over moments more pleasant. Plus, aside from keeping the air clean, your ventilation system works really well in enhancing the beauty of your kitchen elements.
Always remember that no matter how your kitchen is, it must be clean. That should be your first priority rather than its design since it's where you cook food. A dirty kitchen can lead to many illnesses. However, a clean kitchen with an amazing design is a plus point!