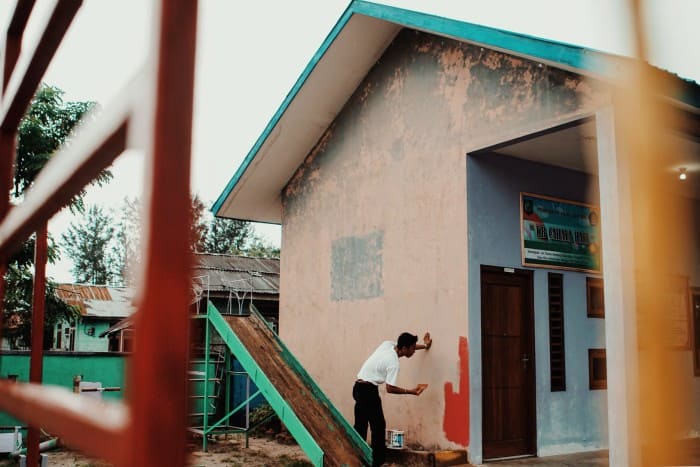 Imagine… Having the nicest looking house in your neighborhood. All of your neighbors can't help but comment on how nice your exterior looks and feel a bit of jealousy.
How does this happen?
By having an amazing exterior, that's how!
We've compiled the steps necessary to avoid costly mistakes and get a beautiful paint job. If not done properly it will cost money, time, and many do-overs. But if done correctly, it'll be the best looking house on the block! Painting the exterior will give your house a welcoming, bright, and modern look.
It's time to finally catch up with the generation and raise the value of the home. Painting exterior homes is actually easier than it may seem!
To get the best look, check out these 5 tips:
Tip #1: Check The Forecast
Tip number one and possibly the most important is to check the weather. It can take a full day to completely dry, the last thing you want is to paint for 4 hours just for the rain to erase all your work. Select a time of year where it's a little cooler and not so much precipitation. It'll be important to have a dry surface as paint won't apply easily if there's moisture.
Tip #2: Clean Workspace
Another very important step is to make sure the exterior is clean and dry. Whether you have brick or siding, there are many factors that could mess up the entire project. To have a perfect work surface, scrape off any peeling paint or dirt. Make sure it's just you, the paint, and a clean surface. If this step is skipped it'll create more work in the long run just like choosing the wrong paint.
Tip #3: Prime, Prime, Prime
Priming is key to making the project easier on yourself. Without priming, you'll have issues such as the wrong shade and texture. For the best results, simply apply 1-2 coats of primer before you start painting. You'll not regret taking the extra time to prime as you'll display a much better product. Don't stress too much trying to find the right primer as nowadays most quality brands have primer and paint combines.
Tip #4: Quality Paint
If you want less work, in the long run, make sure to pick a quality paint over the cheaper brands. With a quality brand such as BEHR, you'll get a lot better coverage and won't need to paint as much. It will also last longer than cheaper brands meaning less work for you! When selecting a paint choice, be sure to get exterior paint as interior paints are complete opposites.
Tip #5: How To Apply Paint
Although it sounds simple, there are a few tricks to making the processes quicker and look better. The very best trick is to paint from top to bottom, this will prevent annoying streaks from ruining the project. Drips happen to the best of us but won't look good if you allow them to dry. It's best to paint the larger areas first, then move to the trim and doors which will require more attention to detail.
Final Thoughts
Painting the exterior is a lot scarier than it seems. But we promise it will be worth it in the end. Following a few simple steps will lead to a fantastic finish. You and your neighbors will love the transformation for many years.