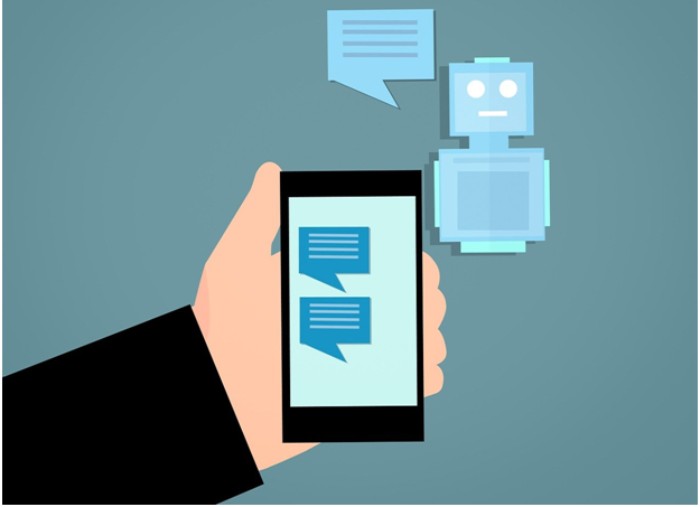 The conversational artificial intelligence(AI) landscape, particularly chatbots, is growing at a rapid rate, with the market expected to reach $9.4bn by 2024. Further research suggests that chatbots in customer service are emerging as one of the fastest-growing market segments, with a projected CAGR of 31.6%.
Clearly, chatbots are becoming more mainstream and finding more applications across diverse industries and domains. To that end, the Media and Entertainment industry is no different. In this blog, we will look at how these virtual conversational agents are complementing the media and entertainment sector.
Top-4 Use Cases of Chatbots in the Entertainment Industry
Delivering Accurate News And Information
During the initial months of the COVID-19 pandemic, people were also struggling with what was termed as an 'infodemic' — a rapid and far-reaching 'spread' of false and inaccurate information. To counteract this, several health establishments leverage the benefit of using a 24×7 conversational bot. Here are some examples:
The World Health Organization's chatbot was launched on Facebook Messenger to combat misinformation: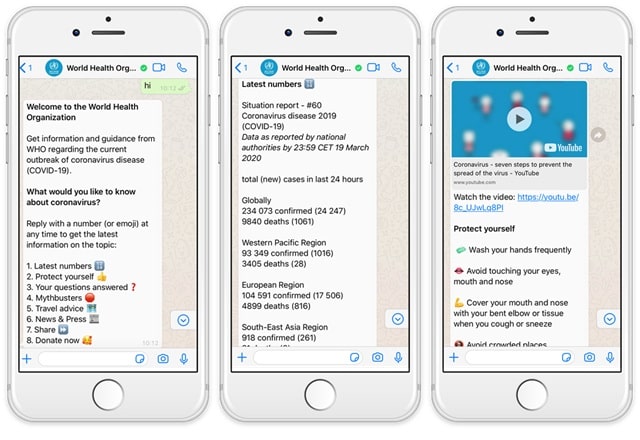 The CDC also created a Coronavirus chatbot called Clara to help triage symptoms and assess risk factors in addition to providing data on how to stay safe at home: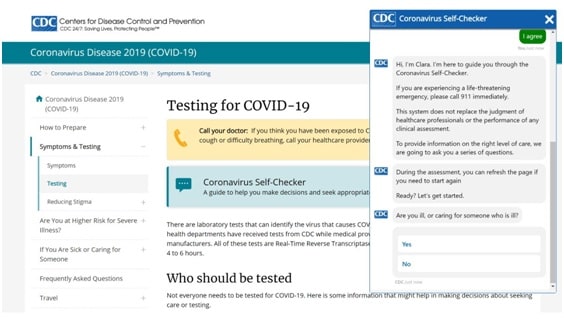 The point we're driving home is this: Chatbots can work round-the-clock and serve updated and accurate information as well as news, making it vital for the news and media industry. It can also answer routine and basic questions that users may have – instantly and effectively. Moreover, these bots can be integrated into popular social media channels (think: WhatsApp, Facebook, etc.) and boost audience engagement as well as your click-through rates.
Personalizing The User Experience
Chatbots have a lot of superpowers, the most important one being that it can sift through mountains' worth of data, extract it, analyze it, and suggest relevant, hyper-personalized content to the users. Take the example of the conversational Facebook bot, "And Chill," which suggests what to watch next on the ultra-popular global streaming platform, *you guessed it* Netflix: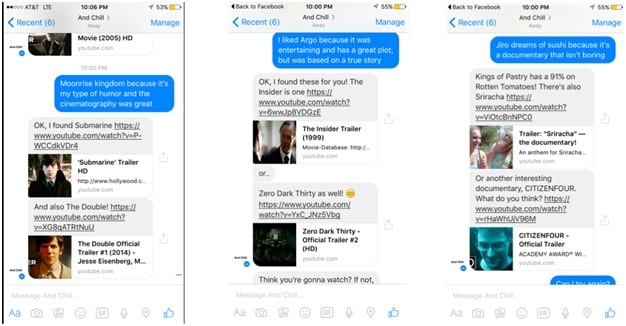 By gauging the user's behavior and usage, this bot aims to reduce the browsing time, offer contextualized movie recommendations, and ultimately elevate the movie experience to a highly-intuitive and personalized one.
All in all, chatbots can be used in the media and entertainment industry to offer personalized branded content by way of push notifications, enhance a user's experience, and personalize it from start to finish.
Advertising And Promoting Branded Content
There's no doubt that marketing, advertising, and promotions are at the heart of the media and the entertainment industry. This is where chatbots truly shine. These bots can be used as promotional agents for new shows, books, movies, etc. and catch the user's attention as National Geographic did with its Facebook Messenger bot for its new show, "Genius:"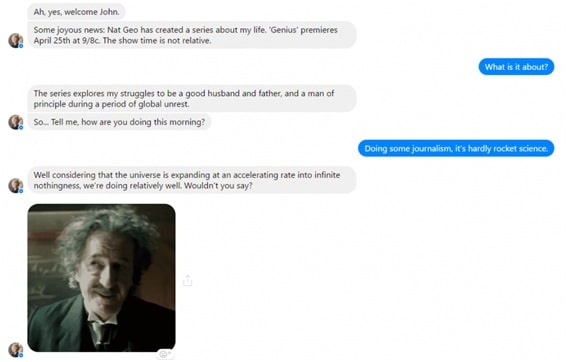 Using the chatbot, the channel was able to:
Spread awareness about the upcoming show by talking about the premiere date and offer conversational facts about the genius scientist Albert Einstein: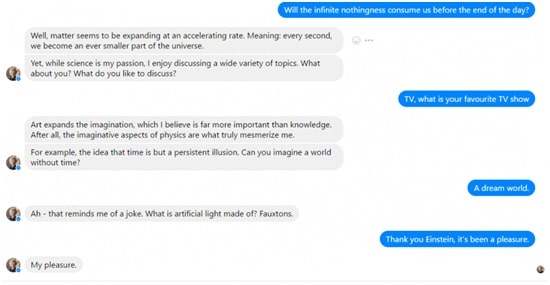 Educate users about physics.
Target a highly specific and interested target audience, thereby boosting brand engagement, reach, and awareness.
What's interesting to note is that the chatbot can be trained to embrace any kind of personality – fictional or real. Your bots no longer need to think and talk like robots, dishing up one-word answers, and annoying your users to the point of no return. In essence, chatbots can be integrated into your digital marketing strategy to drive your advertising campaign up by several notches. Additionally, it can broadcast personalized content with great accuracy and at scale.
Delivering Timely And Relevant Customer Service
The widespread success of chatbots in customer service needs no introduction. Countless eCommerce brands, healthcare brands, retail companies, etc., are already using chatbots to their advantage.
This makes a lot of sense as chatbots can be thought of as 'carriers of diverse information' such as news, video streaming, blogs, online gaming polls, and quizzes, etc.  That's not all. They can also answer basic FAQ-type questions and assist customers in more complex tasks. Take Dream 11's chatbot, for example, which helped its CX team tackle customer queries relating to the Indian Premier League (2018). Amazingly, the bot answered 80% of the 1mn+ queries that the Dream 11 website and app received with an average resolution time of 32 seconds!: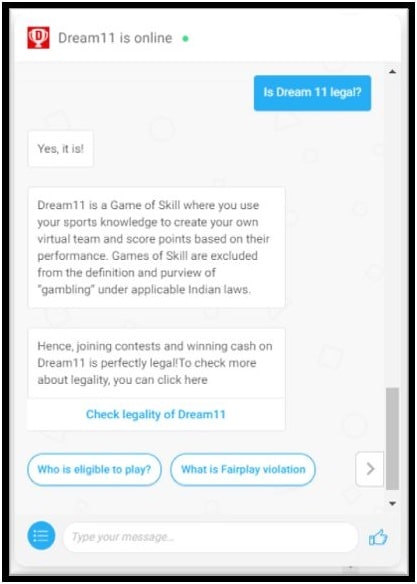 Simply put, chatbots deliver on all accounts, especially when it comes to addressing customer queries.
Moreover, these automated bots can empower customers to self-serve by acting as a knowledge base of powerful information and helping them in resolving simple tasks–advantages that are preferred by over 60% of US consumers.
Customers no longer need to wait for agents to come and resolve their issues; they can do so themselves. By making the customer experience more convenient and seamless, brands can enjoy greater loyalty and advocacy from their user base, as is demonstrated by Microsoft's research:
World over, 96% of consumers attribute customer service to be a driving force in their choice of loyalty to a brand.
Wrapping Up
The common thread between the media and the entertainment industry and chatbots is user-centric data. For both the entities, their true success, and growth lies in people consuming relevant, real-time, and personalized audio and visual content. Long story short, it can be said that chatbots and media are a match made in heaven. As long as the chatbots offer meaningful information and drive purposeful conversations with users, it's bound to strike a chord with the users and emerge as a winning technology.
To wrap up, chatbots can find plenty of applications in the media and the entertainment industry, such as:
Delivering accurate news and information
Personalizing the user experience
Advertising and promoting branded content
Delivering timely and relevant customer service
Think we've missed out on any trending use case? Share your suggestions below.
Author's Bio: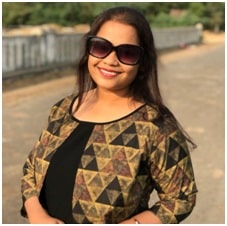 Srushti Shah is an ambitious, passionate and out of the box thinking woman having vast exposure in Digital Marketing. She is working as a Digital Marketer and Content writer at Acquire. Her key focus is to serve her clients with the latest innovation in her field leading to fast and effective results. Working beyond expectations and delivering the best possible results is her professional motto. Other than work, she loves traveling, exploring new things and spending quality time with family.