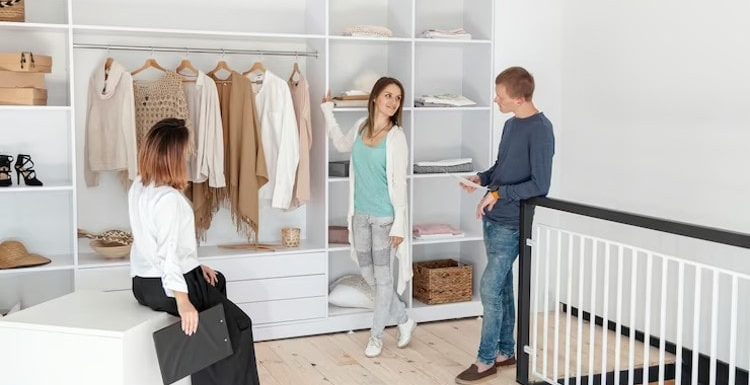 Whether it is your bedroom or dressing section, a wardrobe is a must to put all your attires and accessories at one place. Keeping aside this functionality, you also require to add ascetics to your bedroom and that is why you spend so much in picking up a wardrobe design for your personal space. But keeping in mind the present craze for interior designs and the rapid way in which it is transforming homes, there are some incredible wardrobe designs that you could choose for your space as well. Read about them below.
The sliding door wardrobe — The sliding door wardrobe design is great if you have a small space dedicated for this section in your bedroom. Since the sliding door hardly acquires any space in your bedroom, you can create a compact yet functional wardrobe to keep all your belongings at one side systematically and still don't eat up much space in your bedroom. The laminate cover is a perfect choice for sprucing up the beauty of this wardrobe design. For best results, place it just opposite your bed so that it blends in naturally with bedroom décor.
The wardrobe with dresser design — If you want to create a lavish space in your bedroom and you are not short of area, then a wardrobe with a dresser is a perfect design for you. In this case, you can design a large wardrobe unit for your belongings with open doors and numerous shelves along with a dressing area where you can utilise the things in your bedroom easily. Since this is a luxurious wardrobe design, opting for pure wooden frames would be an ideal choice for you with a polished base. Such a wardrobe section is always at a specific corner of your bedroom and typically far away from your bed. 
A walk in wardrobe design — The design of a walk in wardrobe is pretty similar to the one with a dresser, but minus the dressing area. Again, here you have to choices to install as many units and shells in your wardrobe as you like. This walking area makes it very convenient for you to remove and keep your belongings in the wardrobe. Again, you can pick for this design only if you have and ample of space in your bedroom for the same. You can either go for complete wood or add some other materials in this kind of wardrobe design. You can have this walk in wardrobe section in a cornered section of your bedroom. 
The hidden wardrobe — If you love the minimalist concept or you don't want to show off your wardrobe design so openly, you can pick the hidden concept for it as well. This is sufficient for both small and big bedrooms and can be placed just opposite the bed or at the side of the room. In this concept, the rest of the décor is very similar like your wardrobe design and hence this section blends seamlessly in the area without being shown so openly! 
The glass wardrobe design — When you pick the glass doors for your wardrobe, it is considered as this glass wardrobe design. When you pick this design, the entire wardrobe is of wood but the doors tend to be made from glass and mostly has the see through feature so that you can openly view your belongings within it. Placing such a wardrobe opposite the bed in both small and big bedrooms can be the best option with this design.