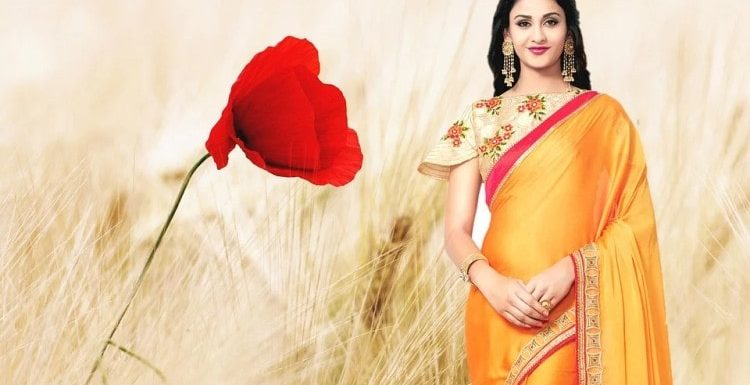 The saree is a representation of our country's customs and traditions. A saree's elegance is unrivalled, which is why we all like this beautiful garment. Sarees are a classic cultural piece of apparel that may be seen throughout the country in various styles. Depending on the many varieties of sarees in India like Kerala saree, the basic nine yards of drape can be fashioned and designed in a variety of ways. Let's look at the numerous sorts of sarees and saree names that will have you raiding your mother's wardrobe and trying on different designs, ranging from the materials used to the draping style and the tale woven into the folds of the saree.
1. Tamil Nadu's Kanjeevaram Saree — Kanjeevaram Saree has an elaborate ambience because of its vibrant colours, regal borders, and luxurious silk. Kanjeevaram sarees are traditional wedding sarees from Tamil Nadu that have become popular across the country for special occasions. These are made of fine mulberry silk thread and have intrinsic beauty and grace. To complete the aesthetic, the sarees have a characteristic gold tinge.
2. Maharashtra's Nauvari Saree — The Nauvari is a traditional saree that originated on the west coast. The title of this saree comes from the length of the saree, which is nine yards. The "kashta" technique, in which the saree's border is tucked in at the rear, is a highly distinctive way of draping Nauvari. You can style this saree with traditional gold jewellery and a nath to give it a distinct appeal. This saree's hairdo is generally a top bun adorned with Gajra or flowers, but you can even try your loose hair with it.
3. Banarasi Saree from Varanasi — The Banarasi Saree is one of the most popular of the several styles of sarees produced by various states. These silk sarees are famous for their designs and motifs all the way from Varanasi. Initially, the Banarasi Saree was only made for royalty, and it was woven with actual gold and silver threads. Wear it with a high bun tucked with a few of flowers and Kundan jewellery that appears ethereal with these sarees.
4. Chikankari Saree from Lucknow — Chikankari is a sophisticated cloth that originated from the Nawabi capital of Lucknow. These are beautiful in and of themselves, but the exquisite embellishments add so much more. Trust and exquisite Chikankari to get everyone's attention. Chikankari sarees are a timeless fashion item that may be paired with straight haircuts and simple jhumkas.
5. Kerala's Kasavu Saree – The Kerala Saree or Kasavu was formerly a dhoti, blouse, and a stole thrown across it, but it has now evolved into the current elegant saree. The white saree with golden borders, which are occasionally stitched with genuine gold, is breathtaking. The saree's basic pattern gives it a highly modern appeal, and it's widely worn during Kerala's Onam festival. Wear some gold jewellery and gajra to look your best when attending a wedding.
6. Madhya Pradesh Chanderi Saree — The pure sheen of this saree is stunning. The silk and zari are woven with cotton to create a light-as-air fabric. The saree's opulent texture makes it ideal for parties and celebrations. A sleek back hairstyle and Kundan jewellery may be worn with the Chanderi Saree would definitely look fantastic on you.
Whether it is the Kerala Saree that impresses you, or the Banarasi or Chanderi, grab the one that suits you the most to make a remarkable difference wearing them.